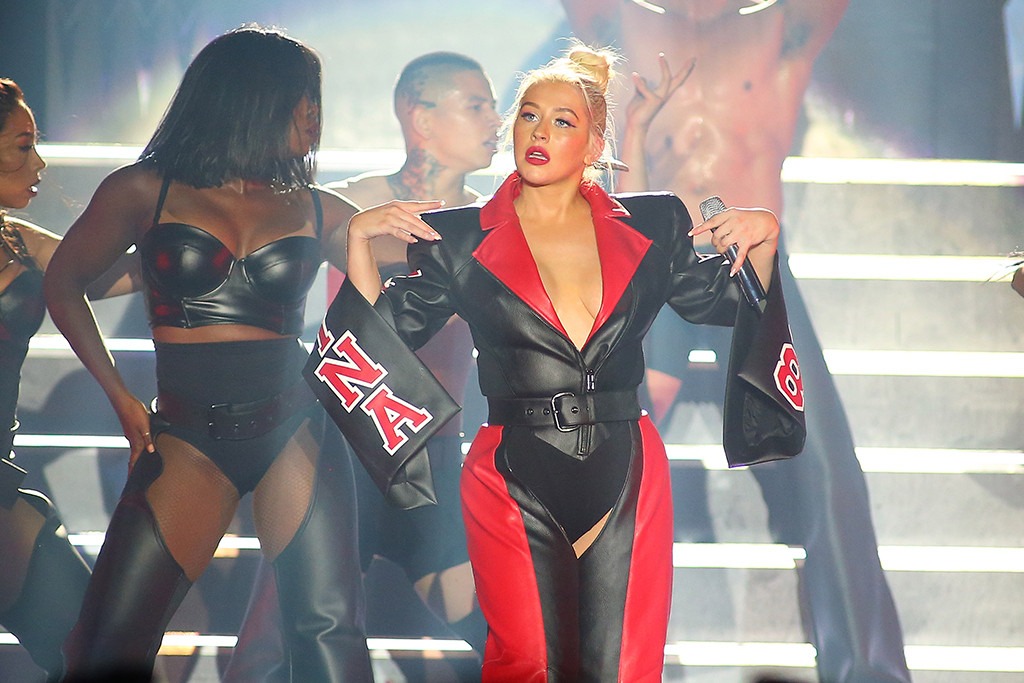 Ralph Notaro
Christina Aguilera's new album ends with a wedding song, but her Liberation Tour began with an epic proposal. Last night, at the Hard Rock Live in Hollywood, Fla., she helped facilitate a once-in-a-lifetime moment after singing "Unless It's With You" in the 3,500 seat concert venue.
"What's happening here tonight?" Aguilera asked before inviting "two special people"— Ben Lear and Mike Kontomanolis—onto the onstage. "I want to share this with you guys," the singer said, addressing the audience. "I have a really special surprise that's happening tonight."
With tears in his eyes, Lear turned to Kontomanolis and said, "I could not have imagined you could have a better moment than [with] this woman, who has inspired you throughout your whole life and has brought you so many things." After he thanked Aguilera for "being an inspiration to not only everybody here, but to him," Lear turned back to Kontomanolis, got down on one knee and pulled an engagement ring out of his pocket. "You're kind, you're beautiful, you're loving," he said. "Six years ago, you proposed to me and you gave me the opportunity to say yes. Tonight, in front of Christina, I'm going to ask you the same question."
After Kontomanolis accepted, Aguilera squealed, "Oh, my God! Congratulations!"
The Grammy winner, who'd met the couple backstage, then asked Kontomanolis, "Didn't you tell me you were a volunteer at my Back to Basics concert? He was the 'Nasty, Naughty Boy!'"
Still on cloud nine from Lear's proposal, Kontomanolis then thanked Aguilera. "You are so important to me. You've gotten me through so many important things," he said. "I don't know where I would be if I didn't have you and your music to lift me up and just carry me through."
Aguilera thanked the couple one more time, saying, "I wanted to share and dedicate this special moment to two people who have been tried and true through my life and supported me. So, I want to wish you guys the best of luck. Thank you so much! Muah! Congratulations, you guys!"
After they left the stage, Aguilera was on a high. "Should we celebrate this? Should we celebrate the love?" she asked, segueing into "Let There Be Love" from her Lotus album. "All right, guys: Let's turn this into a wedding reception," she yelled. "Let's have some fun tonight!"
On Wednesday, Kontomanolis spoke to E! News exclusively about the best night of his life.
"It's a long story, but Christina sent out a request for people to submit their love stories. So, my partner Ben did that and he got picked," Kontomanolis said. "Christina's team contacted him and made it happen. It was magical. I was so emotional! He talked to her tour manager and we then met Christina at the meet and greet, but I wasn't aware of any of this until it happened."
Kontomanolis said he was happy "just get the meet and greet photo and hug from her." The proposal was a surprise, "and it was out of this world! Christina thanked us for being fans and doing this at her show. She was so happy for us and so excited. It was incredible to see my fiancé and then Christina behind him looking so happy for us. She hugged and kissed us several times on stage, and then performed 'Let There Be Love' in our honor. Christina's fiancé also congratulated us backstage, which was amazing. It all seemed like a dream. Christina was so gracious and humble; it was all just so surreal. She is my icon, so this was too much for words."
Aguilera's Liberation Tour resumes Friday at the Mark G. Etess Arena in Atlantic City, N.J. The singer has a number of hits on the lineup, as well as new tracks from Liberation, including "Accelerate," "Ain't No Other Man," "Beautiful," "Can't Hold Us Down," "Deserve," "Dirty," "Fall in Line," "Fighter," "Genie in a Bottle," "Lady Marmalade," "Say Something" and "Sick of Sittin'."