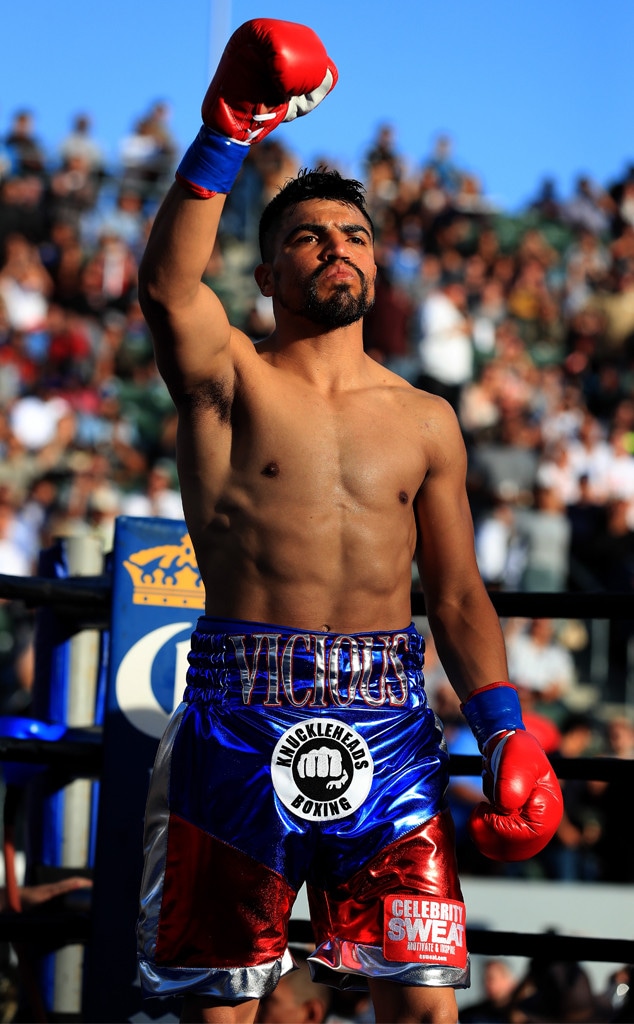 Sean M. Haffey/Getty Images
Victor Ortiz, a champion boxer who also competed on Season 16 of ABC's Dancing With the Stars, turned himself in to authorities Tuesday for allegedly raping a woman in March, the Oxnard Police Department said. Ortiz surrendered at 2:55 p.m. at the Ventura County Sheriff Department's East Valley Station and was charged with three counts of felony sexual assault.
The 31-year-old athlete's bail was set at $100,000 after Ortiz was formally charged with suspicion of forcible digital penetration, forcible oral copulation and forcible rape. The police department added that if people have additional information regarding the alleged incident, they are encouraged to contact detective Kevin Adair at 805-385-7663; should anyone wish to remain anonymous, police said people can call their Violent Crimes Hotline at 805-982-7070.
Police began investigating Ortiz after his alleged victim contacted them March 19 and claimed he had sexually assaulted her "inside a residence in the city of Oxnard." The Family Protection Unit conducted an investigation for "several months," police said, and it was "presented to the Venture County District Attorney's Office for filing." A warrant for Ortiz's arrest was issued.
Ventura County Sheriff's Department
Ortiz's rep has not commented on the charges. He has a televised fight scheduled for Sunday, Sept. 30, at the Citizens Business Bank Arena in Ontario, Calif., against former world title challenger John Molina, Jr. Ortiz is out on bail, but it remains unclear of the fight will go ahead. Molina, for his part, is still ready for the fight and sharing photos of his meal prep on Instagram.
Since turning himself in, Ortiz (32-6-3, 25 KOs) has gone silent on social media. The boxer, who has also appeared in movies like Expendables 3 and Southpaw, previously had a run in with the law in 2015 when he was arrested on suspicion of assault with a deadly weapon—his foot—after allegedly beating up a fan during a Kenny Chesney concert at the Rose Bowl in Pasadena. He later pleaded guilty to a misdemeanor battery charge and received three years of probation. A year later, Ortiz was arrested and charged with DUI; after pleading guilty to a misdemeanor charge in 2017, he was given three years' probation and sentenced to eight days in county jail.