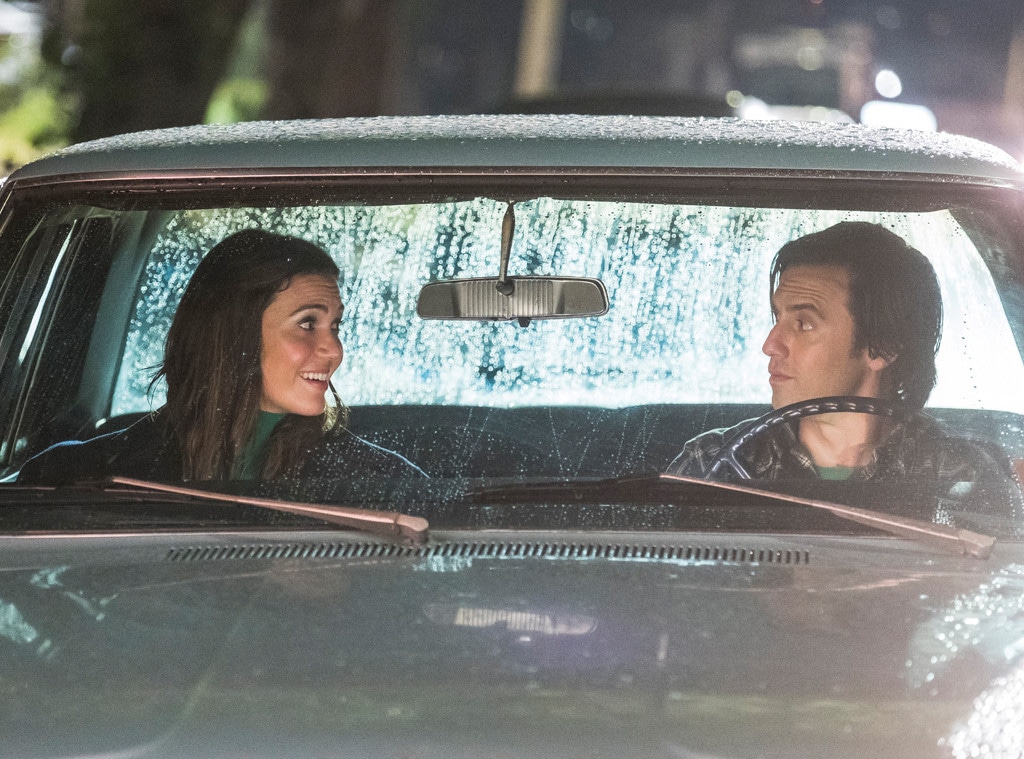 NBC
A lot of mysteries may have been solved last season on This Is Us, but that only means there's new mysteries ahead in season three.
Creator Dan Fogelman tells E! News that he thinks there will be "a lot of questions" after tonight's premiere, which finds the Big 3 on their 38th birthdays. 
"I think the end of the first episode poses a question people didn't see coming, potentially...involving Rebecca [Mandy Moore] and Jack [Milo Ventimiglia]," he says. "And I think there will be, over the course of the season, a lot of questions about Jack's story in Vietnam, and a lot of questions about his brother." 
Fogelman says that just because we now know how Jack died, we still have a lot to learn about the Pearson patriarch.
"He's actually the character that people know the least about, and everything that predated [Rebecca] has been in the dark," Fogelman explains. "Rebecca and this courtship is also an area that we don't know a ton about, so those are two areas where we're diving in heavily this season. 
He calls the Jack and Rebecca courtship era "one of the most romantic things I've ever worked on." 
For those of you constantly concerned that we'll run out of new things about Jack to learn, that ain't gonna happen. 
"I don't think we would go that long where we'd run out of the ability to do it," Fogelman promises. "I don't see a version of the show going on without any of our main players." 
Jack and Rebecca are not the only Pearsons surprising us in season three. Here's a rundown of the other details Fogelman spilled to us ahead of tonight's premiere. 
Kate (Chrissy Metz) and Toby (Chris Sullivan): "I think [Kate's] storyline this year is just wildly emotional, and her relationship with Toby, who we'll also get to learn a lot about, is moving to the next level in a really exciting way," Fogelman says, adding that the work Chrissy Metz and Chris Sullivan has done has "taken our breath away." 
Randall (Sterling K. Brown) and Beth (Susan Kelechi Watson): "I think [Randall's] story with Beth is just really big and really exciting, and I can't really say anything about it because it would spoil it, but I just think it gives our guy Sterling and Susan such rich opportunities to just have these showcases, and just let them go, like taking a car out on the highway and not having a speed limit." 
Vietnam: We saw at the end of season two that Kevin (Justin Hartley) was on his way to Vietnam with Beth's cousin Zoe by his side. "Everything touching Vietnam, which is one of my most exciting things this year, both with [Jack] and also with Kevin—it's just feeling really unique. There's an episode early this season that is entirely chasing Vietnam and war in a really interesting way that I'm so proud of." 
Stay tuned for more scoop after tonight's premiere event! 
This Is Us airs Tuesdays at 9 p.m. on NBC. 
E! and NBC are both part of the NBC Universal family.