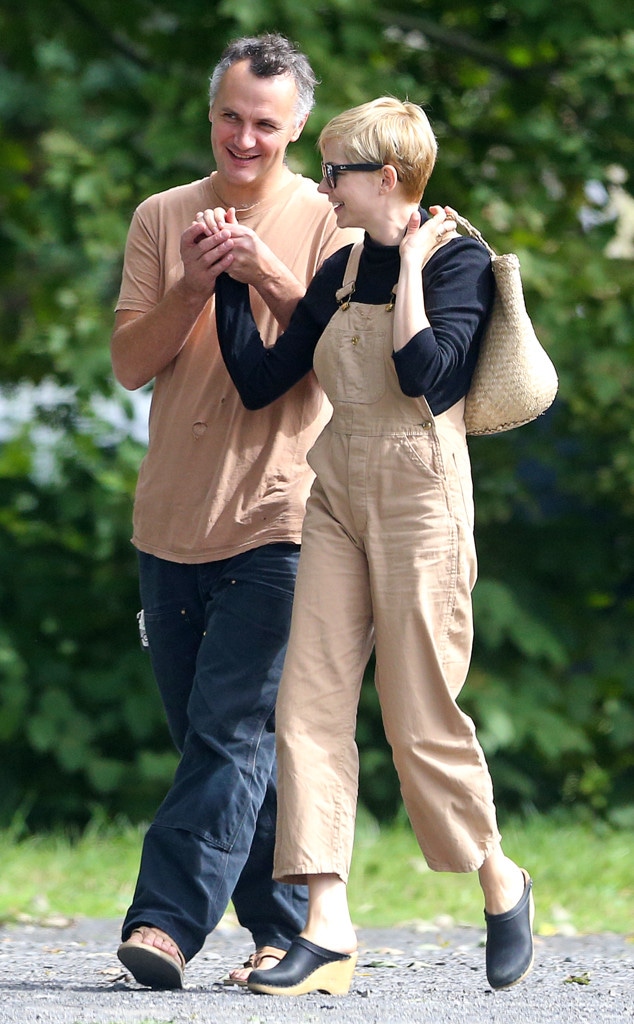 TheImageDirect.com
Her smile says it all!
Michelle Williams has been spotted out with her new husband, Phil Elverum, for the first time since their surprise wedding over the summer. The couple looked very much in love while antique shopping in upstate New York over the weekend. Photos show the 40-year-old indie rock musician and Mount Eerie singer kissing the 38-year-old Dawson's Creek alum's hand as they walked alongside each other.
The couple's marriage was revealed in a Vanity Fair report in July, which stated that the two met through a mutual friend and married in a secret ceremony in the Adirondacks in upstate New York.
Taylor Hill/Getty Images, Jordi Vidal/Redferns via Getty Images
The publication also added that the couple's nuptials were only witnessed by a handful of friends and their kids. Williams has a daughter Matilda, 12, from her relationship with the late Heath Ledger. Elverum also has a daughter named Agathe, 3. While Williams lost Ledger in 2008, Elverum's wife Geneviève Castrée died of pancreatic cancer in 2016. Over the summer, Elverum and Agathe moved from Washington to Brooklyn to live with Williams and Matilda.
"I never gave up on love," Williams told Vanity Fair. "I always say to Matilda, 'Your dad loved me before anybody thought I was talented, or pretty, or had nice clothes.'"
"Obviously I've never once in my life talked about a relationship," she said, "But Phil isn't anyone else. And that's worth something. Ultimately the way he loves me is the way I want to live my life on the whole. I work to be free inside of the moment. I parent to let Matilda feel free to be herself, and I am finally loved by someone who makes me feel free."
According to Us Weekly, the couple's daughters joined them on their antique outing on Saturday.
"They were happy and laid back," an eyewitness told the outlet of Williams and Elverum. "They were very affectionate with one another."