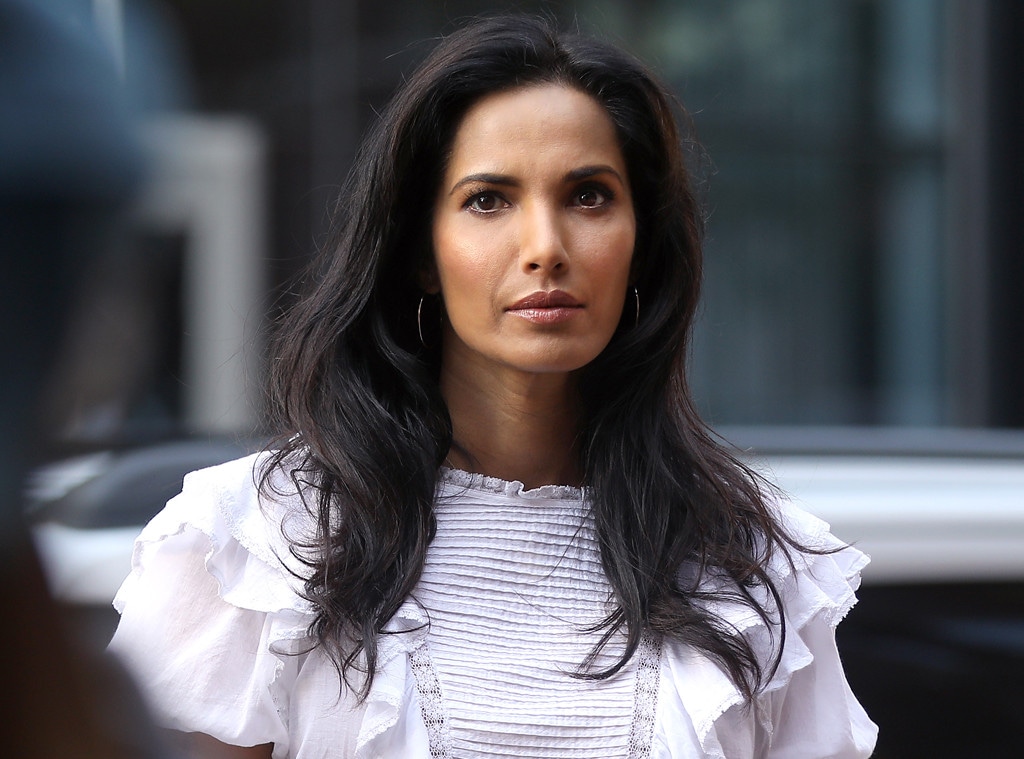 Pat Greenhouse/The Boston Globe via Getty Images
Padma Lakshmi is opening up about the rape she suffered as a teenager. 
In reference to the newly surfaced sexual misconduct allegations against Supreme Court nominee Brett Kavanaugh, who has denied all claims, the Top Chef host initially took to the Internet to participate in the trending hashtag, #WhyIDidntReport, on Twitter. Women around the world have been using the hashtag to explain why they did not alert authorities about the assaults they suffered. 
Lakshmi joined the digital discussion and mentioned that she had been 7 years old the first time she was assaulted and 16 the second time. In a newly penned op-ed for The New York Times, the star recalled the rape and explained why she had not immediately spoken up.  
As Lakshmi wrote in the piece, she was 16 years old when she started dating a 23-year-old unnamed guy who was in college and worked at the same mall as her. "When we went out, he would park the car and come in and sit on our couch and talk to my mother," she recalled in the Times piece. "He never brought me home late on a school night. We were intimate to a point, but he knew that I was a virgin and that I was unsure of when I would be ready to have sex."
Then, she said, he raped her on New Year's Eve more than three decades ago. After going to a couple of parties with him, Lakshmi said she fell asleep back at her boyfriend's apartment. "The next thing I remember is waking up to a very sharp stabbing pain like a knife blade between my legs. He was on top of me," the star wrote. "I asked, 'What are you doing?' He said, 'It will only hurt for a while.'" 
"'I thought it would hurt less if you were asleep,'" she recalled him saying. In shock, Lakshmi said in the op-ed she did not report what happened and eventually felt like it was her fault. She further noted that they didn't have the terminology for date rape at that time. As the star explained, she doesn't think she classified it as rape or sex in her head and continued to tell boyfriends she was a virgin. "Emotionally, I still was," she noted. 
Referencing a tweet from President Donald Trump, who claimed that Dr. Christine Blasey Ford would have filed charges with law enforcement against Kavanaugh if his alleged assault was "as bad as she says," Lakshmi said, "I understand why both women would keep this information to themselves for so many years, without involving the police."
Lakshmi further explained how, when she was 7 years old, she was sent to India to live with her grandparents for a year after she told her mother and stepfather that a relative had touched her inappropriately and put her hand on his penis. "The lesson was: If you speak up, you will be cast out," the star said of the lesson she learned that year. 
"Some say a man shouldn't pay a price for an act he committed as a teenager. But the woman pays the price for the rest of her life, and so do the people who love her," she continued in the op-ed. "I have nothing to gain by talking about this. But we all have a lot to lose if we put a time limit on telling the truth about sexual assault and if we hold on to the codes of silence that for generations have allowed men to hurt women with impunity."