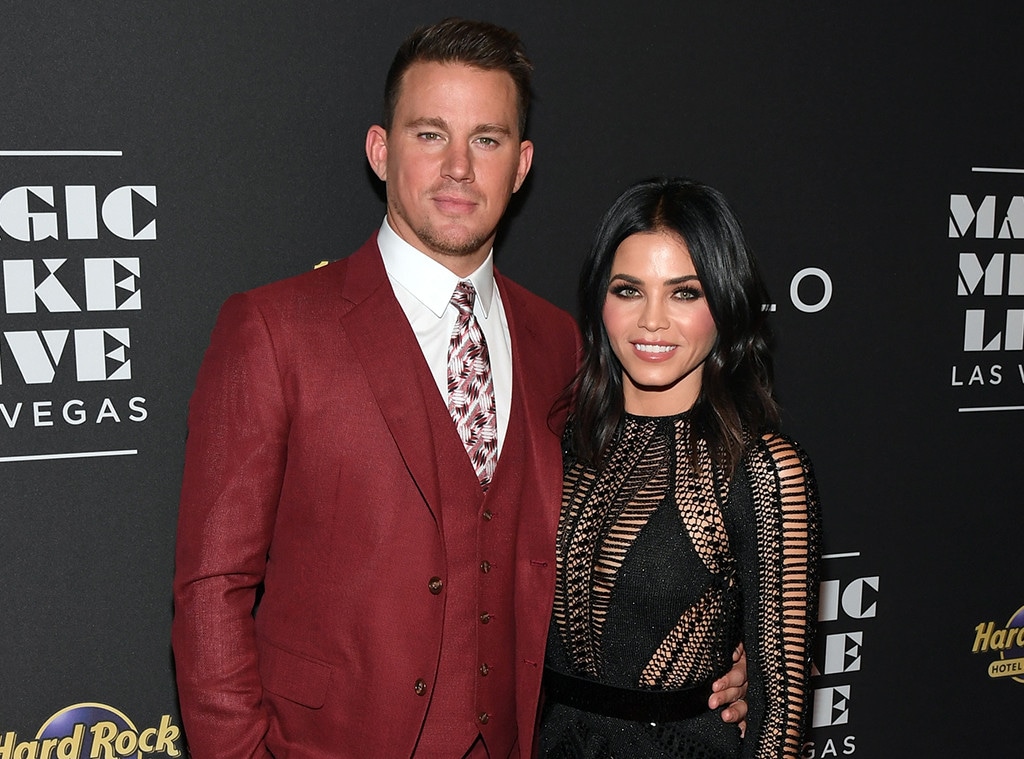 Ethan Miller/Getty Images
In the weeks following Channing Tatum and Jenna Dewan's shocking April split, fans cycled through the standard stages of celebrity couple grief. 
They tweeted their disbelief. They angrily declared that love was dead—if these two stars with matching perfect physiques and talent and sex appeal aplenty couldn't make it, well, then, there was really no sense in the rest of us trying. And they issued firm directives to other pairs doing their part to prove that marriage is still a worthwhile endeavor. No pressure, Chrissy Teigen, John Legend, Kristen Bell and Dax Shepard, but the future of romance depends on you. 
As for the couple themselves, they just mourned. 
They were both doing reasonably okay-ish because they had quietly chosen to end their nine-year union months earlier and thus had time to adjust without everyone watching, a source told E! News at the time. Still, it was tough to admit that this stage of their relationship had ended. "They had been trying for a long time to see if they could make it work," said the source. "It became clear over the last year that they wanted different things and were no longer on the same path." 
Now, six months later, they've reached the acceptance—and dare we say hopeful?—stage with each making good on their plans to rip off the dating Band-Aid, get out there and meet potential new mates. For the past few months, 38-year-old Tatum has been "hanging out" with Jessie J, the 30-year-old British singer who once opined to Cosmo UK, "Maybe America is the place I'll meet the man of my dreams?" 
While it's a tad too early to know if she's found her fantasy guy in the Magic Mike alum, the pair have certainly been enjoying the last few months with Tatum making the most of his filming break by joining the "Price Tag" singer on parts of her R.O.S.E. Tour. After the Seattle stop, the twosome popped into Henry's Tavern. "They didn't kiss," an eyewitness shared, "but it definitely looked like they were a couple." And at least one onlooker spotted him backstage at her Houston show Sunday night. 
"He is very interested in getting to know her and doesn't mind tagging along," an insider tells E! News of his new groupie status. After years orbiting the same social circles, Tatum's eager to see if they have romantic potential. "He's making a lot of effort and wants to spend as much time with her as he can," says the insider. "He's having fun with it and seeing where it goes." 
Michael Tran/FilmMagic Todd Williamson/January Images/Shutterstock
His former bride is doing some exploring of her own. An insider reveals to E! News that the 37-year-old World of Dance alum has opened up to the idea of dating again. Mere hours after officially filing to end their union, Dewan was spotted kissing a suitor an onlooker describes as "very handsome and very tall" at Friday's Casamigos Halloween party. After arriving with pal Joanna Garcia, The Resident actress, who shares 5-year-old daughter Everly with Tatum, met up with her mystery guy inside the bash at co-founder Mike Meldman's Beverly Hills home. 
Displaying all the classic signs of new coupledom, the pair danced together, singing to the '90s hip hop tunes, left the party hand-in-hand and, before officially exiting, stopped for a quick make out session in the courtyard. "They definitely seemed like they were dating," the partygoer said, noting the twosome "could not keep their hands off of each other." 
A little PDA may be just what Dewan needs after a rough start to 2018. "Things are going well and she is moving on from her marriage," reports the insider. "She's happy to be getting back on her feet and adjusted to her new setup." 
Before she got to a place where she could even think about entangling herself in another romance, Dewan had to do some soul-searching of the decidedly new world variety. 
A self-described "spiritual nut" and early adopter of crystals, she joined up with her closest girlfriends to form a goddess circle. Huddled together, they "talk about what we're going through," she shared with Harper's Bazaar, then take part in a shaman-led group meditation utilizing the ever-present crystals and sound bowls. "I'm aware how weird that sounds," she admitted. "It's the whole L.A. hippie experience." 
File it under you've got to do what you've got to do to move past a painful divorce. Tatum noted her band of pals have helped her find the courage "to confront the unknown." The raison d'être of their gatherings, she said, "is women coming together and supporting each other, and connecting, and bonding." The longer she's existed in this world and the greater Hollywood sphere—Step Up having marked it's 12th anniversary last month—"It sounds cliché," she said, "but it's more important to have a really solid group of girls that are there for me, who get me." 
Phillip Faraone/Getty Images for Environmental Media Association
Even more crucially, though, she's really getting herself, whether that's thanks to the energy of crystals, the centering of meditation or just a good long talk with her BFF Emmanuelle Chriqui. "I did a lot of work healing from the inside out, becoming more in touch with my womanly power," she told Women's Health in July. "It was always, 'I'm a dancer,' or 'I'm married,' or 'I'm an actress.' Over the last couple of years, it became about learning about myself." 
It wasn't so much that she was experiencing some crisis of confidence over losing the label of Mrs. Channing Tatum or even that she felt the need to sprint towards her new single status, arms flung open. "The moves I'm making are completely not related to my marriage or separation, interestingly enough," she insisted to Harper's Bazaar. "I was always very happy being a wife."
Rather she felt herself questioning what exactly it was that she wanted to do with her life, what challenge she wanted to tackle next. "Those feelings started bubbling up for me, naturally...so I really wanted to expand my life, and myself. And that was my journey, no one else's." 
Right now the answer to just who is Jenna Dewan (no longer Tatum) is lengthy. A quadruple threat she's balancing dancing, acting (Berlin, I Love You premieres in November) and hosting with her burgeoning production company Everheart. 
Plus figuring out that whole working single mom thing, which, as one might imagine is often the toughest job of them all. "I'm a total mess," she swore to Harper's Bazaar while naturally looking anything but. "I've never once woken up early with enough time to get ready before I get my daughter to school....My hair's always wet, I'm always changing clothes. I mean, it's always a little haphazard in my life." 
Thankfully, she has a partner in chaos in Tatum, who readily admitted during a recent appearance on The Ellen DeGeneres Show that the threenager stage with Everly "kicked my butt every day." So much that he joked, "If there wasn't, like, photographs being taken of us as we were out in the world, I might have just left her somewhere." Now, though, having reached her fifth year, he said, "She's amazing."
It's a joy and a wonderment he and Dewan enjoy together in equal measures. From the time they announced their separation in matching Instagram posts, the duo vowed to make the untangling of their lives as unobtrusive as possible for their daughter. Though Tatum moved out of their shared Beverly Hills home, he still planned to pop over for visits, possibly giving Evie another chance to craft a masterpiece on his face. 
"They will be doing all kinds of family things together," insisted a source. (See: her June preschool graduation.) "They want to keep her routine the same and will be going to the farmer's market on the weekends and hanging out with friends," said the source. "Nothing is going to change in her life and she has two parents who will be very involved in everything she does." 
So far, they've held firm to their pact. "She and Channing are doing the co-parenting thing," the insider tells E! News of Dewan, "and always put Everly's needs first." Chief among them, guiding the kindergartner through her first official weeks of school. Says the insider, "They are both helping her get adjusted and make the transition from preschool." 
Their new partnership still involves "a lot of love," Dewan told Harper's Bazaar. "We're just getting used to it. We're in a very positive energy together, trying to be the best parents to Everly." 
And legally entwined or not, they remain in step when it comes to discussing their daughter's future. While Dewan jokes, "If she's not running her own business, or ruling the world, I have failed as a mother," Tatum sees their little girl as someone likely to gain massive influence, trading on the talents her mama (and father) gave her. 
"She's always had dance moves," he revealed to E! News at his Smallfoot premiere Saturday. "She does her own dance moves. I don't know where she gets them, but she's been doing them since the day she came out." And pretty much all the days that came after, because more often than not she's challenging Dad to prove his mettle: "We have dance-offs almost every day at some point." 
Watch:
Channing Tatum's Daughter Already Has Her Own Dance Moves
Dance battles, family outings to the farmer's market, perhaps dating in the not-so-distant future? These are the new normals in the separate Dewan-Tatum households. 
"It's been a journey, and it's been a transformation of myself—my needs and wants as a woman," the actress told Women's Health of rediscovering their footing. "I think everyone wants to hold on to what's in front of them, but when you open your mind saying, 'I want what's best for myself and my daughter,' you have to be OK with however that looks." 
And this? This looks all right. Having gotten past those tough initial months where overly invested fans were blaming them for the downfall of matrimony ("It's always challenging to go through a big change and have the whole work have an opinion about it," noted Dewan) they're on pretty solid ground. They're both exploring this whole dating scene, an insider tells E! News, and they're cool with whatever comes out of it on either side. "It's OK for a relationship to change into a new form that is actually better for both people involved," she said, "and I think maybe that's what shocked everyone so much—that it can be a positive thing."