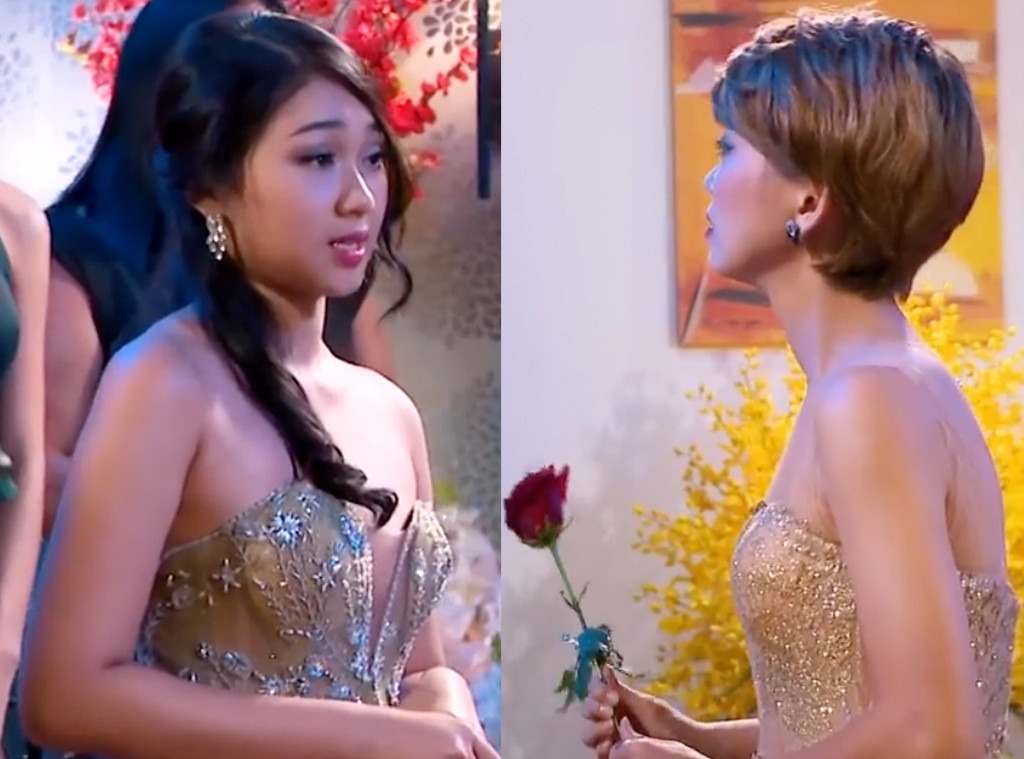 The Bachelor Vietnam
This might actually be one of the most dramatic Bachelor rose ceremonies ever.
Two women from The Bachelor: Vietnam surprised viewers this weekend when they ditched the man handing out the roses and left the show together.
During the rose ceremony, contestant Minh Thu revealed her truth to Bachelor Nguyen Quoc Trung.
"I went into this competition to find love, but I've found that love for myself, but it isn't with you," she said. "It's with someone else."
She then turned around to Truc Nhu, who had already received a rose, and asked her to "come home with me." Nhu seemed torn.
"I'm sorry. I really want to get to know you because you're someone who made me feel special, and I haven't felt that way in a long time," she told Trung.
Trung then urged her to follow her heart.
"I want to ask….If you decide this, would you feel regretful?" he asked. "This doesn't change my decision. I'm not going to give my rose to anyone else. You only get one chance in this life, and you need to take it. Only you, not anyone else."
Seemingly anticipating her response, he then reiterated he worried she would regret her decision. However, Nhu decided to return her rose anyway. 
"I'm sorry. I'm giving back your rose," she said before giving him a hug goodbye. She then assured him, "I know you'll find someone who really loves you, who understands you, knows how to take care of you, who can look at you from afar and know how you're feeling. I'm sorry." 
The two contestants then left the show together. However, it looks like Nhu later had second thoughts. The website NextShark published a screenshot of Nhu hugging Trung and seemingly reuniting.
"After talking to Trung, I've changed my mind to accept his rose and continue on this journey," she said.
Watch the video to see part of the dramatic episode.
Nhu and Thu aren't the first Bachelor alumni to find love with a fellow contestant. 
Megan Marx and Tiffany Scanlon also found love on The Bachelor: Australia. However, the two eventually called it quits.