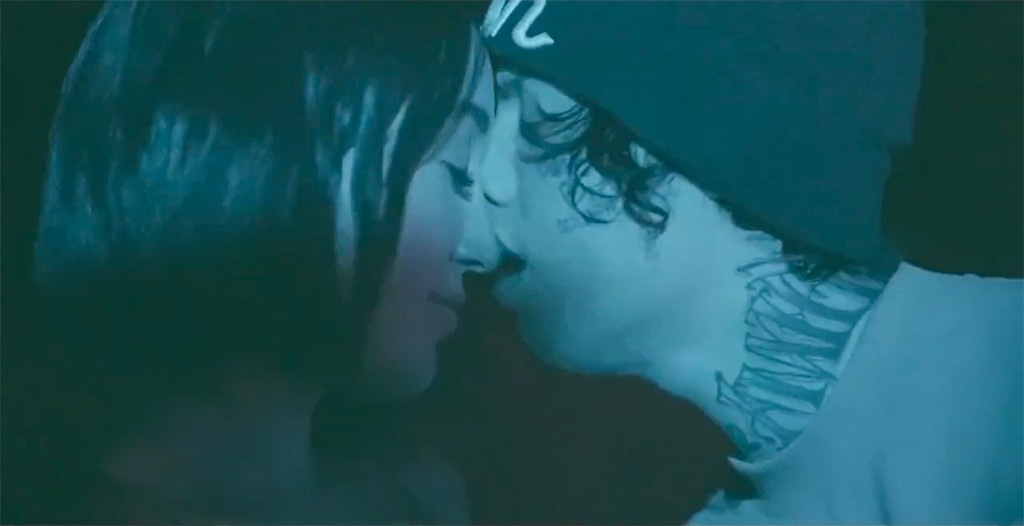 YouTube
Noah Cyrus is dropping a bombshell about her latest project.
Less than a week after the singer's music video for "Live or Die" appeared on YouTube, Noah claims she never released it.
"Ummm… I didn't put the music video out," she told BreatheHeavy. "Yeah. I just woke up one day and that video was on YouTube. I don't know."
While she didn't share any theories as to who was responsible for posting the video, fans can't help but remember that Noah is going through a public breakup with Lil Xan. And yes, he was featured in the music video.
In "Live or Die," Noah sings about never-ending love. In fact, breakups and relationships are topics Noah explores throughout her new EP titled Good Cry.
Watch:
Lil Xan Reveals Noah Cyrus' Nickname at 2018 VMAs
"It's like mourning. It's like losing somebody—you mourn that person. It's like your bod—y is in it. Like, it hurts physically—when you miss somebody—there's so many emotions in losing somebody that you spent so much time with," she shared when discussing breakups. "The intro to my EP is called 'Where Have You Been?,' and there's a voice memo of me in there just crying, and that was real tears when my ex and I of two years…when we broke up. And I just wanted to capture the hurt because I had never felt more loss. Even though it was a mutual agreement—we need time to grow, and we need time to be who we are, and we need time to grow up a little bit for things to work then it was just the feeling of ache and loss."
Noah added, "It's very personal. A lot of people are like, 'are you scared of being personal? Or are you nervous…?' I'm like hell no. I want people to know this story. This story is a part of who I am. It shaped me. Everything about this EP is what shaped me of who I am today."
Relationships aside, Noah is excited to hit the road and perform her biggest hits as part of The Good Cry tour. She is slated to perform across the country through October 24.
And through every song and performance, Noah has a definition of success she continues to live by.
"Having people connect to your work. It doesn't exactly mean the amount of people that listen to you," she shared. "If it gets through to somebody. If it makes you feel something."
In a new interview with Cosmo, published Friday, Noah also opened up about the Good Cry EP, making it clear that it's not about her most recent ex.
"This record is not about Lil Xan," she told the outlet with a laugh. "No. I'll make that clear—in bold and highlighted and underlined. I didn't do anything for publicity."
As for the speculation that their relationship was set up to promote their music, Cyrus shared, "I don't even have anything to say about that. It was perfect timing, that's for sure. I think a lot of people thought it was on purpose, but it truly was just perfect timing. I was going through a break-up with somebody I was with for two years, and my heart's still broken over that, and then I let somebody in and got too comfortable too fast, I think, and it all blew up in my face, like break-ups do."
The lyrics are actually about her relationship prior to her romance with Lil Xan.
"I went through a big heartbreak after being in a relationship for the past two years, and to suddenly have it end, when neither of us wanted that," she told Cosmo. "But that was for the best."
Cyrus later added, "I broke up with someone that I'd been with for two years only to open up to somebody new and my heart got destroyed there, too."
And when it comes to career advice, Cyrus doesn't turn to sister Miley Cyrus or her dad Billy Ray Cyrus. "People say, 'Oh what did Miley think when you played her this record before you put it out?' I didn't play Miley any record before I put it out because I don't really...I don't ask. I don't look at her as Miley Cyrus," Cyrus explained. "Of course, my sister and my dad, I respect as musicians and look up to them, but people kind of forget that they're my family, so my first reaction isn't always, 'Let me see what my dad and Miley think about this record,' It's usually like, 'Oh, what does my mom think about this record? What does my friend think about this record?' Because their age ranges are listening to my music."
Right now, Cyrus is looking toward the future.
"2018 has been kind of a s--tshow, personally, for me, so my trust level has been a little bit off this year, but 2019? I just can't wait to feel like, stronger than ever," Cyrus shared. "I just have so much more music I can't wait to get out."