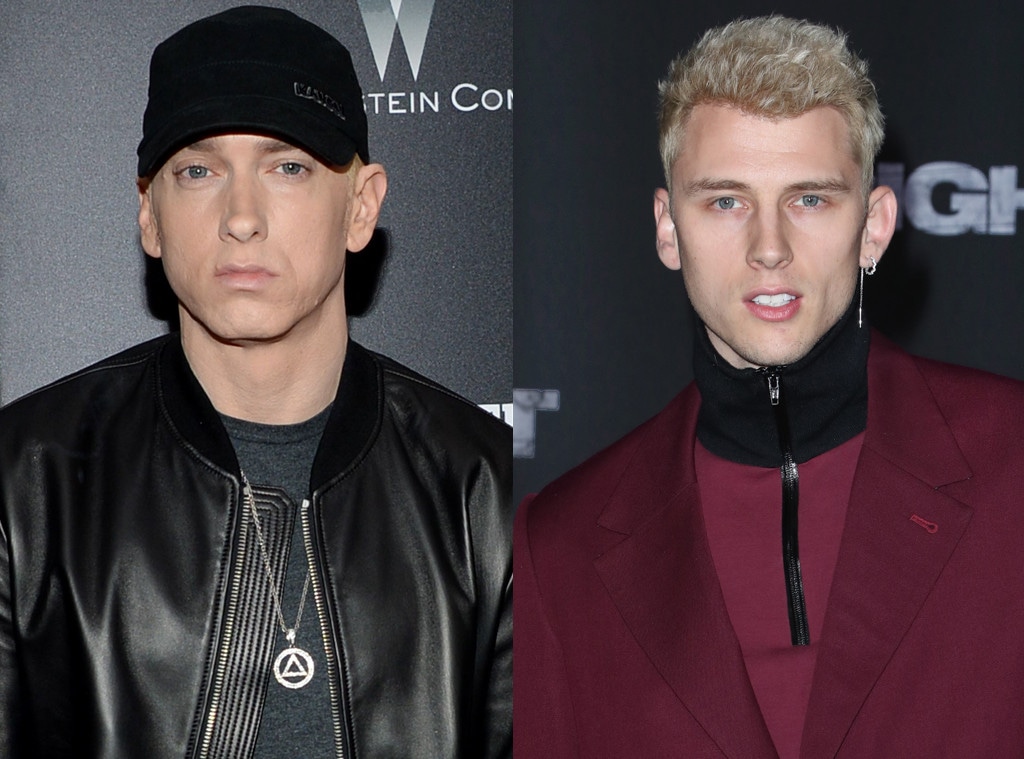 Matt Baron/Evan Agostini/Invision/AP/REX/Shutterstock
And the feud between Machine Gun Kelly and Eminem continues on.
On Friday, the 28-year-old rapper dropped his new 24-minute EP called "Binge," which features nine new songs, including a diss track about Marshall Mathers. On "Rap Devil," which is his response to Eminem's "Not Alike," MGK adds more fuel to his ongoing feud with the 45-year-old rapper, even mentioning Eminem's daughter, 22-year-old Hailie Jade, in the song's lyrics. "I think my dad's gone [screams]," Kelly raps on the track, then adding, "Yeah, you right, Hailie / Dad's always mad cooped up in the studio, yellin' at the mic / You're sober and bored, huh?"
Let's take a look below at all of Machine Gun Kelly's biggest Eminem disses on the track:
1. Making Fun of Eminem's Beard: "Somebody grab him some clippers / His f--kin beard is weird."
2. Referencing Eminem's Age: "About to be 46 years old, dog / Talkin' bout 'I'm a call up Trick-Trick / Man, you sound like a bitch bitch."
3. Calling Eminem a "Dweeb" Who Always Stays Inside: "F--kin' dweeb, all you do is read the dictionary and stay inside."
4. Making Fun of Eminem's Style: "I'm sick of them sweatsuits and them corny hats, let's talk about it / I'm sick of you bein' rich and you still mad, let's talk about it."
5. They Could Talk or "Get Gully": "Both of us single dads from the Midwest, we can talk about it / Or we could get gully, I'll size up your body / And put some white chalk around it."
6. Telling Eminem He Should Go Back to Recovery: "Hello Marshall, my name's Colson / You should go back to Recovery/I know your ego is hurtin' / Just knowin' that all of your fans discovered me."
7. Calling Eminem a Bully: "Pull that wedgie out your dungarees / I gotta respect the OGs and I know most of 'em personally / But you're just a bully actin' like a baby / So I gotta read you a nursery."
You can listed to "Rap Devil" above. Binge is out now.