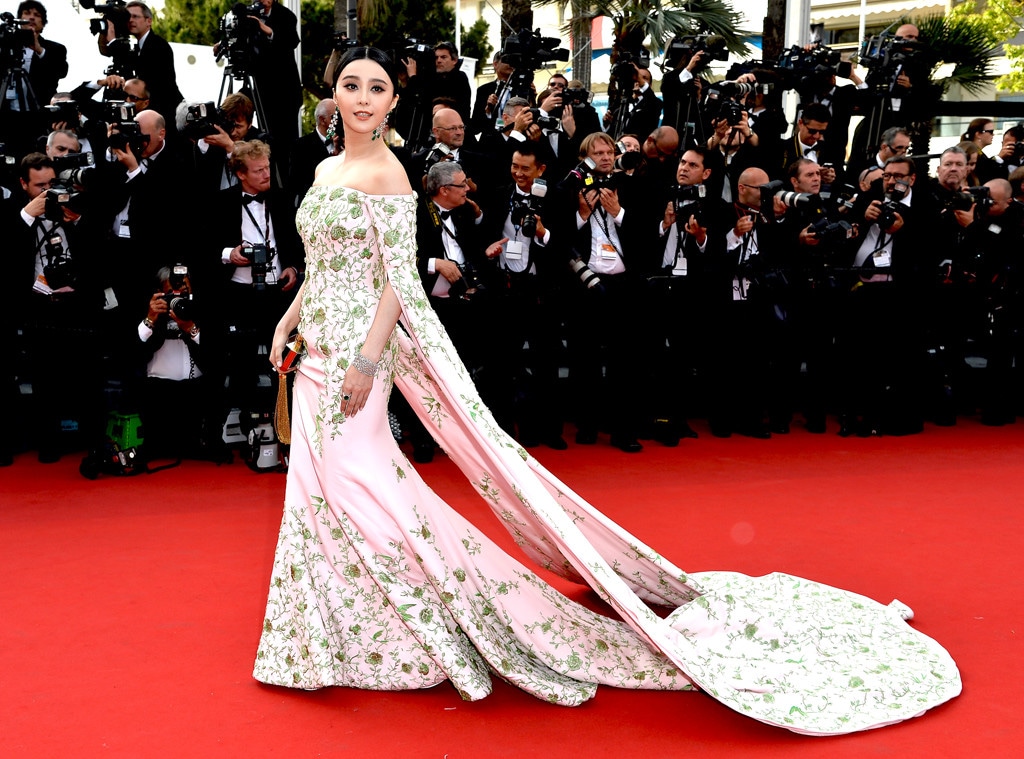 Pascal Le Segretain/Getty Images
From the moment they gain even a modicum of fame, most celebrities agree to a contract of sorts of what's required of them now that they're in the public eye.
To maintain the impossible beauty standards, they'll commit to a strict fitness, diet and grooming regimen, while taking care to never appear too high-maintenance. They'll provide us a peek into their rich lifestyle of private jets, exotic vacations and expensive rides but still somehow manage to remain #relatable. And they'll always be up for fan interaction no matter the time or place, lest someone deem them ungrateful for wanting to enjoy a meal, a night out, a trip to the grocery store without posing for a series of selfies. Above all, they must never complain about their end of the deal. After all, they knew what they were signing up for.
It's not the easiest of balancing acts. And yet it's nothing compared to the razor thin tightrope that many China-based stars are forced to walk each day. 
In China, celebs earning lavish paychecks are expected to keep their reputations clean and any press focused on their more altruistic acts, with state media regularly calling on celebrities to spread positive energy and discourage any money worshiping. In other words, fewer photo ops in five-figure designer garb, more charity work. "If you are a billionaire, then that is something that obviously you can enjoy to a certain extent," Fergus Ryan, a cyber analyst with the Australian Strategic Policy Institute, recently explained to CNN, "but you've got to be very, very wary that you don't at any stage cross a red line of some sort and fall afoul of the Chinese Communist Party," 
Underlining this importance was a September report by China's Beijing Normal University ranked the nation's biggest names by their level of "social responsibility." Fan Bingbing—arguably the country's most famous actress with roles in X-Men: Days of Future Past and Iron Man 3 and contracts with the likes of Cartier and Louis Vuitton—scored a zero out of 100, placing her dead last. This, despite the fact that she cofounded Heart Ali, a charity to help provide surgery for children with congenital heart disease, something she's called her greatest achievement. 
David Fisher/REX/Shutterstock
That the ranking came out as she's the subject of a missing person's conspiracy that has everyone from The Hollywood Reporter to Vogue to Time wondering where exactly she's been for the last two months hasn't been lost on her fans. And it's hard not to wondering if two are at least tangentially connected. 
To be clear, no definitive answer has been given regarding the 37-year-old's whereabouts with her team not responding to requests for comment from E! News and a slew of other curious news organizations. It's entirely possible that sometime after Bingbing visited a Tibet children's hospital July 1, she decided quite simply to take a break from the spotlight and the more than 62 million fans that follow her on Weibo, China's equivalent of Twitter. 
But the Internet has other ideas. 
ChinaFotoPress/ChinaFotoPress via Getty Images
Some are speculating that Bingbing may actually be under government control thanks to a much-speculated about tax evasion matter that began back in late May—not long after she made the rounds at the glitzy Cannes Film Festival—when alleged copies of a contract leaked onto China's social media. Bingbing wasn't named, but fans and some outlets quickly assumed it was her, with state tabloid Global Times reporting the actress had two sets of paperwork for her upcoming Cell Phone 2: one stating she was paid $1.56 million, another showing she was actually pocketing $6 million more. In China, the practice is known as a "yin-yang contract" in which the smaller contract is reported to authorities and the second is enjoyed as tax-free income.
Chinese TV host Cui Yongyuan, the man who posted images of the documents, apologized to Fan saying she had nothing to do with the contracts, and her team vigorously denied any wrongdoing, equating the post to slander. But in June the State Administration of Taxation announced an investigation into the film and television industry. And though they didn't name Bingbing, they warned in a statement, "If violations of tax laws and regulations are found, they will be handled in strict accordance with the law." 
There have been no reports that Bingbing has been charged with any transgressions, but her devoted fanbase has struggled to find another explanation for why the frequent Weibo user would go dark. (Malaysian news outlet The Star reported one message appeared on her page Sunday, her birthday, but was quickly deleted.)  
Particularly when her career has hit a critical juncture. 
The New York Times reports that Montblanc has dropped the actress as ambassador and Australian vitamin brand Swisse removed her from advertisements. Meanwhile her latest project, L.O.R.D.: Lord of Ravaging Dynasties 2, originally scheduled for a July 6 release, has been postponed, with a June 27 message on the film's Weibo page citing production issues. The Perfect Blue, wrapped in May, has yet to receive a release date and Air Strike, starring Adrien Brody and Bruce Willis has been pushed from August to Oct. 26. (Meanwhile filmmaker Feng Xiaogang, who was set to direct Bingbing in Cell Phone 2 was recently removed from Cannes film Ash Is The Purest White.) 
And then there's 355, the espionage thriller announced to much fanfare at Cannes, that pairs Bingbing with the likes of Jessica Chastain, Marion Cotillard, Penelope Cruz and Lupita Nyong'o. Production isn't slated to start until 2019, but with Bingbing missing in action speculation has already begun that her part will be recast. 
Were the worst to come to pass, it would be a swift end to a career that's been building since the Qingdao-born star was a hopeful tween. "When I was 12 years old it was already my dream to become an actress," she confessed to the Financial Times in 2013. "To experience other people's joys and sorrows by playing their lives fascinates me." Soon she was convincing her mom to let her study at Shanghai Xie Jin Film and Television Art College and when she finished at the age of 16 she began steadily collecting roles. 
The English-speaking triple threat (acting, singing, modeling) gained notoriety in her native country 1999 with the TV show My Fair Princess before become a full-blown superstar with 2003's Cell Phone, a part that earned her the Best Actress trophy at the Hundred Flowers Awards, China's answer to the Golden Globes. 
Mustafa Yalcin/Anadolu Agency/Getty Images
As she went on to collect more trophies and roles in American films (she told Time of scoring the part of Blink in X-Men: Days of Future Past, "[Hollywood] wanted to add Asian faces and found me,") she formed her own studio and her aforementioned charity and even earned a place on the Cannes Film Festival Official Competition Jury. Time has called her China's most famous actress and Forbes has named her the most influential Chinese celebrity for the past four years while also listing her as the world's fifth-highest paid actress in a 2016 report. 
But to hear Bingbing tell it, she's just trying to do good work (she told Financial Times she'd love to portray someone suffering from schizophrenia) and help out her family. "I want to provide my parents and my younger brother with carefree and happy lives," she told the outlet. "My enthusiasm for my acting career and the support from my fans provides the engine for me to accelerate, to always look forward to my next role." 
Currently, though, she's playing the part of Internet fodder. 
ChinaFotoPress/ChinaFotoPress via Getty Images
In an Aug. 31 article, Hong Kong tabloid The Apple Daily claimed the actress had been seen at an L.A. immigration office. Citing an unnamed industry source they said none other than Jackie Chan had urged her to seek asylum in the United States, a claim he quickly shot down as nonsense. And in early September, state-run Chinese outlet Securities Daily published she was "under control" of authorities and would "accept the legal decision"—only to retract their report hours later. 
For his part, USC professor and China expert Stanley Rosen, believes she's being used to send a message. The Communist Party long "wary of the power and influence of celebrities," he speculated to Deadline, is saying, "No one is safe! If Fan Bingbing, a great representative of China's entertainment industry on the international stage, can be brought down so easily, and quickly lose all her endorsements, the rest of you better keep a low profile and self-censor yourself when it comes to activities in the public arena." 
Though he believes she'll eventually be back. "China needs film stars with high international profiles," he notes, "unless there are serious charges against her." 
And should she reappear, few stars are as equipped to weather scandal as Bingbing. Asked, perhaps prophetically, what she would do if she were to lose everything in a flash, she told the Financial Times back in 2013, "I have learnt to be calm and steady so when things happen I don't panic. I also know that my family and friends will always support me so there is nothing to be afraid of."