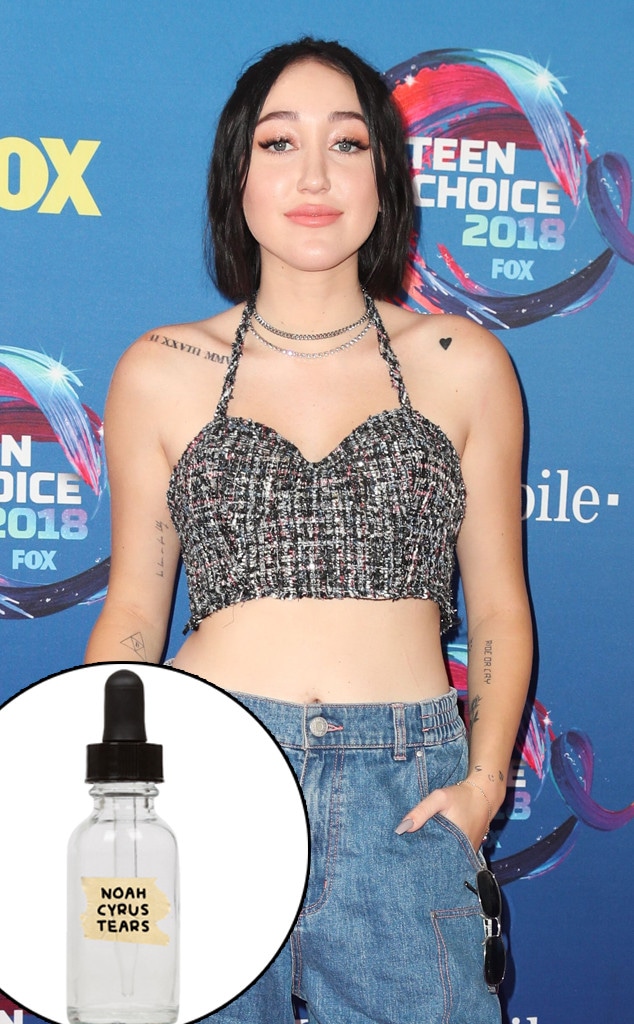 Chelsea Lauren/Variety/REX/Shutterstock; store.pizzaslime.com
Autographs and selfies are cool, but what about some tears?
Noah Cyrus recently showed off some of her merchandise for sale at PizzaSlime.com. While the Billy Ray Cyrus T-shirts are clever and the "Noah Cyrus Sucks" sweatshirts are creative, people can't stop talking about one item available in limited quantity.
Ladies and gentlemen, you can now purchase Noah's tears—if the price is right, of course!
For $12,000, lucky shoppers can receive "approximately 12 tears made by Noah Cyrus as a result of sadness."
The site warns consumers that it's a limited collaboration that's only available for 48 hours. Oh, and there's also a note that any doctor would appreciate.
"Human digestion of these tears is not suggested causes tears are generally pretty salty and that would just be super f--king weird if you drank someone else's tears," the site stated. Good to know?
"One person's trash is another person's treasure," Noah shared on Instagram when promoting her merchandise. "Me & @pizzaslime's stuff is up now for 48 hrs!"
We could create theories as to what caused Noah's tears. Her public breakup with Lil Xan is one possibility. Then again, they could be happy tears after her EP Good Cry sold well. Or maybe it's just a tribute to her hit song "Make Me (Cry)."
Whatever the case may be, Noah has certainly grabbed the attention of all kinds of consumers.
Now the question remains: If we buy the tears now, are they still fresh by the holiday season? Just thinking about Christmas gifts early.