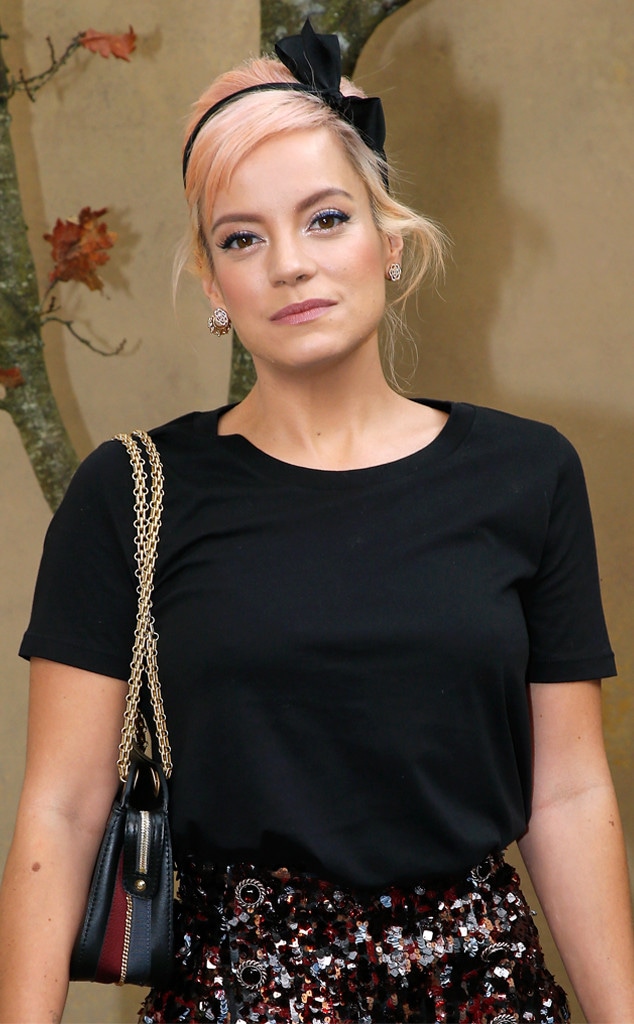 Bertrand Rindoff Petroff/Getty Images
Lily Allen is opening up about her life in her new memoir, My Thoughts Exactly.
The 33-year-old "Smile" singer details very personal moments from her life in the book, including the stillborn birth of her first child, George, in 2010. During an internal examination, a specialist told Allen her cervix was "already dilated," which meant she was technically in labor at 28 weeks and two days into her pregnancy. Allen was transferred by ambulance to another hospital an hour and a half away, where she had emergency surgery to "have a stitch put in to help hold my cervix together." The stitch held, she writes, for a week and a half, until one night when Allen laughed and she "felt it go ping."
Allen was in labor all night and in the morning she was told by the midwife that she was "crowning." She recalls in the memoir, "Then some time later – I don't know how long, maybe it was five minutes, but it could have been five hours, she said – 'The cord is wrapped around the baby's neck. There was a pulse. Now there isn't. There is no pulse now.'"
See more heartbreaking and bombshell stories from the memoir below:
1. Allen Writes She Felt "Not Human" During George's Delivery: "For ten hours between my baby dying and me getting him out, I entered a realm I'd never been to before. It is a realm I'd never been to before.  It is a realm I cannot describe or revisit, even if I wanted to. The sickness I was experiencing was consuming. I felt knocked out. I felt not human."
2. She Struggled With Bulimia: "It started with bulimia. I began making myself sick as attention heated up with my second album. In my case, it was a direct result of having my body constantly scrutinised."
3. Her Partying "Escalated" While on Tour With Miley Cyrus: "Things escalated in the late summer when I joined Miley Cyrus on her Bangerz tour. (Miley Cyrus, by the way, is great. She's straightforward, doesn't do bulls—t and she behaves like she'sl been touring and performing all her life – which she has. She's a real pro.) After each show, whever we were in the US, I'd hit a strip club. It became my thing on that tour – a way to come down, and somewhere to go so I didn't have to experience the loneliness of a random hotel room."
4. She Accidentally Headbutted Orlando Bloom During Kate Hudson's Halloween Party: In 2014, Allen dressed up as music producer Dr. Luke and attended Kate Hudson's star-studded Halloween party. "Orlando was famous long before I was, and when I first got to know him I think he felt protective of me. But, not any more, he didn't. He's a flirt, Orlando. He knew I was up for it at that party. He was, too. Or maybe he wasn't. Maybe I just assumed he fancied me because it was part of my thing of having to think that everyone did. Either way, I headbutted him so hard I knocked myself out, clean cold. I didn't mean to. I was sitting on his lap straddling him, and when I tried to lean in closer to his face, my head hit his and then hit something hard behind him. The hard thing knocked me out. I was very drunk."
5. Chris Martin Reached Out to Help Her Get Sober: "I came to in Kate Hudson's kitchen with Orlando and Chris Martin trying to sober me up," Allen writes. "Chris drove me back to the Santa Monica house and in my derangement, I thought he'd taken me to a hospital."
She later says, "In the morning I found a Post-it note with his telephone number he'd left stuck up on the fridge. 'Lily,' it read. 'Chris. Call me.' I did call him. He and Gwyneth had just broken up, but they were together in LA doing their conscious uncoupling thing. They asked me over for Sunday lunch."
Allen also writes that Chris and Gwyneth put her in touch with their marriage counselor.
My Thoughts Exactly is available online and in the U.K. now.