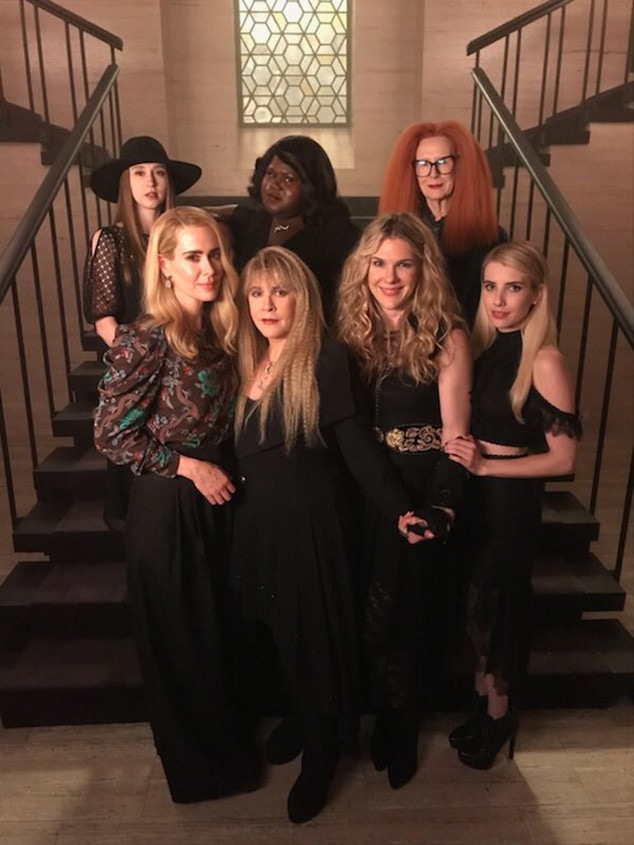 Twitter
There's something missing from American Horror Story: Apocalypse: The witches. Billed as the crossover season of American Horror Story: Murder House and American Horror Story: Coven, AHS: Apocalypse is two seasons in and no veteran witches have graced the screen.
"I know that people were like, 'Where's the crossover?! And my answer to that is, 'Be patient.' You're going to get all the crossover you could ever want…I think this season is a really nice acknowledgement of the fanbase and how invested people are, and I think fans are going to be really satisfied. You've got to trust in Ryan's process. He gets these incredible ideas and you have to trust that everything makes sense and works together. It's funny because people get really uncomfortable when they don't understand what is happening right away. My advice will be, 'Sit back and enjoy the ride,'" Leslie Grossman told E! News with a laugh. "It makes it more satisfying when you say, 'Oh my god, I never thought about that,' or, 'That was so clever how they brought that into it.' So, this was just this really fantastical idea that Ryan had and he weaves the crossover into it brilliantly, I promise…I think the response to the first episode was really great and the thing that freaks me out about Ryan is he's sort of a soothsayer. So, when he did bring up the nuclear war thing to me, I was like, 'Oh god.' [Laughs.]"
We know they're coming. We've seen the pictures. In fact, series co-creator Ryan Murphy just posted not one, but two new photos of Coven characters in action. Look how fabulous Frances Conroy is as Myrtle Snow.
And Taissa Farmiga is back as Zoe, as well as her Murder House character Violet. They're wearing all black and are in some sort of deserted area…is somebody about to get burned at the stake?
Why is Grossman's Coco St. Pierre Vanderbilt out of the outpost with the witches? Is she a witch? Hurry up, witches!
American Horror Story: Apocalypse airs Wednesdays, 10 p.m. on FX.