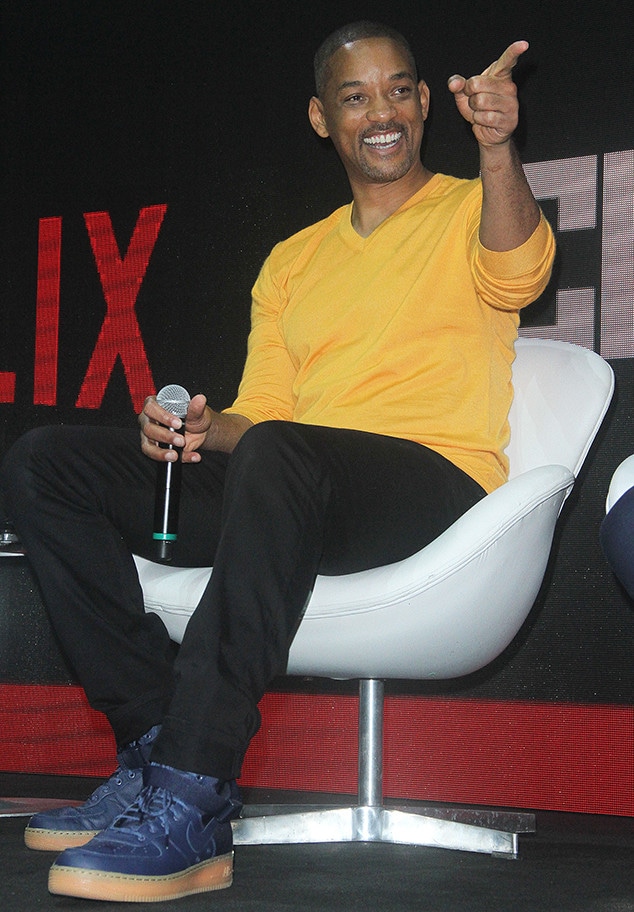 Splash News
Will Smith can now add stand-up comedian to his long list of talents.
On Wednesday night, the 49-year-old actor, producer and rapper was one of the many stars who took the stage at the Peppermint Club in Los Angeles during a comedy show hosted by Dave Chappelle. In addition to Smith and Chappelle, Katt Williams, Michelle Wolf, Jon Stewart, LeBron James, Michael Che and John Mayer were among the other celebs in attendance at the show. Smith's wife Jada Pinkett Smith and daughter Willow Smith were also at the show on Wednesday, watching him perform from the audience.
"Will Smith did a stand-up for the first time ever, he'd never done it and that was his very first time," a source tells E! News. "He laid it down! He killed it. He's a natural story teller but he had everybody laughing."
"Jada and Willow were there to watch, they had their own designated table toward the very front of the stage and they were all hanging out there," the insider continues. "Jada was next to Willow and they had a few other girlfriends in the booth too. Will was so funny, he talked about Jada and how he lost control of his house since she is recording her show in there."
Jaden Smith was not in attendance at the show, but that didn't stop Smith from sharing some jokes about his son.
"He also joked about how he found out about Jaden's 'Icon' single on Spotify and went home to ask Jaden about it and if he could be on Jaden's remix and Jaden was like, 'Umm no.' He said the next day he messed with Jaden a little more at home by bringing out all his Grammys and music awards, throwing it in Jaden's face," the source tells us. "Willow and Jada were just cracking up the entire time, Jada was laughing at all his jokes. They were looking at each other having the best laughs and you can tell they are all very in love and a hardcore tight-knit family. After his set everybody came on stage and they were having a whole jam sesh and Will started freestyling to it! It was amazing."
Instagram user @sorayaandthecity shared photos and videos from the comedy show on social media. In the posts, you can see all of the stars together on the stage.
Robert Mora / Mora Creative Studio
"This was one of Chappelle's best sets ever," the insider shares. "He had John Mayer on stage and he was shelling out different background music and tunes throughout the show. Jon Stewart also co-hosted, he touched on some light-hearted political jokes to bring people back to what he's known for, he was really funny and this was the first time in a while he'd performed."
The insider adds that all of the comedians who performed "had a lot of fun" messing with Smith, "kind of roasting him," but Smith was a great sport about it and "cracked up" at every joke.
According to the source, "LeBron James came on stage and talked about how he's from Ohio but he's excited to be in L.A. to play for the Lakers."