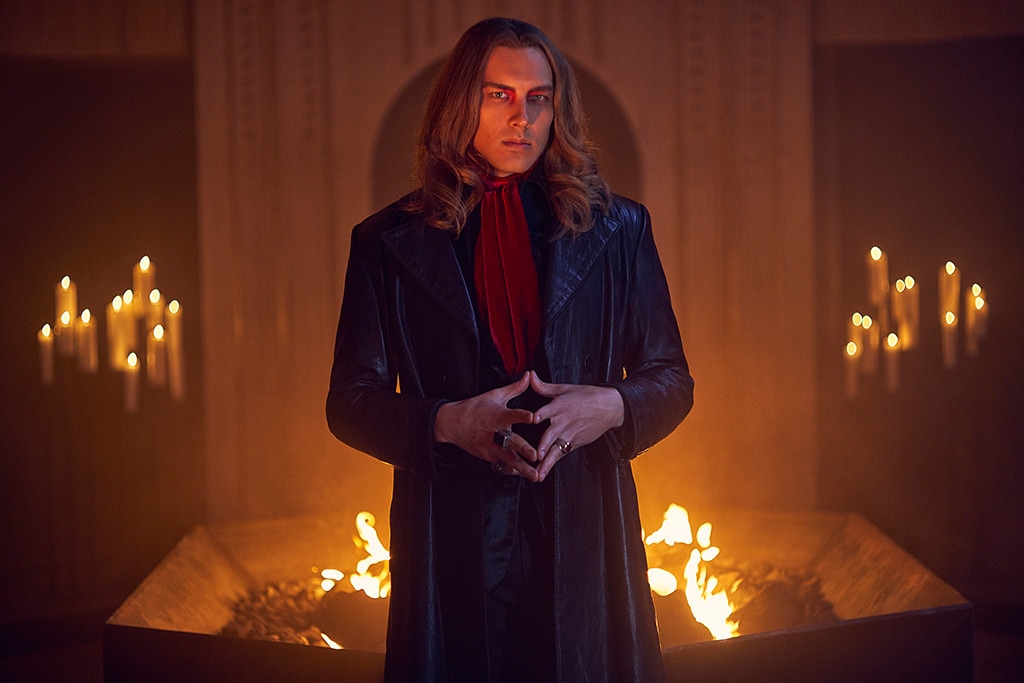 FX
Snake soup, anyone? 
The full crossover aspect of this alleged crossover season of American Horror Story hasn't yet happened, but there are definitely some meta things going on in tonight's second episode. Michael Langdon (Cody Fern) proved himself to be a truly weird and sort of fabulous dude and his "tests" of the bunker residents seem to be pretty questionable.
He sat down across from Mr. Gallant, who is played by Evan Peters, and while Evan Peters wasn't playing Tate at the moment, there was still an odd sense of inappropriateness as they sorta kinda flirted with each other. Or at least that's how Gallant saw it, because when the Rubber Man showed up in his bedroom, he assumed it was Langdon and was immediately down for some sex. 
We assumed it wasn't Langdon, just because that was too obvious, and we're kind of thinking it was actually Tate, and Tate's Anti-Christ son how has him doing his bidding or something extremely weird like that. 
Whether Gallant canonically looks exactly like Tate or not has yet to be explained, but it's not the only thing we're wondering about. 
After Langdon denied having been the Rubber Man, the Rubber Man appeared again, and after caressing him sexually for a second, Gallant grabbed a pair of scissors and stabbed him, apparently to death. Only then, the Rubber Man turned into Evie (Joan Collins), Gallant's grandmother who had sold him out about the sex with the Rubber Man in an effort to save herself. 
How long was it Joan Collins before it was actually Joan Collins? Was it actually Joan Collins at all? We'll have to wait to figure that out.
Elsewhere, Kathy Bates was shot when she tried to kill those teens for having sex with each other, and that's when we learned she might be a robot due to the not-blood she bled and the spark-filled insides she appeared to have. Meanwhile, Stevie Nicks played over the creepy radio, and while no witches appeared, that made it feel like they could at any second, and that was strangely comforting.
Once again, we're confused, and once again, we want more immediately. We'll be spending the next week making Evan Peters-related charts. 
American Horror Story: Apocalypse airs Wednesdays at 10 p.m. on FX. 
P.S. ROBOT KATHY BATES THOUGH?