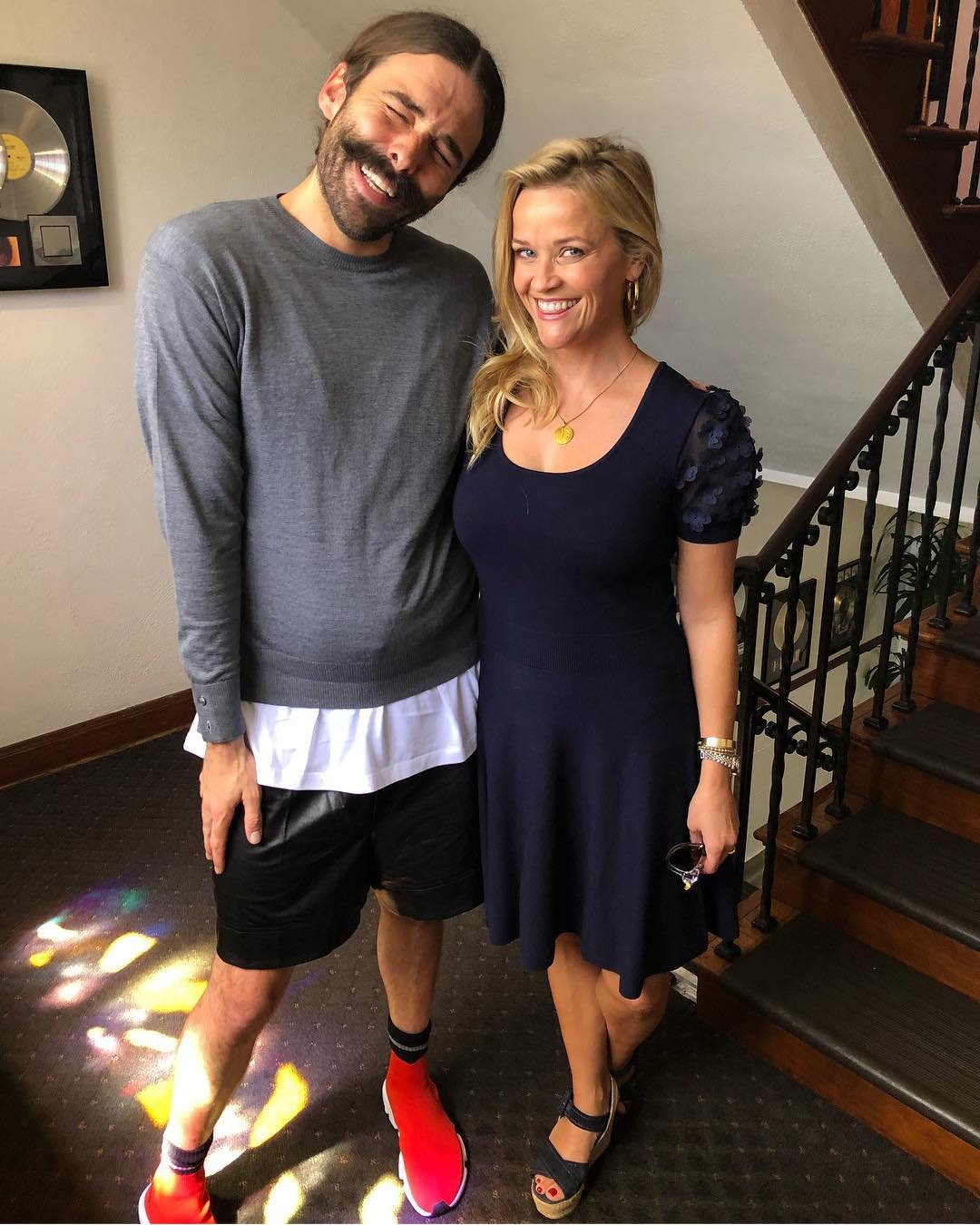 Instagram
Queer Eye meets Big Little Lies on Jonathan Van Ness' podcast, Getting Curious.
The grooming expert from the Netflix show sat down for a chat with none other than the queen herself, Reese Witherspoon. Witherspoon and Van Ness dished on all things Hollywood, TV and social media.
To start, the two dived right into their guilty pleasure: social media. "It's a problem," Reese shared. "I am a little obsessed with like looking at it."
Likewise, Jonathan revealed he probably spends about 35-40 percent of his day on the app. He revealed, "Sometimes I am really trying to say something, but then other times I am like, 'I am feeling a little like meh i'll post a topless pic and a heel cause I know it's going to make me feel cute.'"
Reese, on the other hand, was a yearbook member in middle school and has always been obsessed with creating content. "I am obsessed with memories," she gushed.
One memory she, Jonathan or anyone else for that matter won't be forgetting is the moment she threw an ice cream cone at Meryl Streep on the set of Big Little Lies. "For like a hot minute, that's all people wanted to ask me about for like four solid weeks," Reese laughed.
Besides gushing over the HBO series, Jonathan also asked the longtime actress for advice on how to savor the moments he experiences after skyrocketing to fame in recent months. "My life has like wildly changed in eight months, this is like a very different--like I am sitting in a room with Reese Witherspoon in a little recording salon in West L.A.," he shared. "Like if you had said to me at this date like last year that this is what I'd be doing, I'd be like no."
After praising the Queer Eye star, she told him, "Take a lot of pictures and write it all down please. I didn't take enough pictures."
"If something major happens, write it down, you're going to want it remembered. It's important for yourself that these moments matter and it's a part of this beautiful thing in your life. You're gong to meet so many people and you're on this incredible journey," she advised. 
Yas, henny!
To hear the interview in full, check out the podcast here!