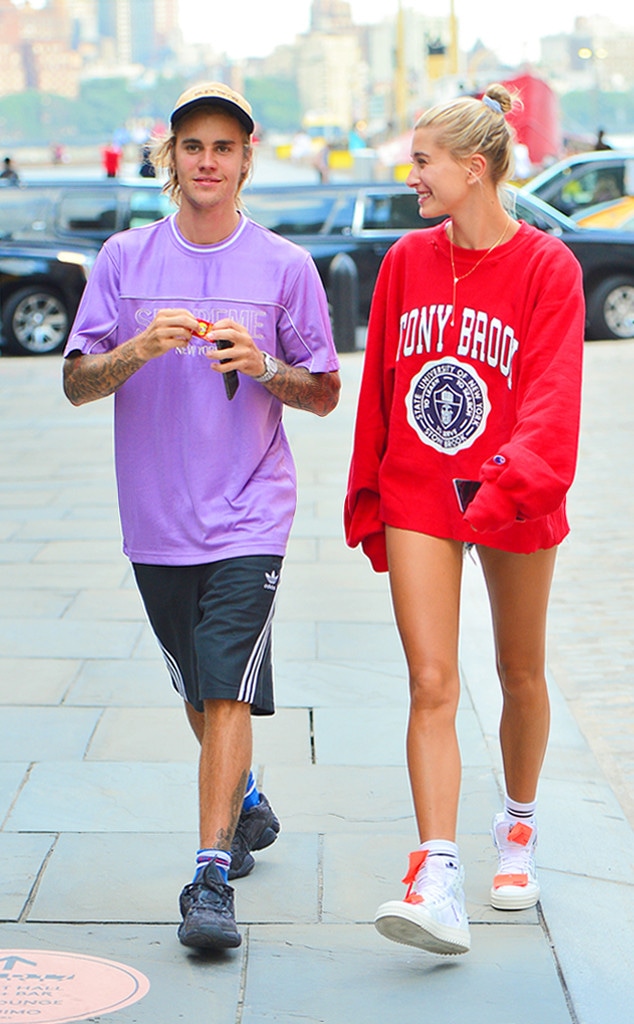 PapCulture / SplashNews.com
Hailey Baldwin is experiencing her very own fairy tale.
This past summer, the supermodel received an unforgettable proposal from Justin Bieber while on vacation at Baker's Bay.
Since then, the pair has celebrated their engagement status all around the world with more than a few eyes on them. In fact, the duo couldn't even visit a New York City courthouse without the world jumping to conclusions that they are married.
For the record, both Hailey and Justin aren't confirming anything just yet.
While we wait patiently for an official wedding announcement or news, we're taking a look back at all the things Hailey has said about her engagement thus far. Let the love story continue!
July 9: "Not sure what I did in life to deserve such happiness but I am so utterly grateful to God for giving me such an incredible person to share my life with! No words could ever express my gratitude," Hailey wrote on Instagram when confirming her engagement for the first time.
July 9: After confirming her engagement, Hailey reacted to a user who said Justin should "grow the mustache back for the wedding." Her response? "Don't u dare give him that idea you lunatic." LOL!
August 19: Short but oh so sweet! When posting to Instagram, Hailey shared a photo of herself cuddling up to Justin on a boat with the message, "Absolute best friend."
September 2: In her first interview remarks about the engagement, Hailey told Australian magazine Stellar that, "I'm beyond excited." As for the increased scrutiny and interest in her personal life, the model tries to remain at ease. "I don't think it's affected me really," she explained to the publication. "I have learned to just try my best to ignore the negativity at this time so that I can enjoy this season of my life."
September 11: Family over everything! In an interview with Women's Wear Daily, Hailey responded to Alec Baldwin's advice about putting family before work. "That sounds like very sound, solid advice. He's just trying to look out for me," she shared with the publication. "It's smart, and it's important. You have to always put family above work, no matter what."
September 14: Hold up! After reports surfaced that Justin and Hailey got married at a New York City courthouse, the reported bride set the record straight on social media. "I understand where the speculation is coming from, but I'm not married yet!" she wrote on Twitter. She later deleted the tweet.
September 19: Summer 2018 was a season to remember. "My entire summer has been quite adventurous in life in general. I've been traveling all over. For me, being adventurous is flying by the seat of my pants, which isn't something I'm normally comfortable with, but I've been doing it for the last few months. Just traveling, and it's so fun to be able to pick up and do things," Hailey shared with Coveteur. "Well, I got engaged! I think that's probably the biggest OMG moment of the year for me, of my life. So that's probably top."
What will Hailey say next? Stay tuned!