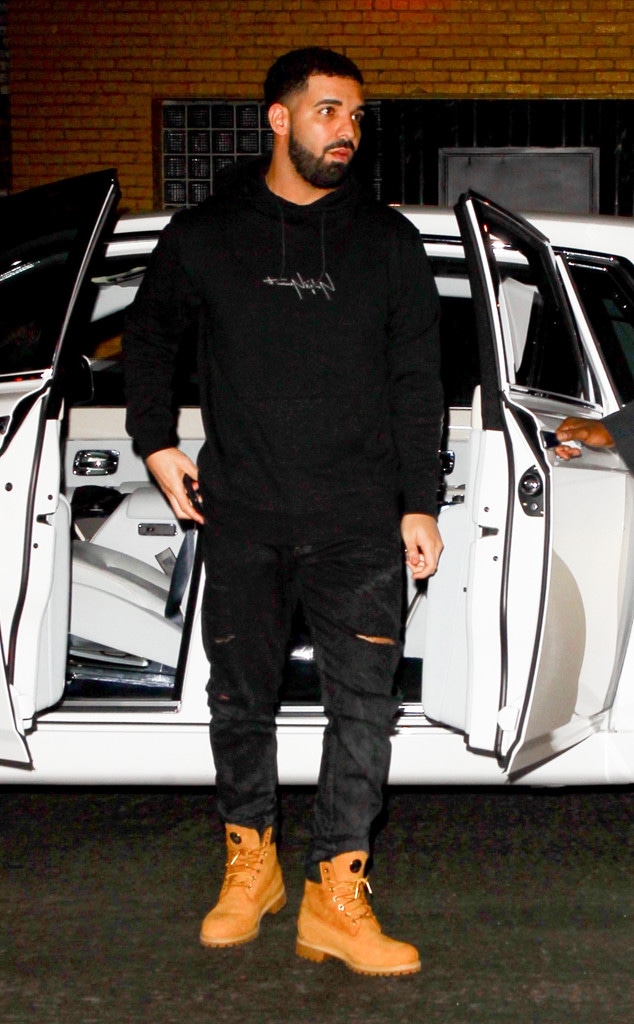 HEDO / BACKGRID
UPDATE: Drake has reached a settlement in his case against a woman who accused him of allegedly raping and impregnating her. The woman named Layla Lace also allegedly attempted to extort the rapper. 
He and Lace have since settled the matter out of court. Drake's attorney, Larry Stein, said in a statement, "The filing made by Drake against Layla Lace has been resolved, with Layla avoiding going to trial by agreeing to a stipulated judgment which prohibits her from repeating past statements she made against Drake.  Drake and his team are satisfied with this outcome and while Drake appreciates the support he has received, he asks that his fans and the media allow both parties to move on with their lives."
-------
Drake is suing a woman who he says falsely accused him of raping and impregnating her during a one night stand and who allegedly then tried to extort him for millions of dollars.
In April 2017, Layla Lace said on social media that the rapper got her pregnant and then dodged her calls. She posted on Instagram what were depicted as text exchanges between the two and a photo of a lab printout of a pregnancy test order. She later deleted her account. But she later appeared on Sirius XM radio's Shade 45 channel, saying she was "100 percent sure" Drake got her pregnant. She made no mention of sexual assault.
On Tuesday, Drake filed a lawsuit against Lace, accusing her of civil extortion, emotional distress, fraud, defamation, and abuse of process. He claims that the two had "consensual, protected sex" after she met him in Manchester, England while he was on tour last year and that "there is no credible evidence of pregnancy, nor any baby, which would have been born last fall." 
"Layla Lace is a former stripper who has spent at least the last year and a half plotting and scheming to—in her words—'make a field day' out of megastar Aubrey Drake Graham's 'f—king ass!!!'" the documents state. "Drake has had enough and brings this action to stop her in her tracks."
Lace has not responded to Drake's lawsuit.
He says in the documents that after their sexual encounter, "Layla went ballistic at Drake for sending her home instead of allowing her to continue on his tour," after which the rapper apologized to her via phone and text message. He said that she continued to message him about wanting to get together and claims that she created a "fantasy relationship" with him. He said after a month of text exchanges, he stopped responding to her and a month after that, she made her public allegation about the pregnancy.
Drake says in his lawsuit that in May 2017, a lawyer purporting to represent Lace reached out to his own attorney and demanded money for the woman's alleged baby. Drake states that through counsel, he indicated that if the child was his, he would support it, but for various reasons, including that he had used protection, it was impossible that it could be his and therefore he would need proof. The rapper claims that following several phone calls, Lace refused a paternity test.
He says that a month later, he was informed and believes that Lace contacted authorities in New York and for the first time alleged he sexually assaulted her during their encounter. The rapper says in his suit that he is informed and believes that the authorities referred the matter to Manchester police, who investigated the matter, interviewed him after he appeared in person voluntarily and cleared him of all wrongdoing.
Drake says in his lawsuit that after the investigation was closed, Lace demanded he pay her millions of dollars in exchange for her silence.
"Enough is enough. With this action, Drake is refusing to allow Layla to get away with her malicious plot and scheme to extort millions of dollars from him by threatening to go public with salacious (and ever changing) false accusations of conduct that simply did not happen," the suit states. "It would have been easy for Drake to pay for silence. However, Drake does not want to take the easy way out. Layla and her attorneys underestimated Drake's steadfast resolve not to pay hush money to avoid negative publicity arising from fabricated claims. He looks forward to holding Layla and those working in concert with her responsibly for he egregious misconduct."
"Drake preferred that he would not have to further engage with Layla in any way," the suit continues. "She made that outcome impossible, however, with her behavior and he had no choice but to file this action to expose Layla for the opportunist that she is and prove his case in a court of law."
This story was originally published on Wed., Sep 19, 2018, 8:22 AM P.S.T.