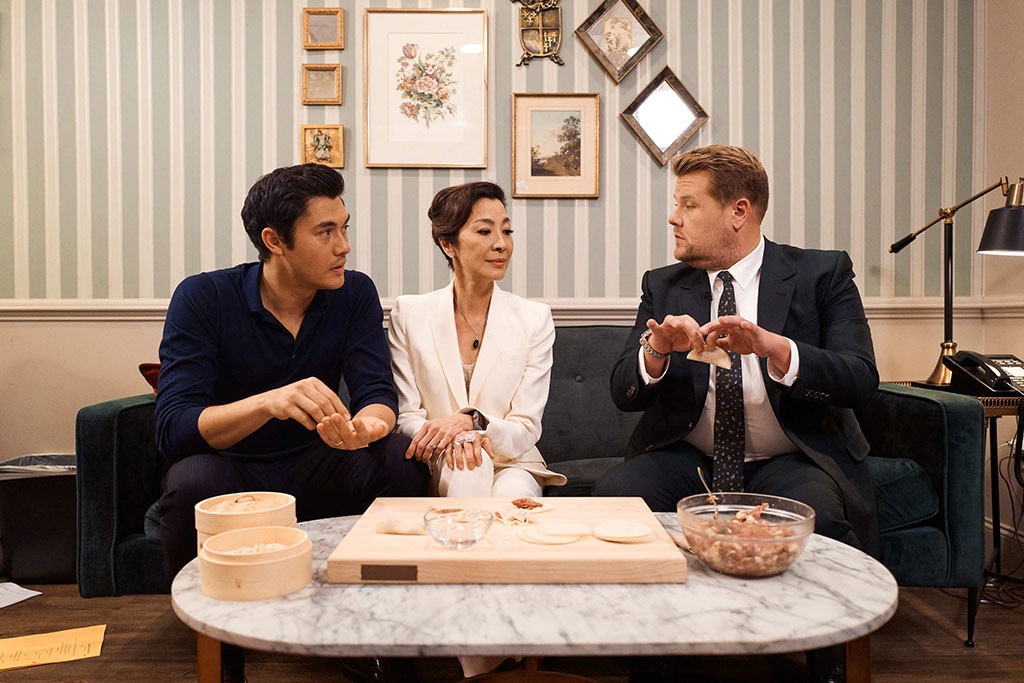 Terence Patrick/CBS
Sometimes, there are stars even James Corden can't impress. 
Such was the case Tuesday night when Crazy Rich Asians stars Henry Golding and his movie mom Michelle Yeoh paid a visit to the Late Late Show set. However, the late-night host ran into a bit of a problem when Yeoh would not allow Golding to be one of the show's guests—much like when she disapproved of his character marrying his movie girlfriend, played by Constance Wu. 
"She says the only way that I can get on the show is if you win her approval," Golding told Corden. 
"I love moms. Moms love me," the host assured the star with confidence. "Leave it to me. I've got this."
However, he did not have it. After gifting Yeoh an autographed DVD of Peter Rabbit, she chucked it into the garbage in front of him, proving this certainly was not going to be an easy feat. 
Taking a page out of Wu's character's playbook, Corden dotingly participated in making dumplings with Golding and Yeoh, though was not successful again. 
"I want to make it clear to you you're never going to be good enough for our family," the actress cruelly told Corden. "You're not even good enough for your own family."
Fueling the late-night host's fire, he went on to beat her in a game of Mahjong, which only angered her more. "It's not my fault your mom sucks at Mahjong," Corden rebuffed. 
Finally, like Wu, he turned to an emotional monologue. 
"One day, he's going to be on another late-night talk show and I want you to remember this and think of me and everything I sacrified because, if I can't have him as a guest on my show, then I don't want any guest on my show," he told her before taking off his tie, quitting and leaving in defeat. 
Fortunately, this story has a happy ending. Check out the clip above to see the grand finale!