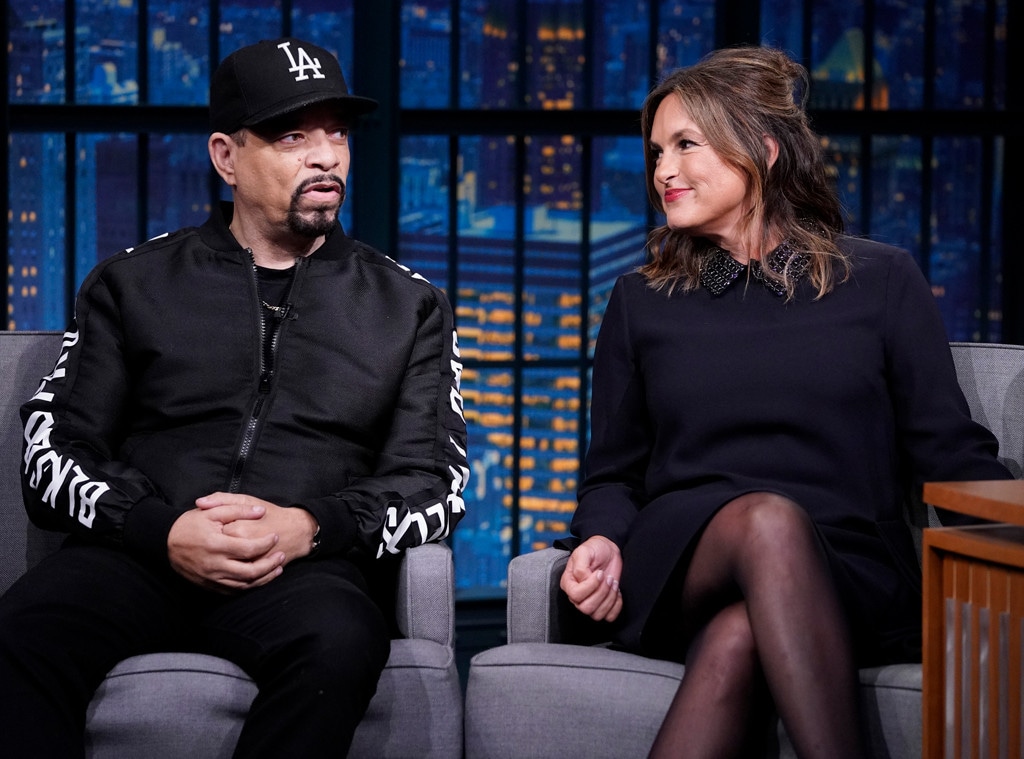 NBC
The enduring bond between Mariska Hargitay and Ice-T was on full display when the Law & Order: SVU stars stopped by Late Night with Seth Meyers.
Hargitay and Ice are both back for SVU season 20, which ties the show for the longest-running live action scripted series on American TV with mothership Law & Order and Gunsmoke, and celebrating their two decades of working together, as they rightfully should.
"People through the word family around, but after 20 years its true, it's the real deal," Hargitay said about working with Ice.
The TV police officers didn't know each other before working on the NBC drama, but they used to live in the same area of Los Angeles. "We could see each other's house from where we lived in Los Angeles, but we didn't know each other," Ice said. "It was just odd, it was weird, and now here we are together."
"Meant to be," Hargitay said.
Hargitay went on to praise Ice's work ethic, including his advice.
"I've never seen—in 20 years—this man come to work in a bad mood, not be grateful, always ready to work…he's never complained, I've never heard him complain," Hargitay said.
"Also, I think, your gift, he has the ability to no matter what we're talking…about to distill it down to its purest essence," Hargitay said.
"I just believe everybody needs a reference point to f—k up, right?...We're on a set, we're making movies and you can feel bad, but I've been through some bad things, so I always use that as a reference point to be like, 'Shut up. Relax. You're lucky. You're fortunate.' And then…You know what I'm saying? You got fans. Like, what? You got a lot of nerve to be upset. So, I just bring it right back and then I try to transfer that to everybody on set. Like, 'Look, we're all very lucky and let's just be blessed, you know? And take advantage of it," Ice said.
"That is the truth," Hargitay said.
Ice said working with Hargitay for 20 years he's learned she's funny. You don't see it on the show because, well, it's Law & Order: Special Victims Unit and there's rarely a light episode, but behind the scenes, "she's crazy. She's fun to be with, nothing but jokes. Not even jokes we can tell on television," he said.
Law & Order: SVU returns Thursday, Sept. 27 at 9 p.m. with a two-hour premiere on NBC.
(E! and NBC are both part of the NBCUniversal family.)