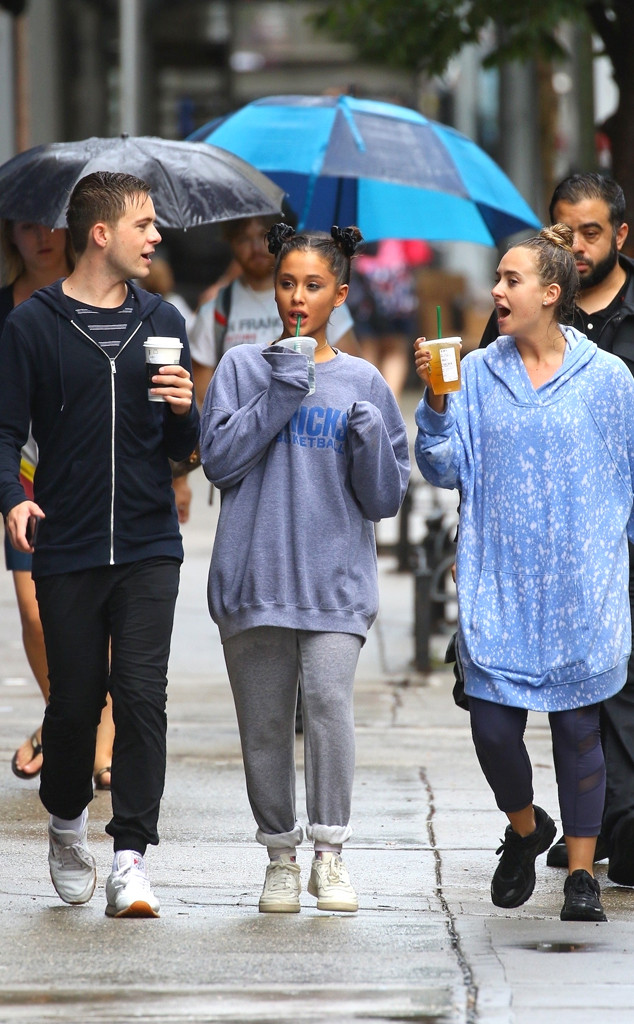 BlayzenPhotos / BACKGRID
Ariana Grande is learning to dance through life's rainstorms—both figuratively and literally.
The "God Is a Woman" singer was spotted on Tuesday in New York City, marking one of her first public outings in the weeks following Mac Miller's sudden death. Dressed casually in an oversized sweatsuit, Ariana and two pals were stranded without umbrellas during a rain-soaked coffee run.
Best friends Doug Middlebrook and Alexa Luria stood close by the 25-year-old Ariana as they embraced the downpour with smiles on their faces. Just yesterday, the grieving star and fiancé Pete Davidson stepped out for a long walk through their Manhattan neighborhood. Ariana was poised to join the Saturday Night Live star at last night's 2018 Emmys, but both skipped out on the festivities in the wake of Miller's passing.
"Contrary to reports, Ariana will not be attending the Emmys tonight," her team shared with E! News. "Pete has also opted to not attend to be with her in New York."