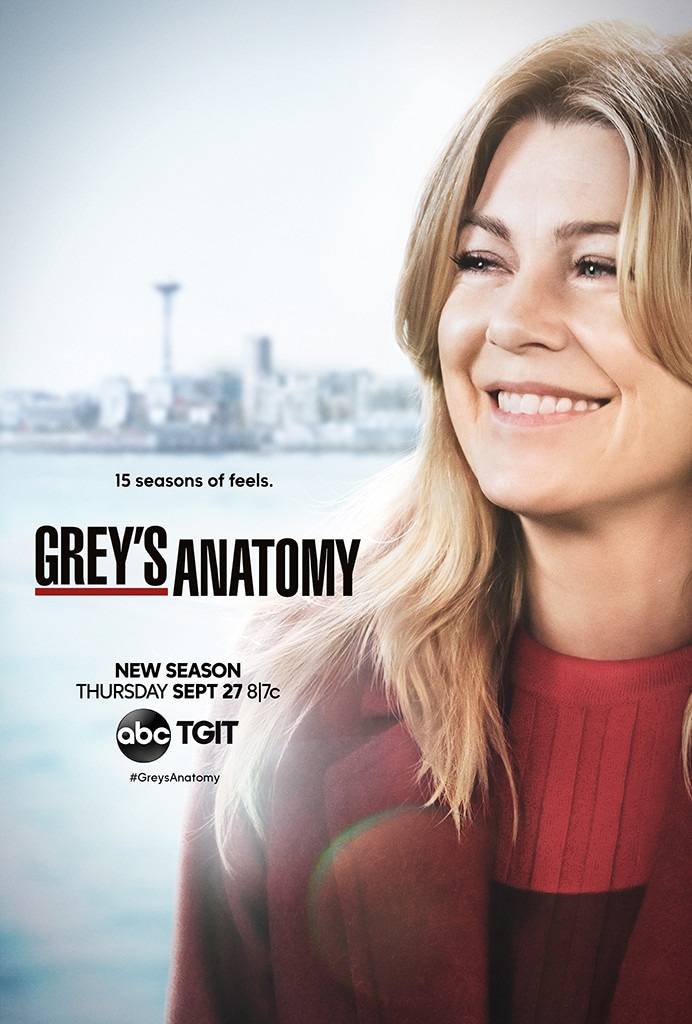 ABC
Whatcha smiling about, Meredith?
Dr. Grey (Ellen Pompeo) is looking quite happy to be heading into Grey's Anatomy's 15th season in brand new key art, which also gives us a new tagline: 15 seasons of feels. Accurate, no? 
Meredith may very well be smiling about the fact that as we've now heard many times, season 15 is the season of love. Meredith herself was even seen getting some love from someone very unexpected (hello, Dr. DeLuca!) in the season trailer, though we have yet to decide if we think that's really happening or if someone's dreaming it. (And if someone's dreaming it, whose dream is it??) 
Grey's returns next week with a two-hour premiere. The first hour finds the doctors at Grey Sloan vying for a new position while Maggie deals with keeping a major secret, which McCreary hinted to us as having to do with Owen, Amelia, Teddy, and Teddy's very big news. Meredith is distracted by something and struggles to stay focused, while Jo and Alex's honeymoon doesn't go as planned (but like, if it did, we'd almost think we were watching the wrong show). 
We'll also be meeting some new doctors (like the "ortho god" played by Chris Carmack) who will shake up the hospital in the second hour, which will also see Meredith bonding with a patient, Jackson struggling with the meaning behind "recent experiences," and Jo making a "life-changing" decision and forming an unexpected alliance. 
Grey's Anatomy premieres Thursday, September 27 at 8 p.m. on ABC.