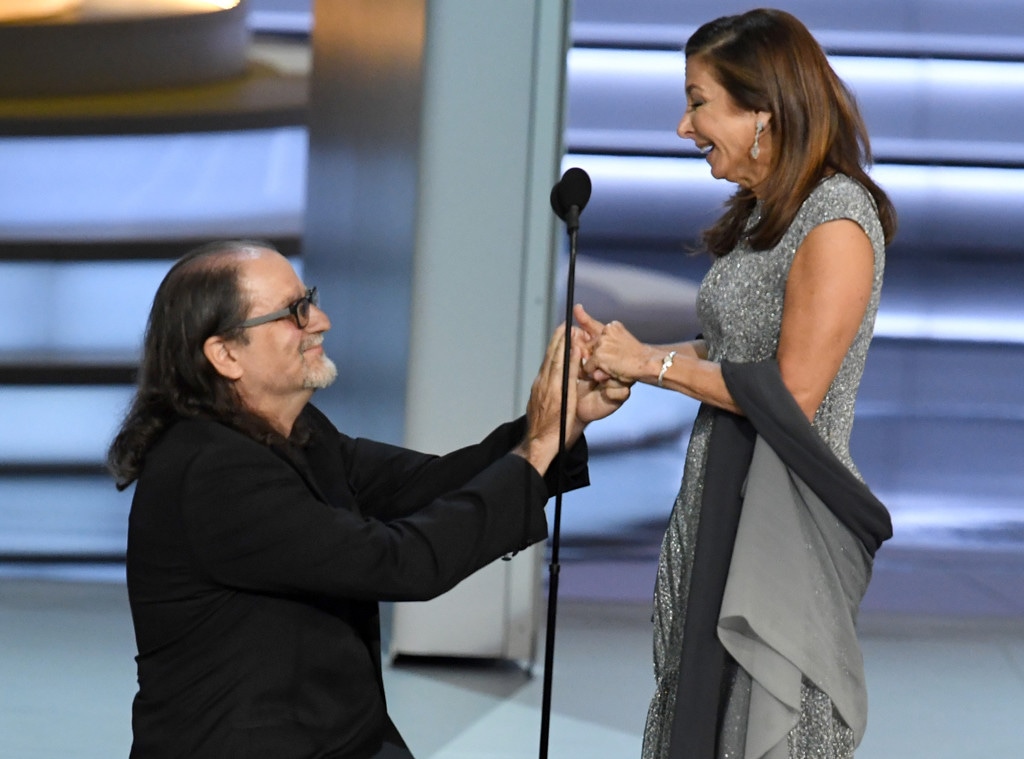 Kevin Winter/Getty Images
It's a proposal straight out of a movie!
During Monday night's 2018 Emmys, Glenn Weiss celebrated his award onstage by asking his girlfriend Jan Svendsen to marry him.
The gesture quickly became one of the most talked about moments of the night on social media. And while the live TV moment was special, the details behind the proposal are even sweeter.
"It's been an interesting couple of weeks in my life and it became a thought and the thought picked up steam as we got here," Glenn shared with reporters backstage via Variety. "It was just a really magical moment."
The Outstanding Directing for a Variety Special winner revealed to reporters that his mom passed away two weeks ago. Before her death, she formed a very strong relationship with Jan.
"My mom would always say she's my friend first," he recalled. "That's what makes it feel bittersweet but very nice."
The sweetness only continued when Jan showed off her new piece of bling on that finger. "This was his mother's ring. This to me is probably more meaningful than anything else," the bride-to-be explained. "I'm just so honored that I get to have it on right now."
For those wondering what would have happened if Glenn didn't win the Emmy, the director assures fans that the engagement still would have happened sooner rather than later. As for what his specific plan would have been, that's to be determined.
"[I would have] waited until next year?," he joked. "[Maybe] In-N-Outm which is our staple after award shows."
Glenn added, "You can't plan something like this because I'm a nominee. It's not like I know I'm going to be up there. This could have been anywhere but the fact that this happened in this way, it's wonderful."
During Monday night's magical moment, stars including Leslie Jones and Benedict Cumberbatch couldn't help but deliver a standing ovation after the romantic proposal.  And while being onstage felt great, Glenn admitted that backstage was also filled with love.
"Just walking backstage,  it was almost more overwhelming walking backstage afterwards," he shared. "And it was great onstage—believe me—but it's like family."
Congratulations to the happy couple!