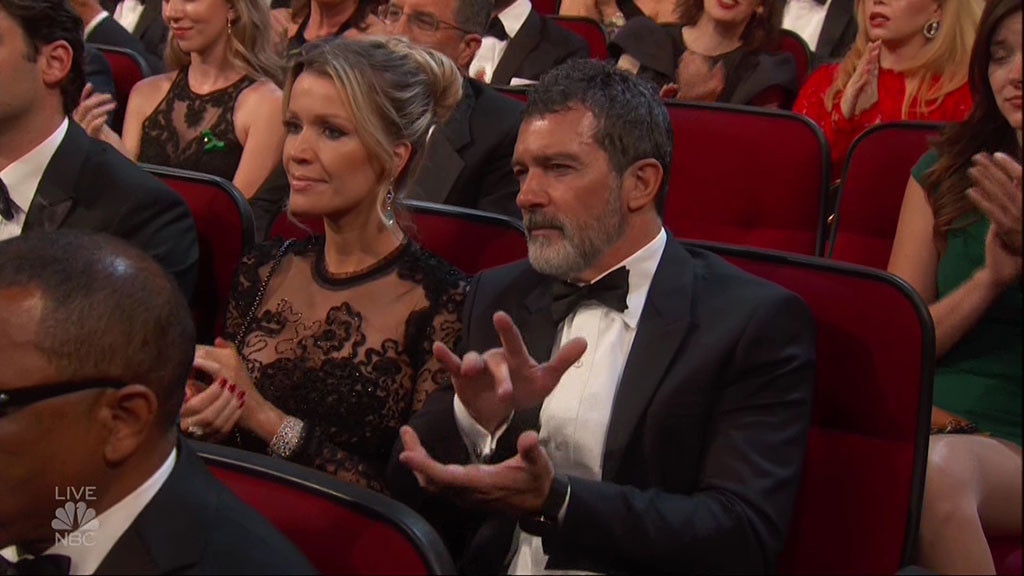 NBC
Last year, it was Nicole Kidman's seal clap. This year, Antonio Banderas seems to have taken her place.
The Genius nominee was sitting in the 2018 Emmys audience minding his own business when a viewer noticed something—his clap. 
Naturally, the moment sparked comparisons and references to Kidman's viral clap from the 2017 Oscars. At the time, cameras spotted the star in the audience not quite touching her hands together in a peculiar fashion. 
As the actress later explained, it was her rings that were getting in the way. 
"It was really awkward!" she explained in an interview on the Kyle and Jackie O Show at the time. "I was like, 'Gosh, I want to clap.' I don't want to not be clapping, which would be worse, right? 'Why isn't Nicole clapping?'"
"It was really difficult because I had a huge ring on that was not my own," she mentioned. Kidman sported 119 carats worth of Harry Winston diamonds that night included a cluster ring. "It was absolutely gorgeous, and I was terrified of damaging it. It's like, is there not more important things to be focused on than the seal clap?"
The Internet doesn't miss a thing—including Banderas' clap. While the star hasn't said anything about his soon-to-be viral moment, viewers quickly began speculating about it on Twitter with many calling out the moment as one of the night's standouts online. 
"Calling it early for gif of the year," one viewer tweeted. "Gotta be Antonio Banderas' weird Emmy clapping. An appropriate reply to anything."
Banderas earned his second Emmy nomination after more than a decade in the Outstanding Lead Actor in a Limited Series or Movie category for his performance as Pablo Picasso in the National Geographic series. 
Darren Criss ended up taking home the statue in that category as the lead role of Andrew Cunanan in the FX show, The Assassination of Gianni Versace: American Crime Story.