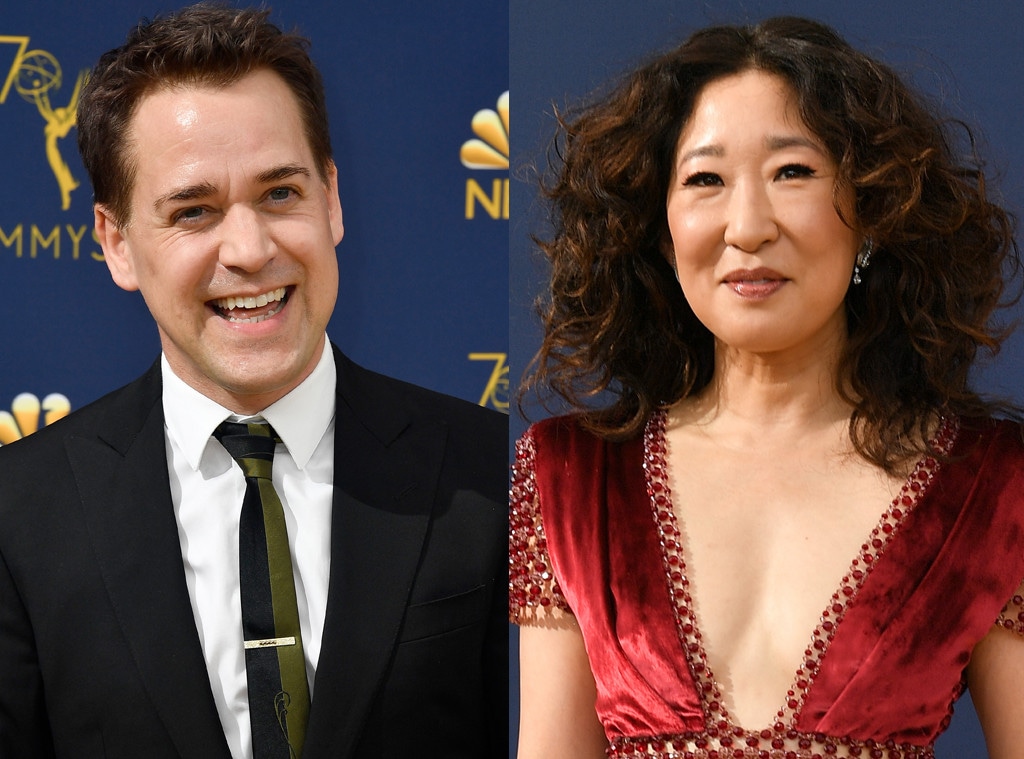 Invision for the Television Academy/AP Images
We here at E! News like to dream, and the 2018 Emmy Awards sure were dreamy. 
The fashion was gorgeous, the drinks were flowing, and the celebs were mingling, making us all a little envious of the glitz, the glamour, and the friendships sure to be forming. 
One thing we also saw as we scoured social media accounts and professional image sites was a whole lot of squandered nostalgia potential as celebs who formerly starred together on beloved TV shows didn't appear to take the time to publicly pose together, meaning they deprived us of the reunions we're literally always dreaming of.
Here we've compiled a list of all that squandered potential, all while letting those celebs know they've still got time at all those afterparties to make our dreams come true! 
Grey's Anatomy: Sandra Oh and T.R. Knight
Christina Yang and George O'Malley were both in attendance tonight. Oh was nominated for outstanding lead actress for her role in Killing Eve, and Knight was with his fellow cast of Genius: Picasso, which was nominated for outstanding limited series. Would it have killed them to take a pic together? Or to dance it out together in the aisle of the theater? We don't think that's too much to ask. 
Nurse Jackie: Merritt Wever and Edie Falco
Listen, we've got a fever and the only prescription is a Nurse Jackie reunion. Need we say more? 
Invision for the Television Academy/AP Images
Gilmore Girls: Milo Ventimiglia, Alexis Bledel, Amy Sherman Palladino
These three being everywhere is likely going to continue for a while since they're all very buzzy people on very buzzy shows, but that only means there are more opportunities they're not taking to get together. Just think of all those Team Jess fans still trying to hold out hope that Rory's baby somehow belongs to him!
Community: Alison Brie and Donald Glover
Glover has long moved past Community to become one of today's most respected artists, but sometimes, we just really miss Troy. An antic or two with Alison Brie, who played Annie and now stars in Netflix's GLOW, is really truly what our heart desires. 
John Salangsang/Invision for the Television Academy/AP Images
Mad Men: Elisabeth Moss and Vincent Kartheiser
Remember when Peggy and Pete had a baby together and Peggy didn't even know she was pregnant? It would be totally cool if Moss and Kartheiser got together to take a pic and to also wonder what ever became of their child, to then be joined by Alison Brie (who played Pete's wife) and Kartheiser's real-life wife Alexis Bledel (who played Pete's fling) for one heck of a Pete party. 
The People v. O.J. Simpson: American Crime Story: Sarah Paulson and Sterling K. Brown
Justice for Marcia Clark and Christopher Darden—the real ones, not the actors, who both won the Emmy for those roles. But also justice for us for not getting the pic of them together that we require.
Invision for the Television Academy/AP Images
Friday Night Lights: Connie Britton and Jesse Plemons
Clear eyes, full hearts, where is our pic of Landry and Tami catching up? Imagine Tami discovering that Landry has since had a baby with Kirsten Dunst! He sure has come a long way since helping Tyra murder that guy. 
Weekend Update: Bill Hader and John Mulaney
This was truly a night for SNL stars former and current, and Bill Hader did just reprise Stefon when he hosted SNL earlier this year, but any time Hader and Mulaney are in the same room and on camera and not giving us Stefon's latest tips for a great night out is an opportunity missed. 
Did we miss any potential reunions? Hit us up at @eonlinetv!