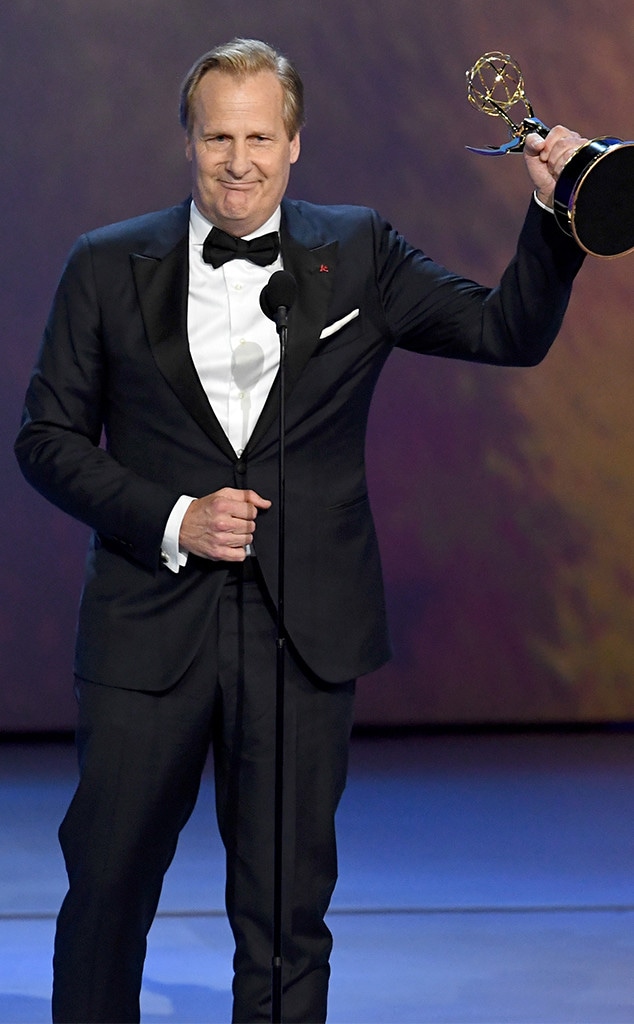 Kevin Winter/Getty Images
What a win for Jeff Daniels!
During tonight's 2018 Emmys inside the Microsoft Theater in Los Angeles, the star took home the award for Outstanding Supporting Actor in a Limited Series or Movie for his performance in Godless. Kit Harington and Constance Wu presented the coveted honor to the Hollywood veteran for his role leading role as ruthless outlaw Frank Griffin, which marked his fifth Emmy nomination and second win. 
"Little tip for you young actors," Daniels quipped during his acceptance speech, "When they call and say can you ride a horse, don't lie. You will find on day one you're in the Kentucky Derby." 
In between thanking those who helped Godless come to life and wife Kathleen Treado, Jeff also carved out a substantial amount of time in his acceptance speech to thank his onscreen horse. 
"I would also finally like to thank my horse, Apollo," he shared onstage. "He was Jeff Bridges' horse on True Grit and I felt he was making unfair comparisons. Three times he threw me off the horse. Three times! The third and last time, I broke my wrist—literally broke my wrist. It was my left wrist."
"It's now officially healed," Daniels concluded while holding up his Emmy statuette. 
Fellow nominees included  Brandon Victor Dixon for Jesus Christ Superstar (NBC), John Leguizamo for Waco (Paramount Network), Ricky Martin for The Assassination of Gianni Versace: American Crime Story (FX), Edgar Ramírez for The Assassination of Gianni Versace: American Crime Story (FX), Michael Stuhlbarg for The Looming Tower (Hulu), and Finn Wittrock for The Assassination of Gianni Versace: American Crime Story (FX). 
To make Daniels' evening that much more unforgettable, he was one of a small handful of talented starts to have been nominated in multiple categories. The Television Academy also recognized Daniels for his performance in Hulu's The Looming Tower in the Outstanding Lead Actor in a Limited Series or Movie category. 
Watch:
Jeff Daniels Talks Challenging Villain Role in "Godless"
Check out the complete list of winners, getting updated in real time, right here!