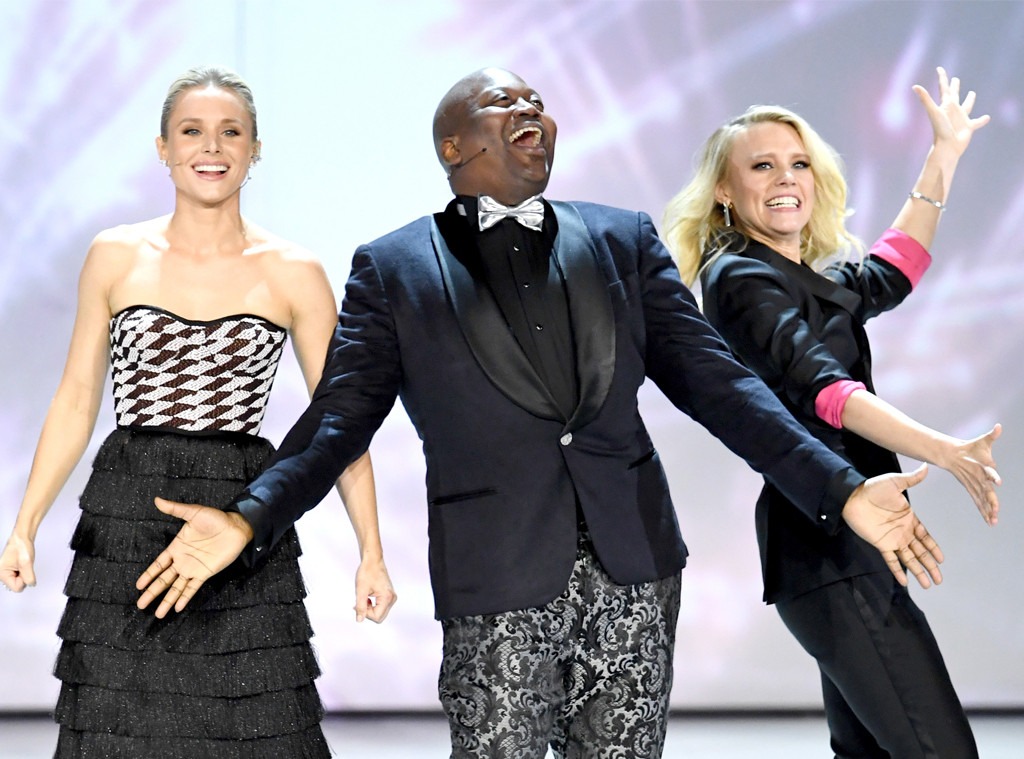 Kevin Winter/Getty Images
Live from Los Angeles, it's the 2018 Emmys!
Get prepared for plenty of Saturday Night Live puns as the 70th Annual Emmy Awards continues, especially with "Weekend Update" duo Colin Jost and Michael Che at the helm of tonight's main event. The comedians leaned on their SNL cast mates and plenty of other celebrities for the opening number, a tongue-in-cheek response to Hollywood's ongoing diversity issue. 
Dubbed "We Solved It," Kate McKinnon, Kenan Thompson, Aidy Bryant, Tituss Burgess, Kristen Bell, Sterling K. Brown, RuPaul, Andy Samberg, Ricky Martin and John Legend jazzed hands their way through a satirical song about the entertainment industry's response to the need for diversity and inclusion both on and off the screen. 
"Look at us," Ricky sang out while cha cha-ing across the stage. "We're all different in the same way. We solved it! This room is so diverse from Democrat to liberal Democrat..."
Sandra Oh, who made history as the first Asian woman to be nominated for best lead actress in a drama series, joked from her seat it's "an honor just to be Asian."
Unlike previous Emmys hosts, Jost and Che traded a song and dance number (the pair previously told Ellen DeGeneres they "eliminated" the traditional bit) for something much more unique to their off-the-cuff comedy style once they finally took the stage. 
"The one thing Hollywood needs right now is people losing their inhibitions at a work function," Colin sarcastically quipped in their opening monologue.
And it didn't take long for Roseanne Barr to enter the Emmys conversation, as Che roasted the publicly scorned actress over her plan to move to Israel once The Conners premieres. "Roseanne was canceled by herself, but picked up by white nationalists," he joked. "How messed up is your life that you have to go to the Middle East just to get peace of mind?" 
Kevin Winter/Getty Images
Broadcasting live from the Microsoft Theater in Los Angeles, the Emmys celebrates the best of the best in television achievement from the past year. 
Game of Thrones leads with 22 nominations, while SNL and Westworld tied for the second-most nominated shows with 21 each. Other notable nominees include The Handmaid's Tale, Atlanta and The Marvelous Mrs. Maisel. 
Of course, the Emmys is just getting started! Stay tuned into E! News and check out the complete list of winners, updating in real time, here.