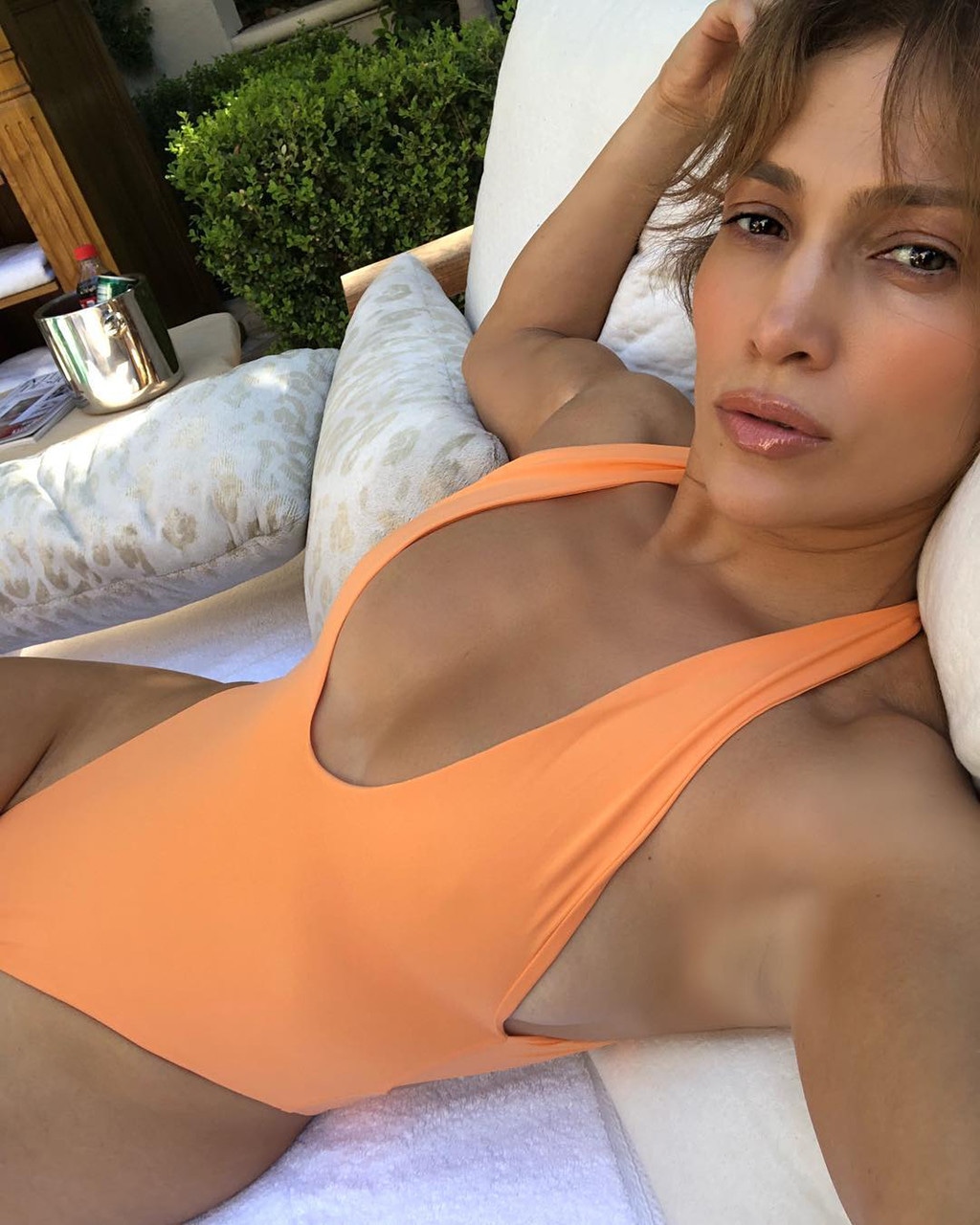 Instagram
How many puns about buns can Jennifer Lopez make?
The 49-year-old "Dinero" singer soaked up the sunshine yesterday afternoon and shared a set of seductive selfies with her 79.6 million Instagram followers and 43.8 million Twitter followers. "Everything's just peachy," Lopez wrote, adding the hashtags#tangerinedream #peachesNCream #topnaughty #suitsandfruits #throwingshades #doublebuns. Jokingly, she also wrote, "Knot your average peach," "To peach their own," and "Practice what you peach."
Lopez included four peach emojis in her caption for added effect.
Paris Hilton commented on the two pictures with eight fire emojis, while Rosario Dawson replied, "Indeed." Perhaps Kim Kardashian's comment summed up the images best: "WOW."
Lopez rocked a $170 MYRASWIM one-piece and $235 sunglasses by U.K. brand For Art's Sake.
Two years ago, J.Lo told E! News she works with Tracy Anderson and David Kirsch to strengthen and tone her famous figure. "Both of their methods are very specific and different," she said, adding that her workouts will change depending on whatever project she's working on at the time. "They're amazing!" Because of her busy schedule, the Second Act star needs to make each and every moment of her workout count. "I want to be there 45 minutes to an hour; I don't have much time. They get it. They get you in—they get it in. They understand the body."
Looking and feeling her best requires discipline. Lopez, who sleeps at least eight hours a night, doesn't drink or smoke, and she regularly exercises with her boyfriend, Alex Rodriguez. "She is a fitness enthusiast and she's a much better athlete than me," the former Major League Baseball player admitted to E! News last year. "She does all types of workouts; I don't try to keep up."