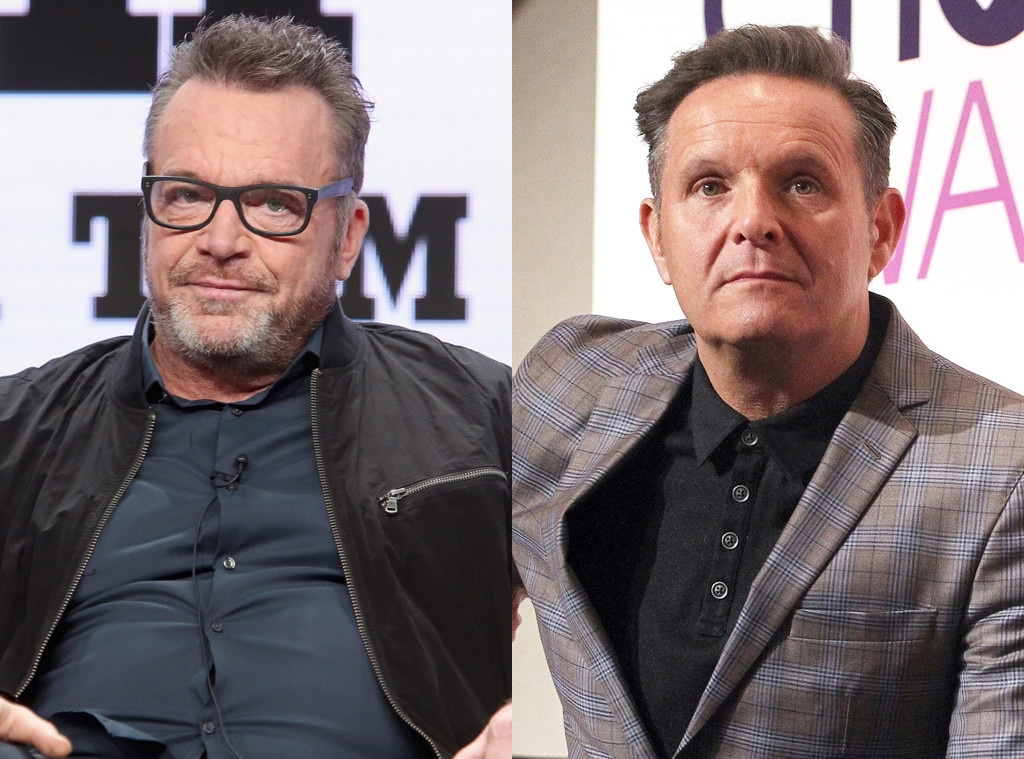 Jesse Grant/Getty Images for A+E Networks, Tommaso Boddi/WireImage
In his ongoing efforts to unearth the so-called "Trump tapes," actor Tom Arnold has frequently accused producer Mark Burnett of burying the supposed videos, which purport to show then-host Donald Trump acting inappropriately while filming the NBC reality show. Last month, Trump responded to the rumors, saying Burnett had called him to deny having footage that showed him using a racial slur, as Omarosa Manigault Newman had claimed.  "I don't have that word in my vocabulary, and never have," the U.S. President tweeted. "She made it up."
Arnold remains unconvinced.
Overnight, Arnold and Roma Downey each made accusations of physical attacks that also involved Downey's husband, Burnett, at the annual Evening Before the Emmys party in California; Burnett and Downey are both members of the executive host committee. "Mark Burnett just went apes--t and choked me at this huge Emmy party then he ran away with his torn pink shirt and missing gold chain," Arnold claimed on Twitter. "I'm waiting for LAPD."
E! News has reached out to the LAPD for comment. Marty Singer, Arnold's lawyer, confirmed the incident occurred to The Hollywood Reporter and maintained Burnett "attacked" his client.
In response, Downey tweeted a picture of a hand injury, writing, "Got this bruise tonight when Tom Arnold tried to ambush my husband Mark and me at a charity event. Is your TV show worth it Tom?" Arnold replied to her tweet, writing, "Bulls--t. You lie your crazy husband attacked me you psycho. I'm filing police report and suing you for defamation." Actor Patton Oswalt later took a photo with Arnold, writing, "He's okay. We gotta protect this brutal angel."
Burnett has yet to publicly comment on his altercation with Arnold.
But, according to the actor, "Roma knocked Bryan Fogel's phone out of his hand after Mark Burnett chocked me. Bryan came with me. He won the Oscar this year for his amazing documentary Icarus. He has tape." Fogel, who has been active on Twitter since the alleged scuffle, has yet to corroborate Arnold's claim. In another tweet, Arnold told his followers actor Kevin Bacon "is a solid reliable brawl witness," and his daughter, Sosie Bacon, "is a wingman." The elder Bacon, meanwhile, has not commented on the dust-up via his own Twitter account.
Arnold's new series, Viceland's The Hunt for the Trump Tapes, premieres this Tuesday; The Hollywood Reporter notes some have speculated the scuffle could have been a publicity stunt.