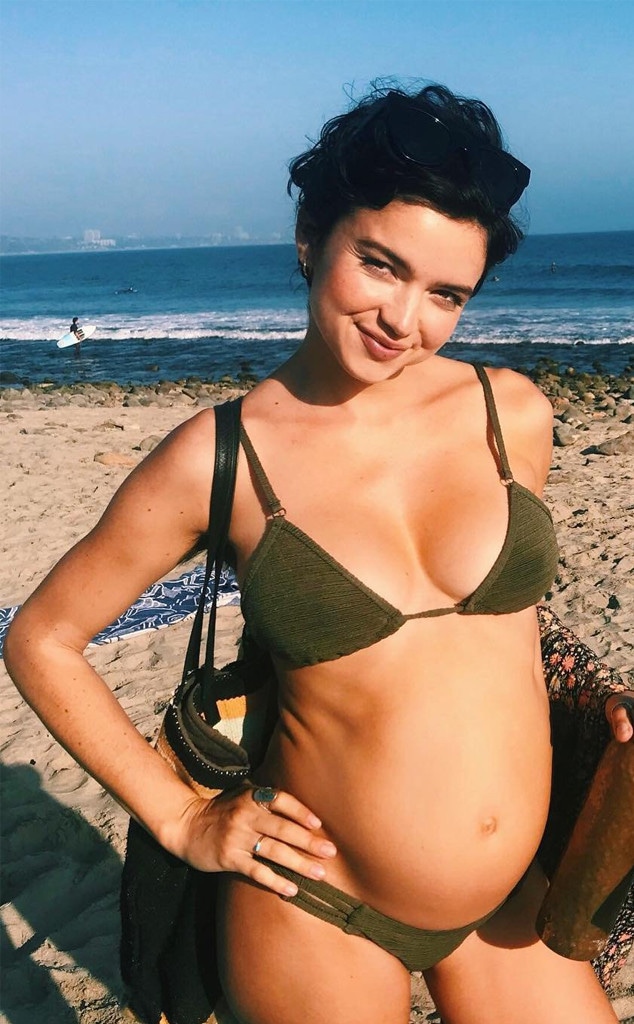 Instagram
Bekah Martinez is getting closer to her due date one day at a time.
The former Bachelor contestant, who appeared on Arie Luyendyk Jr.'s season, announced her pregnancy on Wednesday in an interview with Pure Wow. On Saturday, Martinez uploaded a picture on Instagram of herself standing on the beach in a green bikini making a face at the camera with her baby bump on full display. "smirky beach belly babe," she wrote.
According to Pure Wow, Martinez and her boyfriend Grayston Leonard have been together for seven months and she called her pregnancy "legitimately a dream come true."
She continued, "It's the one thing that I've known with certainty for so long. I've gone back and forth on the idea of marriage and relationships, but I've always felt sure that I want to be a mom."
A source told E! News that Martinez was "really excited" about her baby. "She is ready for this new and exciting chapter," they added.
Martinez is due in January 2019 and called her pregnancy "pretty easygoing" for the most part, with the exception of the first trimester. 
Leonard has been giving his helping hand as well. She told the site, "He stepped up to the plate and it just makes me feel that much better about starting this new chapter in my life with him."
In July, the Bachelor alumna told Pure Wow that her relationship with Leonard was "getting pretty serious," hence why she skipped out on season 5 of Bachelor in Paradise. "I just decided that the guy that I was with back home was the person that I wanted to be with right now, and I didn't want to risk leaving that by keeping my options open and going on Paradise to see if there were any guys there for me," she said.
Although one insider told E! News, "Bekah is telling everyone that the reasoning for her not going on Bachelor in Paradise this season is because she is pregnant."
Their relationship wasn't super serious from the get-go, but it happened anyway. She explained, "At first, it was really casual and we were just doing a lot of fun stuff together, and then it just progressed into something deeper."
So how serious is serious? Are there wedding bells in the future? A Neil Lane ring, perhaps? Some Bachelor Nation fans think it's already happened.
Maybe not so fast. Martinez explained, "The last thing we need is to consider another commitment on top of what we're already going through…Regardless, we're bound together by sharing this little life."
If Leonard and Martinez are certain about one thing, it's that they'll have a "baby name outside of the Bachelor world."