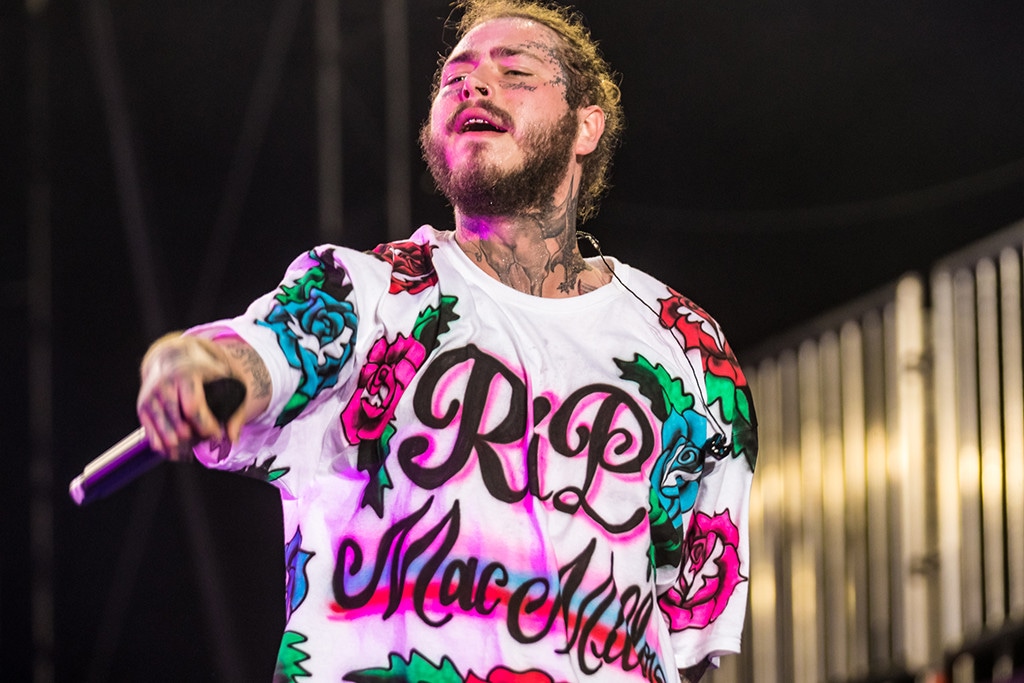 Courtesy of KAABOO Del Mar
Post Malone honored fellow rapper Mac Miller onstage on Friday, a week after his shocking death.
The latter star was found dead at his Los Angeles home after suffering an apparent overdose. He was 26. Malone, 23, performed at the KAABOO Del Mar festival in San Diego, wearing a customized white T-shirt printed with pink and blue roses and the words "RIP Mac Miller." He paired it with white pants adorned with red hearts.
Malone shared a photo of himself wearing the outfit on his Instagram page. He did not provide a caption.
Last Friday, after news of Miller's death was made public, scores of fans and celebrities took to social media to mourn him. Malone was one of them.
"God f--king dammit," he tweeted at the time. "You were such an incredible person. You changed so many lives. Had so much love in your heart. You inspired me throughout highschool, and I wouldn't be where I was today without you. Never a more kind and sincere and beautiful person. I f--king love you mac."
"He was a f--king, such a beautiful f--king dude and such a sweet dude and loved everybody. I grew up listening to his music and he really inspired me. It f--king sucks. He was just too sweet, super nice. We played beer pong at the studio and kicked ass and we were supposed to do an album," Malone told TMZ, adding, "We're all thinking about you and we miss you buddy, very very much."
Courtesy of KAABOO Del Mar; Shutterstock
Miller told Rolling Stone in comments posted in August that he and Miller had talked about recording an album together and had recently had a jam session.
Watch:
Mac Miller Dead: Celebrity Friends Mourn Late Rapper
"So we got together," Miller said. "And then Frank Dukes has worked on a bunch of my records, but we had never met, so he came through too. And then Thundercat appeared and we all started jamming...it was beautiful. We were just having a great time."
"We'll make that album one day bubba," Malone tweeted on Friday. "Miss you so much."