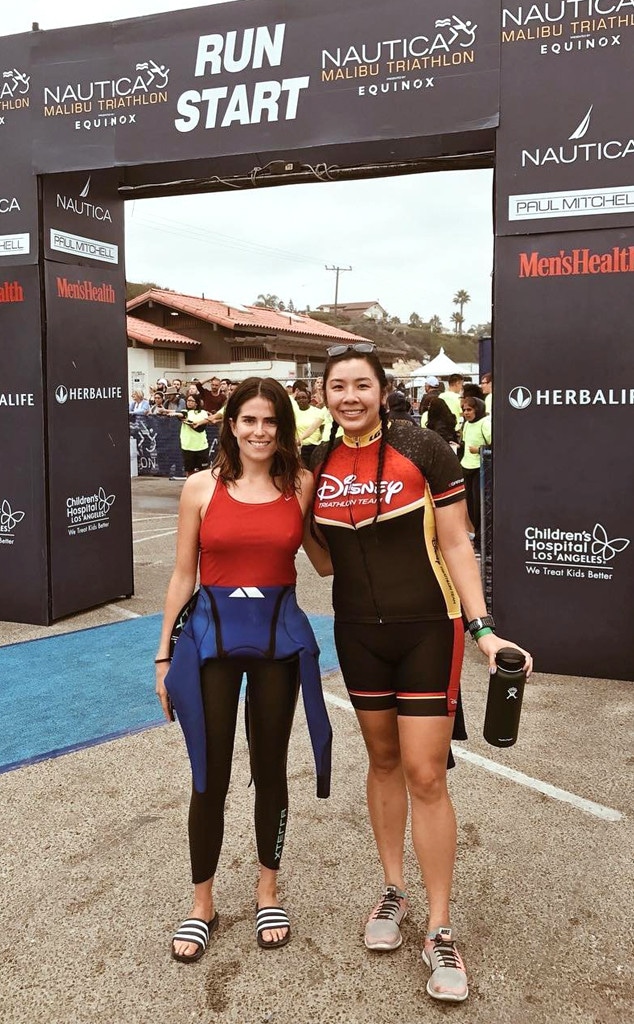 Karla Souza/Instagram
Karla Souza will be the first to admit that she has her hands full these days.
In addition to filming a new season of How to Get Away With Murder, the actress also has a baby girl reaching milestones day by day at home.
But when the opportunity came to participate in the Nautica Malibu Triathlon presented by Bank of America this weekend in Malibu, Calif., Karla knew she wanted to be apart of it—even if she didn't have the greatest amount of time to prepare.
"I'm going to be brutally honest. I have not prepared, which is really weird because both years prior to this, I was doing training every Saturday and all this stuff," Karla shared with E! News exclusively from the set of her hit ABC drama. "And it's like, 'Welcome to motherhood.'"
When not filming scenes, Karla revealed that she tried to complete exercise circuits and strength trainings in her trailer. There are stairs at the lot where Karla works that she tried to climb in between scenes.
Noel Vasquez/Getty Images for Nautica Malibu Triathlon
The actress was able to swim in a pool near her house and go on a few runs. She also focused on staying hydrated as she breastfeeds her baby girl.
"As a breastfeeding mom, that can really be a game changer. I'm having pedialyte as much as I can and lactation bars," she explained to us. "And eating as many calories as I can so that I can keep my hydration and my sodium up so that I can still have supply for feeding my baby and not lose that."
When discussing her preparations for the triathlon, Karla reminded fans that every new mom is different and its important to check with your doctor to see what's best for you. In fact, Karla argues that self-care is more important than a specific exercise plan or goal.
"If they decide to not do exercise, there are as badass as if they did do exercise," Karla explained to E! News. "I would definitely advise new moms to reach out to other moms. Sometimes we feel like we're on our own and this is a race we're running on our own. It's emotional and we have hormones all over the place and it's definitely hard."
Axelle/Bauer-Griffin/FilmMagic
For this weekend's triathlon, Karla remains motivated for lots of reasons. The race—consisting of a half-mile ocean swim, 17-mile bike ride and 4-mile run—benefits Children's Hospital Los Angeles' Pediatric Cancer Research Program, which is a cause close to the founder of Los Ángeles en México's heart.
She also hopes to spread some important messages to her daughter once she's able to fully understand the world around her.
"I want her to learn that giving is far better than receiving," she shared. "And that standing up to things like cancer are things that we must do to just be there for other humans."
To find out more about the cause and make a difference, visit Karla's fundraising page.