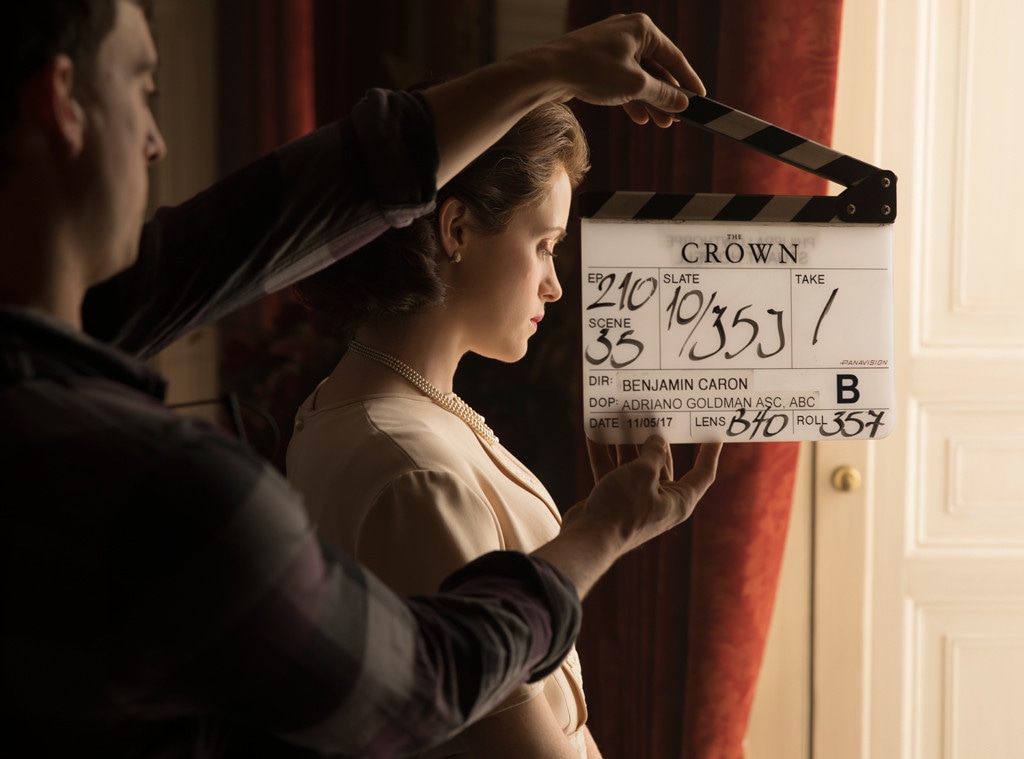 Netflix
When it comes to convincingly portraying a real-life person, a lot comes down to the costume. 
The cast of The Crown can certainly agree.  For two seasons so far, the Netflix series has dazzled fans by recreating—to an artistic degree—the life and times of Queen Elizabeth II, first as a newly married princess, and swiftly as Britain's new monarch. 
With all of the famous faces that come with Elizabeth's story, among them Prince Philip, Princess Margaret, Winston Churchill and even Jacqueline Kennedy, the small screen retelling has been packed with actors and actresses who have managed to transport viewers back to 1950s and 1960s England. Part of the credit for that magic is due to Michele Clapton and Jane Petrie, costume designers for the first and second seasons respectively. 
Through their immense talents and skill, a hefty amount of research, some creative license, a degree of television trickery and being able to roll with the sartorial punches, the women and their teams have dressed the show's stars for 20 hours of Emmy-nominated footage.  
As is the case in Hollywood, the show must go on, which means the costume designers have figured out some pretty wild ways to bring the characters' outfits to life—even in a crunch. As Petrie revealed to Buzzfeed, she had to put out a costume emergency while they were shooting an episode involving the former first lady. 
"When [Jackie] went onto set in this dress in the morning, I thought, 'Oh god, she's arriving, she needs another layer,' and we hadn't made it. I just missed it. I don't think there's even any excuse. And it was Sunday so there was no cutter working, and it was just us," Petrie recalled. "I had to get a driver to drive me up to the studio and cut that…I made it in my lunch break, went back to set, dropped it on her, and then it's been the bloody [piece] that's ended up in exhibitions. I keep saying, 'You can't use that cape, it's terrible.'" 
While some garments can be crafted in the course of a lunch hour, Elizabeth's iconic wedding gown took nearly two months to recreate. 
"It took approximately six to eight weeks for us to re-create the dress, with a team of six embroiderers working on the train throughout this time. Another team worked on the dress skirts, and my key embroiderer worked on the neckline. We had a cutter and two makers, and it required a number of fittings," Clapton revealed to Vogue. 
As Clapton further elaborated to Fashionista, a team of students and embroiderers spent six weeks embellishing the train on rotation.
However, as fate would have it, Swarovski had previously recreated Elizabeth's coronation gown for an exhibit and the brand loaned it to the show. What's even luckier is that it happened to practically fit Claire Foy, the star behind the show's monarch. "We tried it and actually it was a little bit too long, but we put [Foy] in high shoes and it was amazing," Clapton told Vogue. 
As it seems, the costume business requires being extra inventive. As Petrie revealed to Buzzfeed, they even found a way to make the same coat out of different fabric. As the story goes, they made a jacket for Vanessa Kirby's character, Princess Margaret, but didn't realize they would need one for her body double. 
"We bought [the cloth] right at the beginning [of the season] because I liked it so much, and then we heard, 'Oh no, she's going to go on the motorbike in that costume'…But they sold [out of] that cloth and [we had to buy] an orange color. So we bought that and painted it in our dye room. So it looked fantastic, you couldn't tell," Petrie told the website. 
But, sometimes, some of their cheats work out better than the originals. Case in point: the on-screen jewels. According to Petrie, real jewelry looks fake on film and vice versa. 
"I've seen real diamonds on film before and they're so sparkly, you almost want to tone it down because they start to look fake. And it feels like these ones kind of [look] just right for what the camera does," she told Buzzfeed. "We're always about cheating."
Whatever tricks these talented designers have up their sleeves are clearly working. Clapton took home the Costume Designers Guild Award for Outstanding Period Television Series in 2016 and won a Creative Arts Emmy Award in 2017 for Outstanding Costumes for a Period/Fantasy Series, Limited Series, or Movie. This year, Petrie took home the Costume Designers Guild Award for Excellence in Period Television and a Creative Arts Emmy Award for Outstanding Period Costumes. 
Needless to say, when it comes to costumes, this show is definitely a winner.