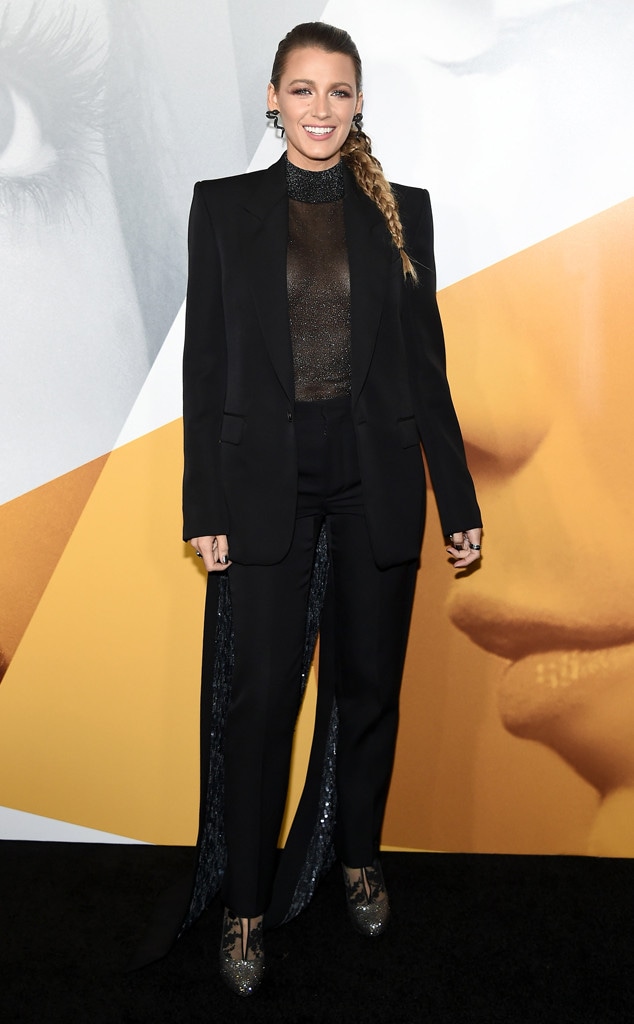 Steven Ferdman/Getty Images
Even Blake Lively is capable of having a surprise style snafu. 
Before stepping out on the red carpet for the New York City premiere of her newly released thriller, A Simple Favor, the famous fashionista realized her shirt showed a little more than she had planned. 
"See the look of horror on my face?" she asked Jimmy Fallon on The Tonight Show Thursday as they looked at a photo of her from the event. "I didn't realize it was see-through the shirt, so that's not a look that I was going for because it's a men's shirt. I didn't know they made see-through [men's shirts]."
So, the star went looking for a unique tool—duct tape. 
"I'm in my hotel and I call and I say, 'Hey, can I have like the mechanical department...I need duck tape quick.'"
Fast forward to the red carpet, Lively was consumed by the thought of a possible wardrobe malfunction. "You know when you're freaking out about something...you're aware of it, so everything everyone says is pointing out this thing that you're paranoid about that no one's really noticing?" she asked. 
Well, that was precisely the case when a photographer started shouting at her. "This guy goes, 'Blake, Blake, your bleep are amazing." It sounded like he was saying "tits." I was like, 'Are we saying that? Like have you been on Google in the past year. Like this is not ok," she told Fallon. "And the woman next to him goes, 'I mean they are.' I was like, 'Well, thank you.' And he's like, 'Your husband's bleep are even better!" 
Finally, the actress had cracked the code. "I was like, 'Oh tweets. Twitter! My tweets. My tweets are amazing.'" 
As she capped off the story, "I was so relieved that it was about my mind and then after, I was like, 'But how are my...how are they?"
A Simple Favor is in theaters now.