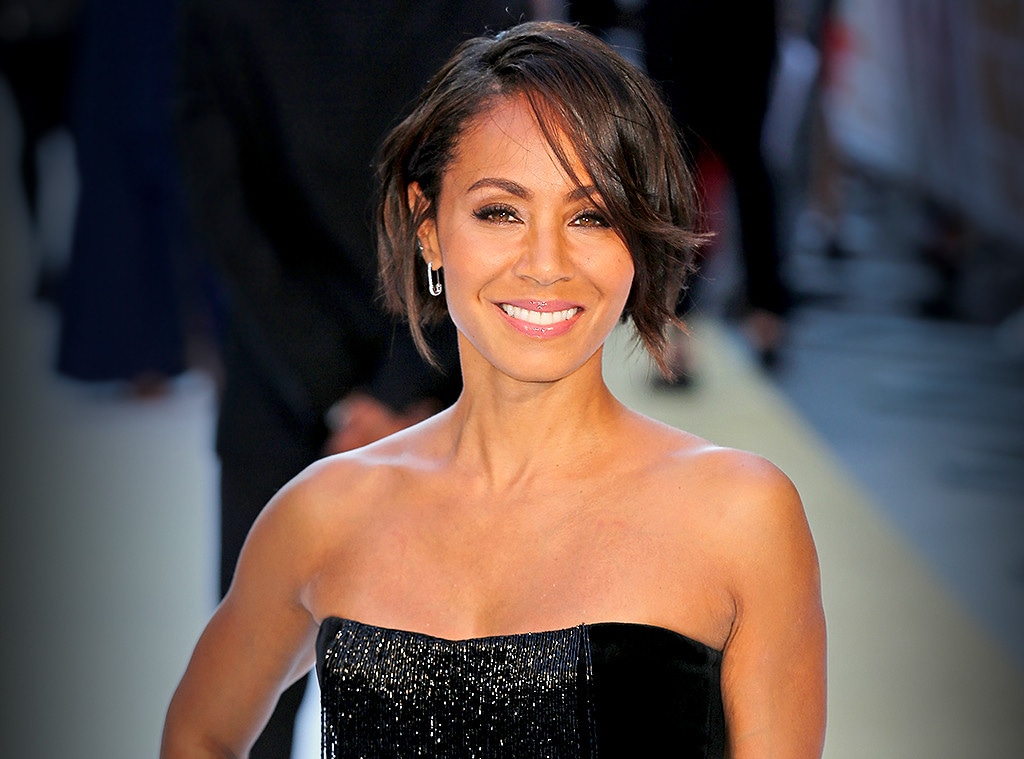 Tim P. Whitby/Getty Images
For as long as Jada Pinkett Smith has been in the spotlight, she's been—at least publicly—the epitome of a strong, confident woman. When she wasn't playing badass characters onscreen like Niobe in The Matrix Reloaded or Fish Mooney in Gotham, she was a real-life force in the fight against human trafficking.
She wasn't afraid to ruffle feathers in her own industry, either, and was one of the most outspoken critics of the Academy for the lack of diversity among the 2016 Oscar nominees. And when it came to family life, Jada stood up for her 20-year marriage to Will Smith and kids Jaden Smith and Willow Smith with unwavering conviction.
But over the course of the past year, the actress-activist (who celebrates her 48th birthday today) did something we didn't see coming: She opened up—and not in the typical, well-rehearsed celebrity way. With the launch of her Facebook Watch show Red Table Talk, Jada really and truly let her guard down. And as it turns out, she's got insecurities and hang-ups just like the rest of us. 
It's been while sitting at a literal red table (hence the name of the web series) that Jada has laid bare her soul. The show, which is shot inside the Smiths' Calabasas, Calif., home, provides a forum for Jada, her mother, Adrienne Banfield Norris, and her 17-year-old daughter, Willow, to speak freely and honestly about topics that aren't always so easy to talk about. 
"It gets pretty intimate," Jada told E! News' Sibley Scoles ahead of Red Table Talk's premiere back in May. "We go in, from talking about sex to, you know, self-image [and] the difficulties we all have in regards to how we feel about ourselves...We talk about relationships, monogamy, those who are for monogamy, those who aren't for monogamy...we cover some interesting stuff."
And in covering this interesting stuff, so to speak, the generational differences between Willow, Jada and "Gammy" (the Smiths' affectionate nickname for grandma Adrienne) are quite apparent. 
Gammy is "really old-school," Jada explains, and Willow "breaks all the rules." They fall on "two extreme sides of the spectrum," says Jada, but she herself is "somewhere in the middle." 
And these three opinionated women definitely don't see eye to eye on everything. Willow not shaving her armpits, for example, is incomprehensible to Gammy. And although Jada's "always" on her daughter's case about not shaving, her ultimate takeaway is, "She has the choice, it's her body."
Even Gammy, who jokes about braiding the "chia pets" under Willow's arms, has a live and let live mentality on the matter. "There are going to be some people who are accepting of it and some people that aren't," she tells her granddaughter, "and at the end of the day, you have to be comfortable in your own skin."
This underlying theme of love and acceptance extends to much more serious subjects as well. In the Red Table Talk episode about addiction, for example, Jada has incredible empathy for her mother, who is now 27 years clean from a heroin addiction.
And Jada opens up about her own battles with alcohol, exercise and sex addiction. "I am a binger, and I always have to watch myself, and just how I can get obsessed with things," she says. "It's not what you're doing, but how you're with it—why you're doing it, is my thing. It's the behavior that's attached to it. Because if you wanna have a lot of sex, that's great, but why are you having all that sex? That's what you gotta look at, you know what I mean?" 
Jada says having "my own addictions that I've had to get over" and knowing so many others who have struggled as well, "made me realize that really great people just get caught up."
And Jada isn't judging those who do, nor is she pretending to be perfect. She's very frank about the fact that she "should've fell back" when she started dating Will and was getting to know Trey, his son from his previous marriage to Sheree Fletcher. 
In the premiere episode of Red Table Talk, Jada has a heart-to-heart with Sheree. "...I feel like when Will and I first started dating, you know, I had this thing in my mind, like, 'OK, you did that, and that's done,'" she says. "That's where I was wrong."
Jada was also wrong, she admits, when she and Will put Willow "in the game too soon." 
She's referring, of course, to the release of Willow's hit single "Whip My Hair" back in 2010. "I think all that came with it was too much," says Jada of the aftermath. 
It was right around that same time that Jaden, now 20, was filming The Karate Kid—and that was another source of tension in the Smith family. 
"Will and I were in constant conflict, I mean to the point where we were warring over Jaden," Jada recalls, citing the intense physical demands of the film. And the two, always good about putting on a united front for the public, were actually at odds again when Jaden was asked to be the face of Louis Vuitton's women's campaign in 2016. 
"Will called me," Jada recalls in another episode, "and he's like, 'Nope. My son is not supposed to be in a Louis Vuitton ad wearing skirts. No, no, no, hold up...Is this a good idea?'"
But Jada, with a smile and a shrug, wasn't going to stop her son from expressing himself however he saw fit. And she'd shown that same support for Willow when she shaved her head back in the "Whip My Hair" era—even though hubby Will objected to her doing it at the time. 
"He didn't want Willow to shave her head," Jada remembers, "Willow was 9, so he was like...you know, it's his little girl, and 'I want you to stay a little girl as long as I can." 
And that protective papa instinct, Jada explains, came from a place of love. So did encouraging Willow and Jaden to get in on the family business when they were young—even if brought on some hardships mom and dad hadn't anticipated.
"When you become a parent, you have these huge ideals, even for yourself, because we all are coming into parenting with our own childhood traumas," she explains. "And you're hoping you can fix all that through your own rearing of your children, and you can't. Your kids are gonna have their burdens. And even though I see how it might have hurt you, it's what I knew."
But again, Jada isn't claiming that she's got it all figured out now. In another Red Table Talk chat, she reiterates that, "We're not professionals—not in the least."
"I've done some screwy things with my kids, but they've survived," she says. "Some things have worked, and some things haven't. But in the long run. the one thing that I do know to be true is that when we can talk to our kids openly and honestly—and with love—you rarely go wrong."
This idea of talking openly, honestly and with love extends to conversations about sex—both on and off camera. Jada "did not want Willow to have shame of any kind," and she invites her and her best friend to the red table for candid, open discussion about a topic that's "always so taboo."
"People are like, 'Oh, do you think that's appropriate for Willow?' I'm like, 'Hell yeah, it's appropriate. Is it life?'" asks Jada. "If I have to sit up here and tell her how she has to be careful in these streets because of all the harms that may come to her because a young woman, I'm damn sure not leaving out the good stuff." 
Jada even brings Gammy—and the Red Table Talk audience—along for a visit to the clinic where she received vaginal rejuvenation treatments for her "bladder issues." The non-surgical procedure seemingly worked, because to quote Jada, "When I tell you my yoni is like a 16-year-old, I'm not kidding...I'm talking about the outside. It looks like a little beautiful peach."
See what we mean about Jada not holding back? Mind you, it's not just the pretty parts of physicality she addresses. In an episode of Red Table Talk about body insecurities, Jada tearfully reveals she's "been having issues with hair loss."
"It was terrifying when it first started," she says. "I was in the shower one day, and then just handfuls of hair [were] just in my hands, and I was just like, 'Oh, my god, am I going bald?'" 
Jada goes on to explain that "my hair has been a big part of me," and she tears up at the thought of not "having the choice to have hair or not." But ultimately, as she tells Gammy and Willow, she "really had to put it in a spiritual perspective..."
"The higher power takes so much from people," she says. "People are out here who have cancer, people have sick children...and by golly, if the higher power wants to take your hair—that's it? God, you want my hair? When I looked at it from that perspective, it really did settle me."
It's a revelation Jada's come to during what she describes as "my year of growth." She's shared a lot of what she's learned throughout this past trip around the sun, and it looks like we're in for round two... New episodes of Red Table Talk premiere in October.