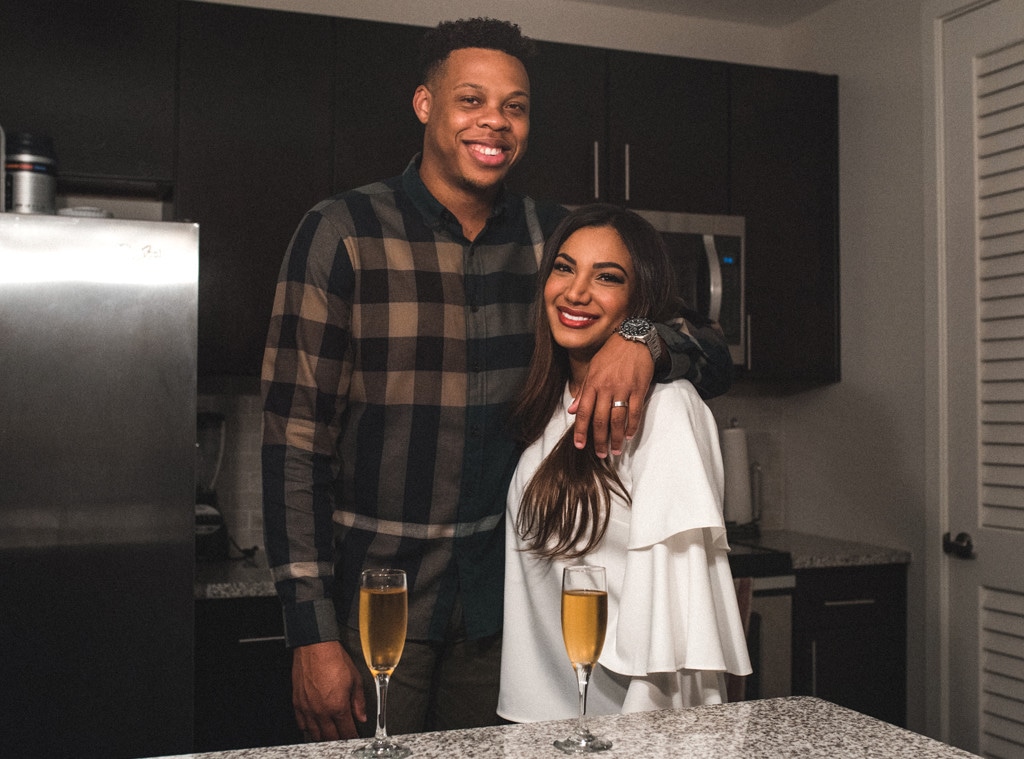 Lifetime/Kinetic Content
Spoiler alert!
Married at First Sight's Mia Bally has filed for divorce from beau Tristan Thompson, E! News can confirm. 
Their tumultuous beginning has come to an end, after weeks of trying. The rocky start came just a week after the pair was married, when Bally was unable to board the plane en route to their honeymoon because of an outstanding warrant. Her detainment for three counts of alleged stalking and one count of alleged credit card fraud came as a huge surprise to Thompson, to say the least. "To me, marriage should be built on trust and honesty. If you have that, I believe there's no problem that you can't handle," he said, musing the possibility of a divorce.
Eventually, Mia was released from jail and the charges were dropped, because of what Mia alleges was a case of mistaken identity. However, Tristan's family wasn't as quick to forgive as he was. In one episode, his mom sympathizes with the newlywed, where she said, "I was a prison guard and I prayed for you because I know what they do to pretty girls," before adding, "Now have you told him everything that would affect him?"
With the arrest now put in the past, the couple tried to move on. However, another test was thrown at the couple when Tristan's friend discovered Mia was still on dating apps. "This entire marriage I feel like I've been completely honest with Mia and I've told her to just give me the truth and it seems like she's gone out of her way to hide things from me," he shared at the time. "I honestly don't know what to feel or what to believe right now. I thought we were done with all the secrets and lies."
Bally assured Thompson she was not on the app and her account was deactivated, but the damage was done. 
While that story unfolded on TV for fans to see, it seems there was more going on behind the scenes considering the news of their divorce came ahead of the finale. 
Married at First Sight (produced by Kinetic Content) airs Tuesday nights at 9 p.m. on Lifetime.