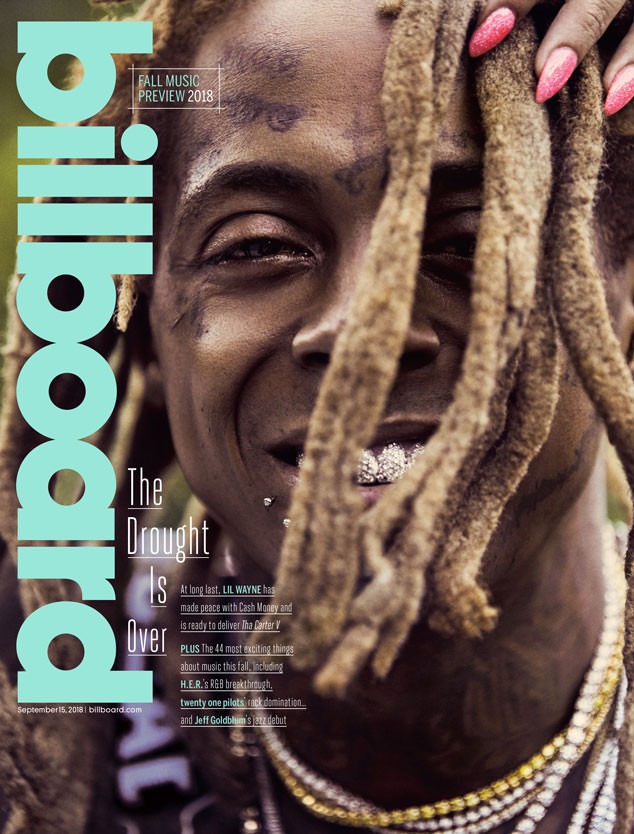 Ramona Rosales exclusively for Billboard
Lil Wayne will release the long-awaited Tha Carter V at the end of September.
One of the track's on the album, according to his new Billboard cover story released on Thursday, addresses Wayne's suicide attempt at the age of 12. When he was 12, Wayne found a gun in his mother's home "and shot himself in the chest, just missing his heart," the article states. In the past Wayne had called this an "accident," but on a verse on the unnamed track he now "admits this was a suicide attempt, undertaken after his mother told him he would no longer be allowed to rap," according to Billboard.
The song was on Tha Carter V's original tracklist, but following the suicides of Anthony Bourdain and Kate Spade just months ago, Wayne added lyrics to the track, which will now be the album's outro.
Ramona Rosales exclusively for Billboard
"He just told me one day that he was ready to address it now," Mack Maine, president of Young Money Entertainment and Wayne's longtime friend, tells Billboard. "Just being an adult, reaching a level of maturity and comfort where it's like, 'I want to talk about this because I know a lot of people out here might be going through that.'"
After recovering from his gunshot wound, Wayne's mother allowed him to join the Cash Money team, under one condition: he couldn't swear.
In the Billboard interview, Wayne addresses his legal battle with Birdman, reportedly settled in June, and how his relationship with him has changed. "Not even just with him, but my relationships with a lot of people have become different, just because of how different I work now," he shares. "I'm submerged in everything about myself, trying to be better at who I am. It's something where you have to cut some things off."
Ramona Rosales exclusively for Billboard
When talking about the success of Young Money stars Drake and Nicki Minaj, Wayne tells Billboard, "They all the way — they got it. They know how to make them joints that y'all going to be runnin' to. I'm something else with my music."
He adds, laughing, "I'm coming straight at Drake's and Nicki's neck, Lord have mercy. I'm talkin' 'bout machetes. I'ma out-sing Drake, I'ma date Nicki. It's goin' down."
As for the idea of retirement, Wayne's thinking about it...kind of. "I do think about retirement," he says. "I think about how I don't think I ever will."
The Carter V drops Sept. 21. Read more from Wayne's cover story at Billboard.