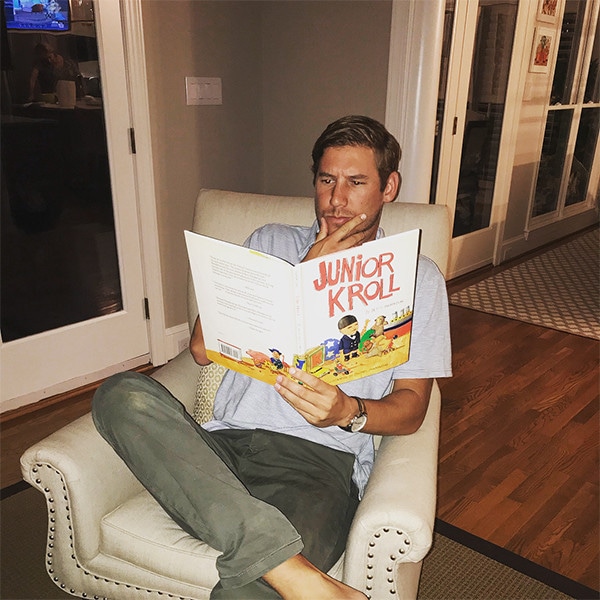 Instagram
Hurricane Florence is forecast to soon slam the coasts of North and South Carolina and many of the stars of Bravo's Southern Charm are getting the heck outta Charleston.
About 1 million people have been ordered to evacuate their homes before the storm—categorized as a Category 3 on Wednesday—makes landfall, which it is expected to do on Friday.
Austen Kroll: He traveled north and inland to Charlotte, North Carolina, to his family home.
"While I've Evac'ed home to Charlotte, I've rummaged the house for an old book to read, and stumbled upon a little light reading. Old family friends gave me this book in '96 to read to baby @kt_kroll!" he wrote on Instagram, referring to his sister Katie. "Can she claim to be a 90's kid? #auntflo #juniorkroll #96 #"90skid."
Kathryn Dennis: She traveled to Nashville on Tuesday.
Shep Rose: He flew to Chicago on Tuesday.
But before that, he had jokes.
Patricia Altschul: She is staying in Charleston and hunkering down and braving the storm! She posted on her Instagram page earlier this week a video of emergency staples she picked up on a Costco run, including Goldfish Crackers, KIND nut bars and SPAM.
"#hurricane #preparedness #costco plus dog food, gin and guns...Bring it on #florence #southerncharm," she wrote.
"House on lockdown...." she added. "Shutters wired over plywood, generator inspected, pool water lowered, cars in parking garage, all supplies bought, pets accounted for.... bring it on #hurricaneflorence #southerncharm."
"Hope you have enough martini ingredients @Pataltschul !" Rose tweeted.
Cameran Eubanks: It is unclear if she has left or plans to leave South Carolina.
She posted on her Instagram page earlier this week a screenshot of an emergency alert about Hurricane Florence, writing, "Ughhhhh!!! Turn Flo, TURN!!!"