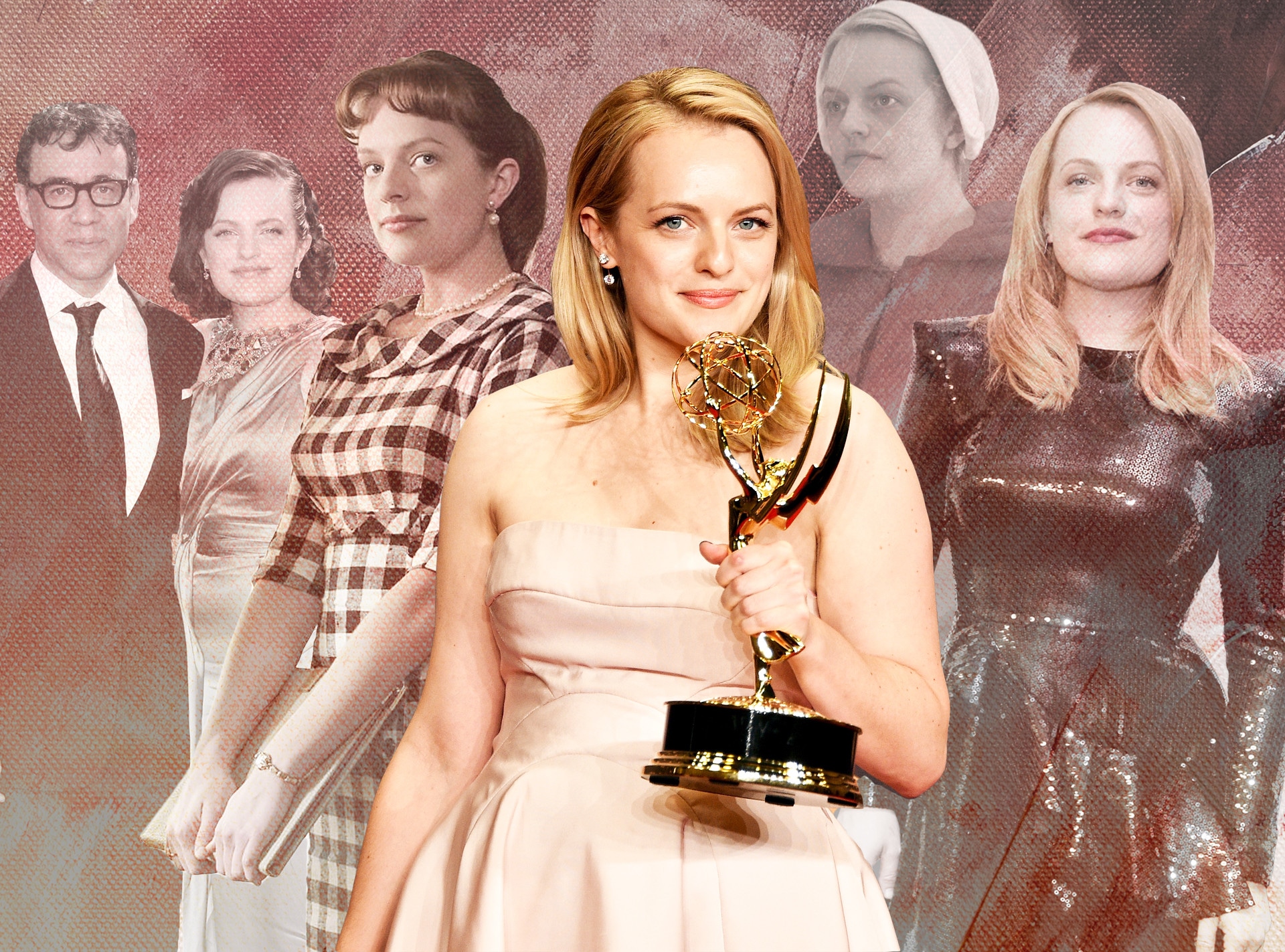 Getty Images; Hulu; AMC; Melissa Herwitt / E! Illustration
Elisabeth Moss has made a habit of playing women who refuse to just fall into line.
From her "oh yeah, that was her!" turn as the spirited first daughter on The West Wing to her standout role as an ambitious secretary turned ad copy writer who isn't afraid to go toe-to-toe with the endlessly entitled guys on Mad Men, to playing a New Zealand homicide detective who does things her way (and with a very believable accent) on Top of the Lake, Moss has been the picture of steely determination onscreen, imbued with the kind of palpable vulnerability that ensures audiences collapse right along with her when the moment calls for it.
Moss' masterful handling of resolve, resilience and despair has been cranked up to 11 in The Handmaid's Tale, which earned her her first two Emmys (thanks to her dual role as a producer on the chilling Hulu series) last year after nine nominations, and her performance as Offred (née June) on the show's remarkably gut-churning second season has made her the favorite to repeat as Best Actress in a Drama Series at the 2018 Emmys on Monday.  
"20 Emmy nominations... what the actual f--k??!!" she reacted to the show's impressive tally last month on Instagram, sending congratulations to her Hulu family.
But though it ironically took playing a character who's struggling not to lose herself amid a pack of enslaved women cloaked in identical dresses to get her Emmy due, Moss herself has always stood apart from the pack.
"When people all over are dressing up like you, it's definitely flattering and also kinda bizarre," Moss told LA Confidential this summer, referring to the phenomenon of people dressing up like handmaids for Halloween—and, such as at the recent Supreme Court confirmation hearing, to protest. "You realize how much of this work is beyond your control.
The Los Angeles native has lived primarily in New York for years (yet she's a Cubs fan, because Mom's from Chicago), but avoiding the Hollywood grind becomes exponentially harder once the accolades start pouring in, the designers are clamoring to dress you and everyone wants to know how art reflects life... and vice versa.
People can't help but want to know more from the star who just happens to have been on two of the most acclaimed shows of the 21st century so far.
For instance, Moss, whose parents split up when she was on the older side, was raised a Scientologist and remains a member of the church, and while no one seemed to care much when she was less famous, now audiences tend to be far more curious—and judgmental—about her professed religion.
"My spiritual life consists mostly of trying to watch a little TV and get enough sleep," she quipped to LA Confidential, but on a more serious note added, "It's an odd feeling. I put myself emotionally into my work. Beyond that, I have to keep something for myself."
Alas, it isn't always that easy to avoid, especially when Scientology remains such a hot topic of conversation and Leah Remini  name-checked Moss last year as someone who "isn't allowed to talk" to her because she left the church. 
"I fundamentally believe in freedom and human rights. And, if I was not thick-skinned enough to handle criticism, I would not have been in this business for 29 years," Moss said in the June issue of Marie Claire UK, talking about the skepticism directed her way as to how pro-freedom she can really be when she's part of a faith that doesn't particularly seem to tolerate dissension in the ranks.
Asked about the perception that Scientology doesn't tolerate homosexuality, Moss told The Advocate in 2012 that she abided by the emphasis on "personal freedom" in the religion.
"If we're all supposed to have the right to the life that we want to lead, then that should apply to the gay community," she said. "There isn't really any dogma or scripture, yes or no, right or wrong on that particular subject in my church. It's more open to personal interpretation, and that's my interpretation."
"Many of my church's stances and concepts are grossly misunderstood by the media," she added. "It's a long list."
Like fellow famous Scientologist Laura Prepon, Moss has been the subject of "potential Tom Cruise girlfriend material" rumors, all of which have been denied. (The church always flatly denies stories that it's involved in Cruise's love life.) Also like most famous Scientologists, Moss doesn't really want to discuss it publicly.
"I'm not going to talk about it anymore," she told New York magazine in 2014. "I said what it meant to me, and anyone can go and look at that if they want to know what I feel. But now it's private, off limits."
She does, however, get the outsider fascination with the controversial belief system.
"I would feel the same way, honestly," Moss admitted. "I think if there was something that I didn't know and didn't understand, I would probably feel as opinionated. You know how you're opinionated about when someone breaks up? Celebrities break up and you just feel like you know what happened?"
Ultimately, "I'm always happy to have a personal conversation with somebody off the record, but in this kind of scenario, no," she told Willie Geist on Today last year. "I mean, I honestly don't pay attention to anything except for what people think of my work."
The actress commented on Instagram in August 2017 in response to a Handmaid's Tale fan who wrote, "Love this adaptation so much. Question though, does it make you think twice about Scientology? Both Gilead and Scientology both believe that all outside sources (aka news) are wrong or evil… it's just very interesting."
To which Moss replied, "That's actually not true at all about Scientology. Religious freedom and tolerance and understanding the truth and equal rights for every race, religion and creed are extremely important to me. The most important things to me probably. And so Gilead and THT hit me on a very personal level. Thanks for the interesting question!"
And as Moss has noted repeatedly since the show began in April 2017, four months after President Trump was sworn in: this is no time to be putting up walls between people.
"I've never told a story that so closely paralleled life as it was happening around me, especially life as a 35-year-old woman in America," the now 36-year-old Moss told Marie Claire UK. "So the lines have gotten much more blurry than with any other role I've ever done. But it's also really cathartic to take some of the anger and frustration that I feel as a citizen, and be able to tell a story that I believe in."
The Handmaid's Tale, based on Margaret Atwood's 1985 novel about a dystopian not-too-distant future where fertile women have become nothing more than baby-carrying vessels for men (and their blind-eye-turning wives), happens to have premiered at a surreal juncture in U.S. history, in which most people expected the country's first female president to be in charge, but instead are worried that long-established rights could be taken away. Combine that with the #MeToo movement ripping the curtain back on countless instances of inexcusable behavior by men in every walk of life...
Moss knows that silence isn't an option.
Paul Drinkwater/NBCUniversal via Getty Images
Quoting Atwood's novel in her Golden Globes speech in January, Moss said, "'We were the people who were not in the papers. We lived in the blank white spaces at the edge of print. It gave us more freedom. We lived in the gaps between the stories.'
"Margaret Atwood, this is for you and all of the women who came before you and after you, who were brave enough to speak out against intolerance and injustice, and to fight for equality and freedom in this world. We no longer live in the blank white spaces of print, we no longer live in the gaps between the stories. We are the story in print and we are writing the story ourselves."
"I've always considered myself a feminist," she told Marie Claire U.K. "But, like a lot of women of my generation, I didn't think we had to fight for it. I thought it was all done. I took so much for granted. We've had to take ownership of feminism in a way that we didn't know we'd have to, and that's changed me."
As for the myriad #MeToo experiences being shared by her peers, Moss says she can't pinpoint any moment like that for herself but has since been questioning all of it, wondering if something did happen that she shrugged off at the time as so-called normal.
"Women need to be able to speak out if they are uncomfortable, or something happened in the past that they were not comfortable with," she said. "And the minute we start telling them that they can't, you wind up in a f--king red dress, with a f--king white cap on."
Once upon a time, even though Moss' roles have veered toward the dramatic side (and even when they're humorous, like in the fantastical romance The One I Love, they're layered), she didn't feel the need to take her work home with her.
"I wish I was super-serious, anguished," she told The Guardian in 2016. "I see those actors and I am like, oh God, they are so cool and they seem so interesting. I don't take acting that seriously. I love my work, but I do not think that I am saving the world, and I do not think that I am doing anything brave by accessing emotions that I might have for roles. I am a Valley girl."
The onetime aspiring ballet dancer, who'd been acting since she was 8, also told New York in 2014, "I'm just a normal person who worries and stresses about stupid s--t. I like to sleep in. I like sushi. I love what I do. I think acting is super-fun. I don't think it's something super-serious."
By then, Moss had won a Golden Globe for acting in a limited series for Top of the Lake, and been nominated for six Emmys, five of them for Mad Men (which she was nominated for again in 2015), with no wins to date.
But she didn't sweat being the perennial bridesmaid.
"Nobody, unless you're an a--hole, should sit around thinking, 'I want to be more famous and win more awards,'" she told New York. "That's a horrible person."
Whatever Moss was doing to keep her head on straight, it was working.
"Acting is not stupid, but it's a very strange profession, honestly," she acknowledged. "My job is to get up, and get dressed in someone else's clothes, and go and pretend that I'm someone else. Who does that? Nobody does that. Strippers and actors do that."
Despite her rather serious, at times dour, characters, Moss insisted that was for the cameras only.
"I am totally that person that they yell 'Cut' and I'm making jokes and doing stupid stuff," she explained. "It's fake to me to be any other way."
The same goes during interviews. Talking to The Daily Beast last year, someone put a smoothie down in front of her and she paused to note that it looked "like a f--king nightmare. This looks not like something anyone should consume. It's a lot going on. It's not a good color. I'm not sure what happened. I think it's a mix of the strawberry and the spinach."
In the fall of 2014 she starred in the indie romance Listen Up Philip, playing Ashley, the long-suffering girlfriend a self-absorbed novelist played by Jason Schwartzman leaves to go live with an older female writer whom he feels will help him with his craft. 
Asked if her own breakup style was similar to her character's, she told Elle, "Part of the reason why I loved Ashley's story is I've lived in New York for 13 years, and in my 20s, I had that summer. And I've seen girlfriends have that summer where you go through a breakup—it's a specific thing. I've literally been there, and I really responded to the way [writer-director Alex Ross Perry] wrote it. I don't know how he knew this, he's not a girl, and he's been in a relationship. It felt really real. That sense of a feeling in New York, in the summer—so liberating."
It's now been almost 10 years since Moss met Fred Armisen when her Mad Men co-star Jon Hamm hosted Saturday Night Live and the two worlds collided. She and Armisen got engaged fairly quickly and tied the knot on Oct. 25, 2009, on the one-year anniversary of that first meeting.
All of which sounded romantic, albeit a little random. But hey, January Jones would soon start dating Jason Sudeikis, too. It was just what the women of Mad Men were into at the time.
Mathew Imaging/Getty Images
But Moss and Armisen split up eight months later, and the aftermath was legendary. Eventually.
They quietly separated, and it wasn't until after the divorce was finalized in 2011 that Moss felt comfortable with a public postmortem.
"One of the greatest things I heard someone say about him is, 'He's so great at doing impersonations.' But the greatest impersonation he does is that of a normal person," she told Page Six bluntly in March 2012. "To me, that sums it up."
She did not ever see or talk to Armisen—"oh, God, no"—and she didn't plan on wasting any more of her life talking about him.
Of course, he did come up from time to time...
"Looking back, I feel like I was a really young, and at the time I didn't think that I was that young," Moss told New York in 2014. "It was extremely traumatic and awful and horrible."
In hindsight, "it turned out for the best," she continued. "I'm glad that I'm not there. I'm glad that it didn't happen when I was 50. I'm glad I didn't have kids. And I got that out of the way. Hopefully. Like, that's probably not going to happen again."
So far, so good.
Since then, Moss has been linked to a number of fellows, including Tom Hiddleston, but mainly because they shared some romantic, disturbing moments in the dystopian 2015 thriller High-Rise, and Tom is linked to all of his co-stars. "He's so handsome, but he's so nice...he's a good actor...it's annoying," she quipped to MTV News about the British actor.  
And last month she was photographed kissing a guy outside a bar in New York, but mum's the word on who gets to share her dating life with her.
"I have nothing against getting married again, but what I value even more now is the relationship itself," she told Marie Claire UK this spring. "It's been eight years [since her marriage]. I'm older, and hopefully wiser. I'm a romantic, so I love weddings, but I also don't think you need it to have a long-lasting, healthy relationship. Some of the relationships I know that have lasted the longest are the ones that didn't [lead to marriage]."
Armisen, who had been married once before, has copped to being a terrible husband and a terrible boyfriend. (So at least the world knows, it's not her. It's him.)
"I feel bad for everyone I've gone out with," the Portlandia star said on The Howard Stern Show in 2013.
Meanwhile, is Moss still the person cracking jokes on set, even while making something as traumatically familiar yet unthinkable as The Handmaid's Tale? Or is almost even more imperative that they keep the mood light when the cameras aren't rolling?
While there are "no limits at this point" to what they'll put onscreen to tell the story "as truthfully and excitingly as we can," Moss told E! News in July at the season two premiere, she's hardly suffering as an actress.
"It's not hard necessarily, I love it," she said. "It's what I love to do. It's my favorite job right now. It's my happy place…so I wouldn't describe it as difficult."
Power napping presumably helps either way.
On Ellen in April, Moss explained her process when it came to catching zzz's: "For like 15 years, I've done it at lunch. There are specific requirements, I put myself down like a baby." She eats something "because you don't want to wake up hungry. It has to be dark." She puts on headphones and turns on a white noise app. And when she wakes up, she needs caffeine immediately and avoids talking to anyone for 30 minutes.
"And then after that I'm a new person!" she exclaimed.
Danny Moloshok/Invision for the Television Academy/AP Images
The ever-rejuvenated Elisabeth Moss was at the Toronto International Film Festival this month in support of Her Smell, which reunited her with writer-director Alex Ross Perry. Her film slate next year includes the mob drama (that's right, mob drama) The Kitchen, with Melissa McCarthy and Tiffany Haddish. She's playing author Shirley Jackson in Shirley. Casey Affleck directed her in Light of My Life, and she was so good he made what was going to be a small part, occurring in flashbacks, much bigger.
And next up she'll be shooting Us, Jordan Peele's can't-help-but-be-hyped follow-up to Get Out, with Lupita Nyong'o, Winston Duke and Tim Heidecker. That's also due out next year, along with the third season of The Handmaid's Tale.
Moss told E!'s Giuliana Ranic at the Emmys last year that the feedback that means the most to her comes from the fans who say the show, in all its dystopian glory, gives them hope.
"They'll say that it's sometimes very dark but they feel like they've taken hope from it," she said, "and that means a lot to me."
When she won her first Emmy that night, Moss blazed through her list of thank yous, ending with her brother, Derek, "for being my best friend since the day you were born," and her mother, Linda, her date for the evening. "You are brave and strong and smart," Moss said breathlessly, "and you have taught me you can be kind and a f--king badass."
Linda couldn't have looked prouder.