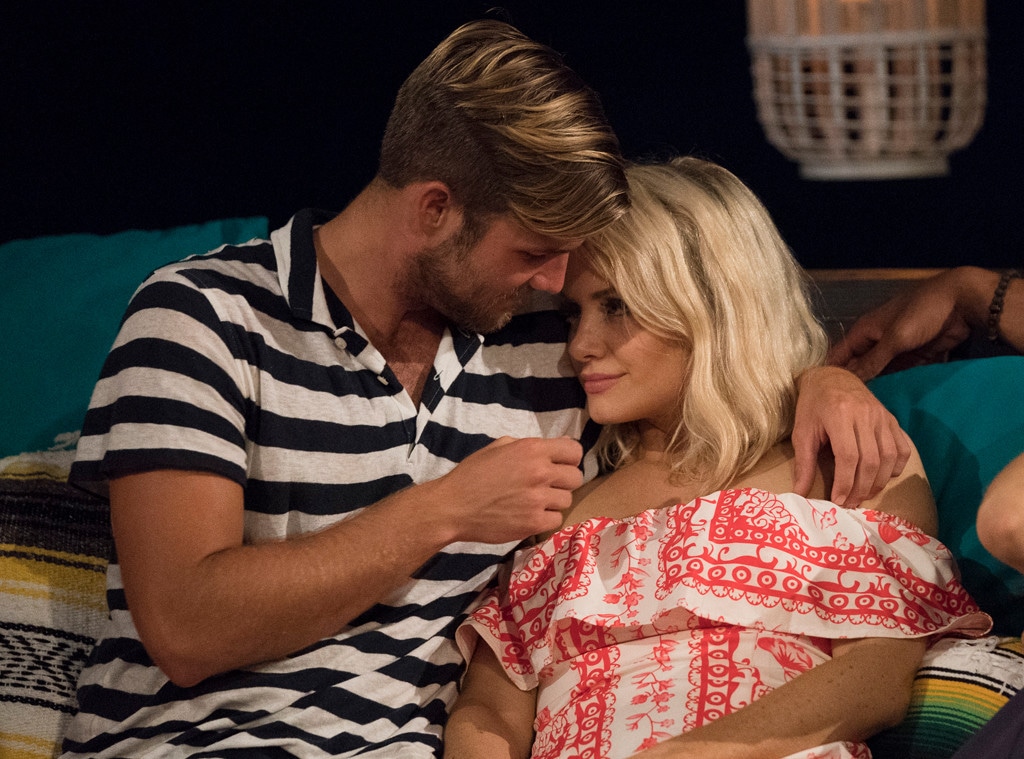 Paul Hebert/ABC
The game of love can sure get complicated in Bachelor Nation.
As viewers said farewell to another romantic season of Bachelor in Paradise Tuesday night, many of the success stories highlighted were overshadowed by a cheating scandal playing out in the press.
Instead of celebrating her engagement to Jordan Kimball, Jenna Cooper was denying accusations that she cheated on her fiancé after filming ended.
"I am aware of the allegations being made against me and they are simply untrue. I am choosing to focus on my relationship right now," Jenna shared with People. "Thank you for respecting my privacy at this time."
As for Jordan, he's taking the allegations very seriously and appears heartbroken by the rumors.
Watch:
Chris Harrison Confirms Love Is Found on "BIP" Season 5
"If this whole thing sticks, and it's true, I will be hurt much more than the depths of romance," he shared with the publication. "I will be hurt as a person and as a friend. There are so many layers to a relationship and right now I feel all of them peeling back." Ultimately, Jordan confirmed Wednesday afternoon that the relationship was over. 
The controversy led us to remember a few other Bachelor Nation stars who have found themselves in cheating scandals. Take a trip down memory lane below.
Paul Hebert via Getty Images
Amanda Stanton and Robby Hayes
On season four of Bachelor in Paradise, Robby was put in the hot seat when he was asked about the rumors that he was unfaithful to Amanda. The evidence? A photo of Robby getting close to a girl during a visit to Colorado. "The picture did look like y'all were making out," Amanda shared. "Let's be honest. It looked like it!" Robby would deny the cheating claims calling them "false." "While I won't be one to resort to vicious social media attacks, at the finale, I felt like I was sitting next to a stranger. I'll never understand why there's such a desperate need to represent an 'innocent persona' and resort to allowing allegations that are blatantly untrue be said about me by 'the twins' while one sits back and 'unknowingly' watches these malicious attacks continue against me," Robby shared on Twitter.
Rozlyn Papa and Jake Pavelka
When Jake was looking for love on The Bachelor back in 2010, viewers were shocked to hear that contestant Rozlyn allegedly engaged in a physical relationship with a show producer. While she claimed they were just "good friends," host Chris Harrison had a different perspective. "She had a physical relationship with a producer on our show," he shared with People. "You cannot do that. There is no gray area…Other girls on the show saw it. The producer confessed more than once and to more than one person. I cannot make it any clearer."
Demario Jackson and Rachel Lindsay
When competing on The Bachelorette, Demario was kicked off during a group date after a woman showed up claiming to be his ex-girlfriend. The question became just how much of an "ex" she was. After all, he apparently had a key to her apartment. While Demario tried to explain his situation, Rachel asked him to leave. In a later interview with E! News, Demario claimed she was a "fake girlfriend."
Danielle Maltby and Paul Calafiore
Sometimes, the cheating scandals spill outside of ABC's franchise. Back in June, speculation surfaced that Paul had hooked up with The Challenge star Cara Maria Sorbello. "UGH @CaraMariaMTV…DO YOU KNOW HE IS A SERIAL CHEATER!? Not only did he cheat on his current girl with you, but he also cheated on his Ex-Fiance WITH 5 DIFFERENT GIRLS!!!," one fan shared on Twitter. "I thought you were all about women empowerment!?" Cara Maria would simply reply with, "I'm single yo." Paul would later speak to E! News about the allegations and make an emotional plea to Danielle from The Bachelor. "I am not proud of my actions these past weeks," he shared with us. "I know they speak louder than these words. I have destroyed the one person that has believed in and brought out the best in me. I have many things I need to work on and repair internally. I want to be better. I know I haven't earned it, but I ask for patience and privacy while I work on repairing myself."
Jenna Cooper and Jordan Kimball
It's the scandal Bachelor Nation can't stop talking about. It all started when Reality Steve published screenshots, which purported to show Jenna corresponding with an unidentified man, via text, about the nature of her relationship with Jordan. "Me and Jordan aren't together for real. I don't even like him let alone love him," she allegedly wrote. "I'm better than him and once I'm able to I'll break it off for good and make up some story to make him look bad if it'll make you feel better. He means nothing to me and never has." E! News has not authenticated the text messages, which Reality Steve claims matches Jenna's phone number. Ultimately, Jenna calls the cheating allegations "simply untrue." Jordan added, "I don't know how to handle this...This is embarrassing and it hurts my pride. And our friendship is just tarnished. I don't even know what piece to pick up or how to put it back."