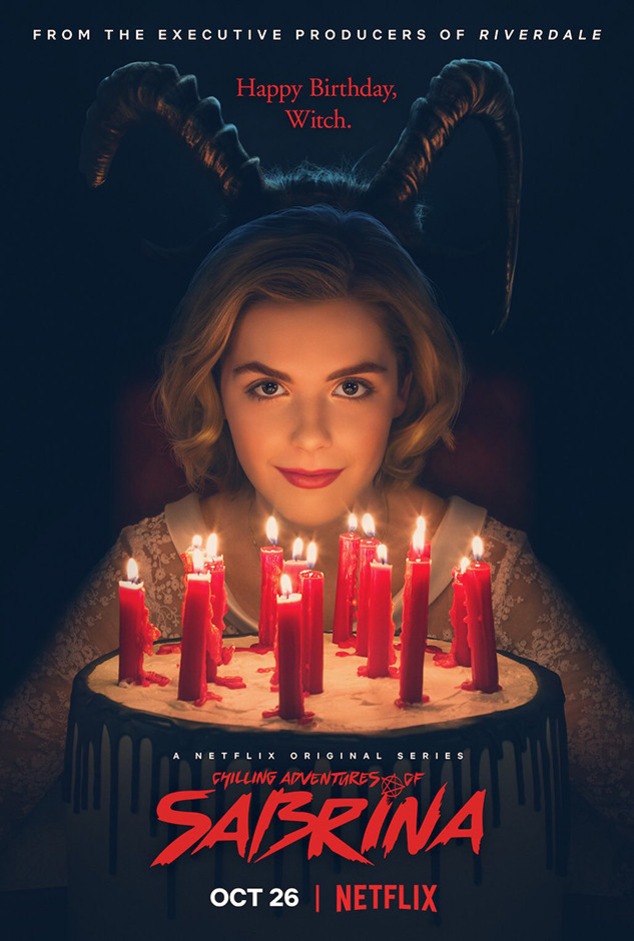 Netflix
Witch, it's your birthday. The key poster art for Netflix's upcoming Chilling Adventures of Sabrina is here and it's cute. And spooky! Just what you want in a show about Sabrina Spellman from the producers of Riverdale.
Kiernan Shipka's Sabrina is front and center and celebrating her birthday, as you can see in the photo. But what's that behind her? Why they're horns. Don't you celebrate your birthday with some weird horns? No? Just witches on Netflix shows?
This is Netflix's official description of the series: "Chilling Adventures of Sabrina imagines the origin and adventures of Sabrina the Teenage Witch as a dark coming-of-age story that traffics in horror, the occult and, of course, witchcraft. Tonally in the vein of Rosemary's Baby and The Exorcist, this adaptation finds Sabrina wrestling to reconcile her dual nature — half-witch, half-mortal — while standing against the evil forces that threaten her, her family and the daylight world humans inhabit."
In addition to Shipka, the show stars Ross Lynch as Harvey Kinkle, Jaz Sinclair as Rosalind, Lucy Davis as Aunt Hilda, Miranda Otto as Aunt Zelda, Michelle Gomez as Madam Satan, Chance Perdomo as Ambrose Spellman, Richard Coyle as Father Blackwood and Tati Gabrielle as Prudence.
Chilling Adventures of Sabrina comes to Netflix just in time for Halloween: Friday, Oct. 26.