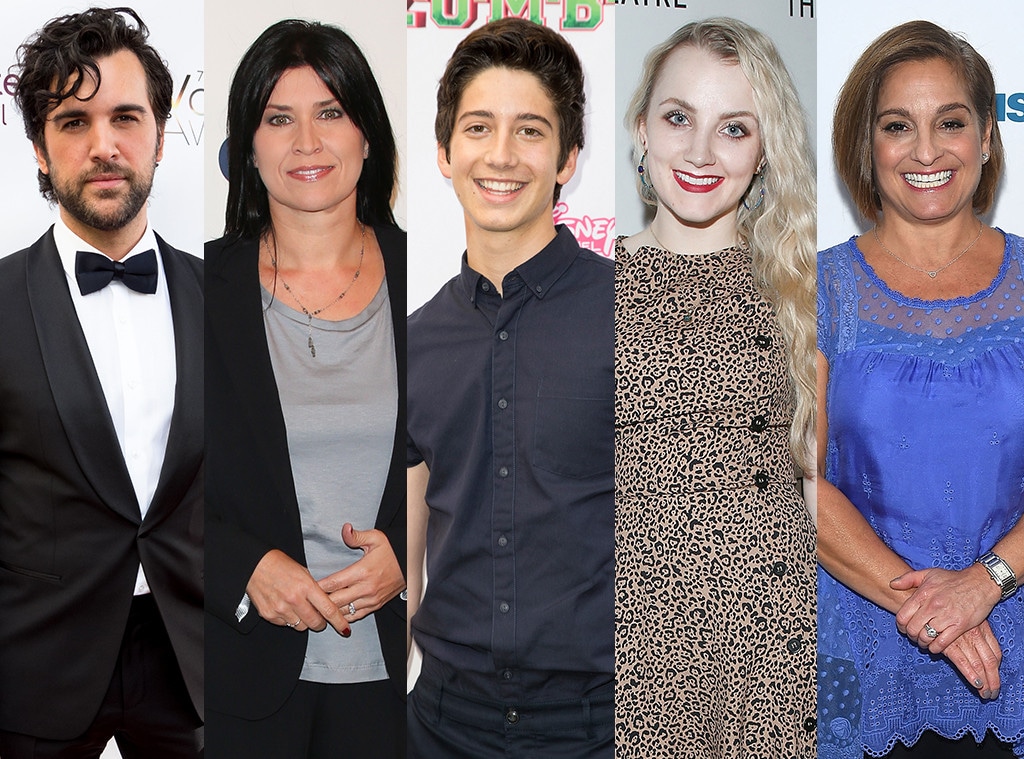 Greg Doherty/Getty Images, Paul Archuleta/FilmMagic, Image Group LA via Getty Images, John Lamparski/Getty Images, Photo by Ben Gabbe/Getty Images
What do a Disney Channel star, an Olympic gold medalist, a singer, a reality contestant and sitcom actor have in common? They're all part of the Dancing With the Stars season 27 cast.
The Facts of Life veteran Nancy McKeon and Disney star Milo Manheim were previously revealed on Good Morning America, and their competitors were revealed on the ABC morning show on Wednesday, Sept. 12 in typical grand fashion. The entertainers going after the Mirrorball Trophy and their pairs were on hand to discuss why they're strapping on their dancing shoes.
Meet the cast below.
"I'm going to say we don't need magic because our dancing is magic," Lynch said about her competition.
McKeon received a taped message from her The Facts of Life costars Mindy Cohn, Kim Fields and Lisa Whelchel while on the GMA stage. "They're amazing. They're my sisters for a long, long time. For them to do that, wow it's awesome," an emotional McKeon said.
Model Ren said she was doing the show for a specific reason. "It was my mom's favorite show and she passed away about four years ago form cancer, so I'm doing this in her honor," she said.
Like McKeon, Di Pace got a message from his costars. Fuller House's Candace Cameron Bure and Jodie Sweetin appeared in a taped message to offer their costar some advice. "I just want to tell you be yourself because we know what an amazing guy you are and we want America to just see you shine," Cameron Bure said.
"So, go out there and just be amazing," Sweetin added.
"I love them so much," Di Pace said. "We are so tight, these girls are amazing."
"Just like this girl, Juan!" Di Pace's partner Cheryl Burke said.
Burke is back in the ballroom after sitting out the all athletes season and new DWTS troupe member Brandon Armstrong will make his partner debut this year.
Glazer, a comic known for her roasting abilities, targeted host Tom Bergeron. "Tom, you're like Dustin Hoffman, but a Men's Warehouse version. You're like a Dustin Offman. I love you Tom…You only roast the ones you love and I love Tom," she said.
"It's a long season and I've got a long memory, George!" Bergeron joked to George Stephanopoulos.
Umstead is the first legally blind contestant. "I threw it out there in the universe and i never thought it'd come back and attach to me. It's a big challenge and I'm lucky to have Artem there with me," she said.
As for Retton, who was so dedicated to her gymnastics she slept in her leotard back in the 1980s, said she might just sleep in her dance sequins.
"I might! Sasha's so tough, he may make me," she joked about her partner.
This isn't the only Dancing With the Stars series hitting the airwaves this fall. ABC is launching Dancing With the Stars Juniors on Sunday, Oct. 7. Judging the pint-sized celebrity kids are Mandy Moore (the choreographer, not the singer-actress), Olympian Adam Rippon (he won Dancing With the Stars' athletes season) and Val Chmerkovskiy (he's also competing with McKeon in season 27 of the main series).
Dancing With the Stars premieres Monday, Sept. 24 at 8 p.m. on ABC.