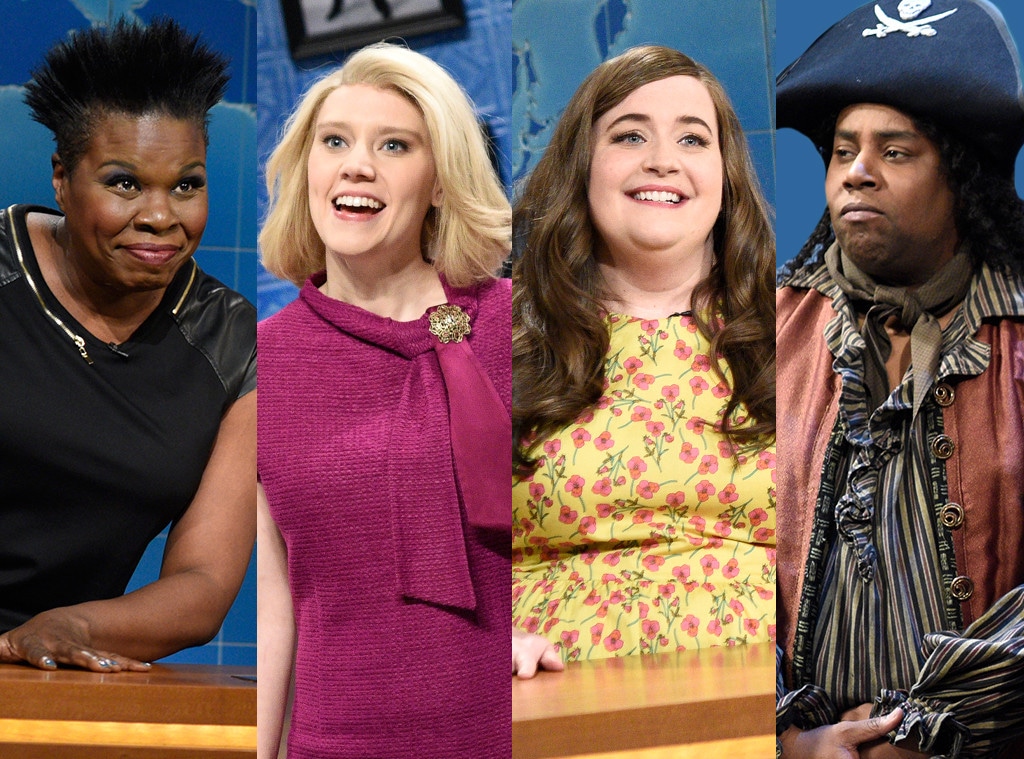 NBC
Saturday Night Live is in for a potentially big year at the 2018 Emmys. 
Not only are Weekend Update anchors Colin Jost and Michael Che hosting, but the show was nominated for 21 awards this year, including four guest acting nominations for its hosts and five supporting actor and actress nominations. SNL has already won seven of those awards, including the award for Guest Actress in a Comedy for Tiffany Haddish at the Creative Arts Emmys. 
Alongside Alec Baldwin's supporting actor nom for his memorable Donald Trump impression, Kate McKinnon and Leslie Jones received repeat supporting actress nods, Aidy Bryant is nominated for the first time in her six years on the show, and finally, after 15 years of by many accounts holding that show together, Kenan Thompson has finally been nominated. 
McKinnon, Jones, Bryant, and Thompson have all done some great work over their years on the series, but there were a few standout moments (or just some really silly ones) from season 43 that are definitely worth showcasing ahead of the TV industry's big night on Monday. 
Wild Wild Country: Thompson played an unexpected but welcome addition to SNL's otherwise spot on parody of the Netflix documentary series Wild Wild Country. Nasim Pedrad returned to play cult leader Sheila, and Thompson was just a guy who was there "for the ass." 
A Kanye Place: This pre-taped sketch could not have mixed two simultaneous pop culture events more perfectly, and it was also a good moment for both Thompson and Bryant. Thompson only has one real line, sold with classic Kenan delivery, and Aidy's line that gets her eaten is also one of beauty: "He said poopity scooooop!" 
Diner Lobster: We've watched this sketch upwards of 10 times at this point, and we're not sure we could tell you why. Thompson plays the lone lobster in the tank at a diner, and Pete Davidson plays the weirdo who's going to order lobster in a diner. What results is a full production of Les Mis, with the lobster as Jean Valjean. It's weird and truly magnificent. 
Henrietta and the Fugitive: Ryan Gosling played a fugitive named Freddy. Aidy Bryant plays a chicken named Henrietta. It was one of the most polarizing sketches of the season, not because it was controversial or offensive, but because no one was quite sure if it was good or funny or just too weird to be anything. None of that matters, however, when it comes to Bryant's portrayal of a chicken discovering that her human lover has a human wife, and that there are no egg heaters on airplanes. She's a national treasure. 
Welcome to Hell: A showcase for all of the women of SNL, Emmy-nominated or not, "Welcome to Hell" is probably both the catchiest and most on-the-nose thing this show has produced in a long time. 
Press Conference: Impressions aren't typically Bryant's thing, but her Sarah Huckabee Sanders is always gold. Here, Sanders performs her own version of a Demi Lovato song, but it's Bryant who truly kills it. 
Commercial Shoot: Have you ever seen a bad Kate McKinnon? We bet you haven't. This pitch perfect recreation of an old viral video lets Kate and Will Ferrell make up nonsense words as an elderly couple who just can't say "buttery, flaky crust," and honestly it's a duo we need more often! 
Aidy B & Cardi B: We got to see a slightly different side of Aidy Bryant when she became determined to make musical guest Cardi B into her very best friend and role model. Her quest didn't go well, but we'd still definitely download Aidy's debut rap album. 
Mother Knows Best: Bryant, Jones, and McKinnon all happen to star as the mothers on this game show about moms and their kids, but no one makes quite the impression that McKinnon makes as Ebisaleth, competing with her son John-Christopher. Ebisaleth's lullabies still haunt us in our sleep. 
Lion King Auditions: Sometimes all SNL needs to do is to line up its entire cast to do impressions of anyone and everyone, from LL Cool J to James Corden to Kristen Schaal to Celine Dion. Thompson plays LL Cool J, Jones kills it as Oprah, and Bryant brings the laughs by just looking and giggling like James Corden. 
Jurassic Park Auditions: One of the best examples of the "random celebrities audition for things" format. Everyone brings out some truly incredible impressions of early 90s stars, including McKinnon as Jodie Foster and Ellen Degeneres and Lisa Kudrow, Thompson as Sinbad and a 1992 OJ Simpson, Jones as Whoopi Goldberg, and Bryant as Roseanne Barr. We may have watched this one on repeat...
Black Jeopardy with Chadwick Boseman: A prime example of Thompson holding down a sketch even if he's not the star of it. Also a prime example of how to follow up the version of this sketch with Tom Hanks, since no one thought that could be topped. Then along came King T'Challa and Karen's unseasoned raisin-filled potato salad, delighting Thompson and all of us as well. 
Film Panel: Kate McKinnon is simply the GOAT. 
Leslie Jones and the Olympics: Jones' forte is really her Weekend Update appearances, whether she's excited about the Olympics or describing her perfect man (and her perfect man's very functional penis) and/or flirting with Colin Jost. If anyone knows what they're doing on Monday, Leslie will be right there to make Colin uncomfortable on another kind of live TV. 
Saturday Night Live returns Saturday, September 29 on NBC. 
E! and NBC are both part of the NBC Universal family.