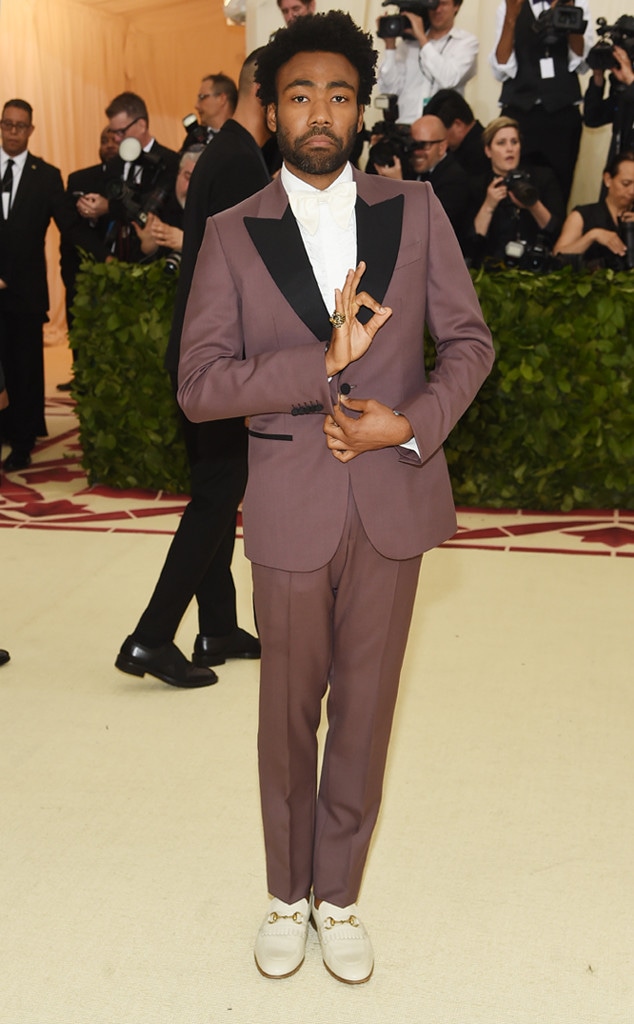 Jamie McCarthy/Getty Images
There once was a time before Donald Glover.
It's hard to believe, we know, considering the multi-hyphenate's enduring presence in just about every form of media these days, but it wasn't that long ago that an utterance of the guy's name would elicit not responses of raving adulation, but blank stares. But that was then and this is now.
And now, Glover has become one of Hollywood's most omnipresent and prolific creators, with an unbelievable list of titles on his resume as he's set out to conquer the fields of acting, writing, directing, music, stand-up. Is there anything he can't do? Honestly, we're not so sure.
As the only nominee at this year's People's Choice Awards to land nods in the three major fields of entertainment—TV, movies, and music—for his work in Atlanta, Solo: A Star Wars Story, and as recording artist Childish Gambino, Glover is shaping up to be 2018's true entertainer of the year. It's about time.
Glover's story is one of those stories that can only happen in Hollywood, but don't happen as nearly as often as Hollywood would like you to believe. After getting his feet wet in the New York City improv scene while attending NYU's Tisch School of the Arts, a spec Simpsons script he'd written found its way to 30 Rock producer David Miner. Impressed by what they saw in the script, Miner and Tina Fey offered Glover a job writing on the iconic NBC sitcom immediately after he graduated, a job he kept from 2006-2009.
"After a few years, he requested a meeting with me and fellow producer Robert Carlock. Donald was grateful for the opportunity but felt like he should leave to pursue acting," Fey wrote in TIME Magazine when her former employee was named one of 2017's 100 Most Influential People. "Of the many writers who have suggested this over the past 20 years, Donald is the only one with whom I've ever agreed. One hundred percent, he should go be a star."
And he did. After only nine days of unemployment in Los Angeles, Glover found himself cast in the role of Troy Barnes on NBC's Community, where he spent four and a half seasons on the cult favorite, endearing himself to TV audiences as the goofy, yet grounded heart of the series. It was during this time that his musical alter ego, Childish Gambino (a name derived from none other than a Wu-Tang Clan name generator), began to take root, with mixtapes and EPs released left and right. Despite some initial confusion over just how serious Glover was taking this music thing, it was abundantly clear by the 2011 release of Camp, his debut studio album, that this was no mere lark. 
Between his day job on NBC, his continued musical output, and his handful of stand-up specials, Glover had truly become a multi-hyphenate in just a few years. And then he walked away from Community.
Though many assumed at the time that Glover was stepping away from the comedy to focus more squarely on the Childish Gambino project, Glover made it clear that his line of reasoning was something a bit deeper. In a series of handwritten notes, shared via Instagram in October of 2013, he explained that he'd been working through some capital-letter stuff and "wanted to be on my own," nothing that he was "afraid that [Community creator] Dan Harmon hates me."
Whether Harmon hated him or not, he had bigger things to focus on—namely the December release of second studio album Because the Internet (which debuted at No. 7 on the Billboard Hot 200) and the creation of a little project he'd just sold to FX that he was set to star in, write, and executive produce. As he developed the show that would eventually become Atlanta, he took roles in films like Magic Mike XXL and The Martian, appeared in a handful of episodes in the second season of Girls, and earned his first Grammy nominations.
By the end of 2015, FX had ordered Atlanta to series, touting the series as a "comedy set against the backdrop of the Atlanta music scene." When it premiered on September 16, 2016, everyone learned that it was so much more. "I knew what FX wanted from me," Glover told The New Yorker earlier this year. "They were thinking it'd be me and Craig Robinson horse-tailing around, and it'll be kind of like Community, and it'll be on for a long time. I was Trojan-horsing FX. If I told them what I really wanted to do, it wouldn't have gotten made."
What aired were 10 esoteric, dream-like episodes that, yes, were ostensibly about Glover's Earn and his cousin Alfred (Brian Tyree Henry) trying to make Al's dreams of rapping under the moniker Paper Boi happen, but were more like ruminations on life and the black American experience. The show was a hit out of the gate, premiering to the highest ratings for a basic cable comedy since Inside Amy Schumer debuted three years earlier. It was nominated for six Emmys, landing Glover two trophies, one for Outstanding Lead Actor in a Comedy and another for Outstanding Directing.
And then the world opened up for him. FX quickly renewed the series and locked Glover into an exclusive pact to create more series for the network. His third studio album, Awaken, My Love!—which saw him pivot from rap into funk and soul—debuted that December at No. 5 and eventually earned him his first Grammy. He landed the coveted role of Lando Calrissian in this summer's Solo: A Star Wars Story. Another season of Atlanta arrived in early 2018, earning 10 more Emmy nominations than season one. "This Is America," arguably his most successful song to date, was released in May on the same night he pulled double duty of host and musical guest on Saturday Night Live. Up next? Aside from a third season of Atlanta and what sounds like it will be one last album under the Childish Gambino moniker, Glover will star alongside Beyonce in Disney's live-action adaptation of The Lion King.
Through it all, Glover has made it seem almost effortless and he knows it. And that might be frustrating, unbecoming even, if the guy wasn't so damn good and so damn charming.
"Part of the reason I do what I do is because I'm the only one who can do it," he told Esquire in February. 
No argument here.