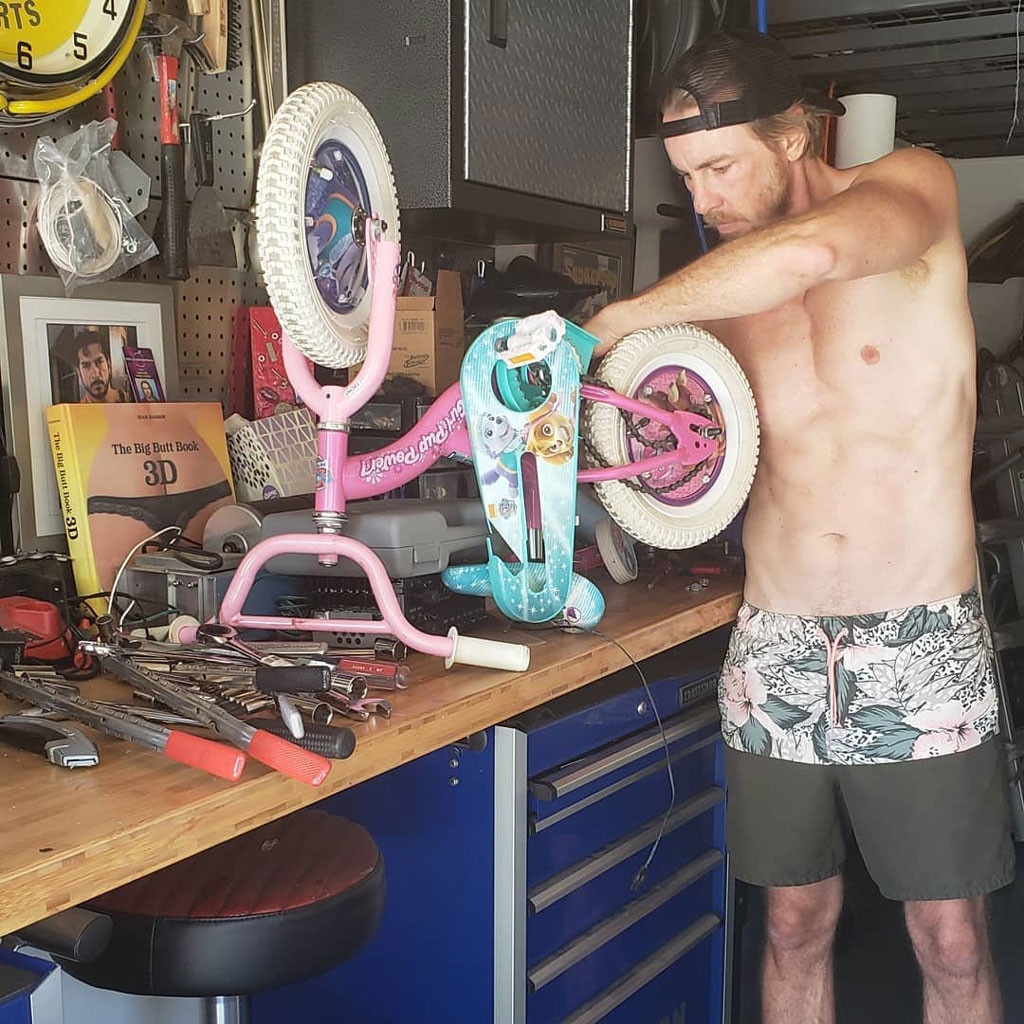 Instagram
Dax Shepard might just be the handyman we never knew we needed.
On Sunday, Kristen Bell posted a picture to Instagram of Shepard fixing their daughter's pink and blue Paw Patrol bike, which has the words "Girl Pup Power!" written in flowery lettering. 
That's not all. The Armchair Expert podcast host channeled his inner mechanic in a backwards trucker hat, swim trunks and no shirt. While the eye first focuses on Shepard's bare torso and the colorful bike, a hilariously placed book sits in the background. Whether The Big Butt Book 3D was always sitting in their garage or Bell placed it there, we'll never know, but it sure turns this photo from PG to PG-13.
The Good Place actress made fun of the book in her caption. She wrote, "The #dadbeast likes big butt books and fixin kids toyz."
Shepard went full #dadbeast yesterday, too.
The CHIPS actor uploaded a picture to Instagram showing him fixing his white Mercedes station wagon. In it, he sits at the wheel and looks like he's changing the wheel. "My wife: "What are you doing?" Me: "Saving six grand." Real talk, the dealer estimate was $8400!!!! For rotors, pads and sensors!!!! #dadbeast" he wrote.
Bell and Shepard are all about posting pictures of each other on Instagram that essentially define #couplegoals. Last week, the Frozen star shared an emotional post celebrating Shepard's 14th sobriety birthday. She wrote a lengthy caption, including, "I'm so proud that you have never been ashamed of your story, but instead shared it widely, with the hope it might inspire someone else to become the best version of themselves. You have certainly inspired me to do so."
"I will forever be in awe of your dedication," she added.
#dadbeast doesn't just refer to Shepard fixing cars and bikes. On Aug. 29, Shepard took a selfie in a cleansing face mask one day after sharing a picture of Bell wearing the same type of mask. "I drank Kristen's Kool-Aid. Let's see where this goes," he wrote.