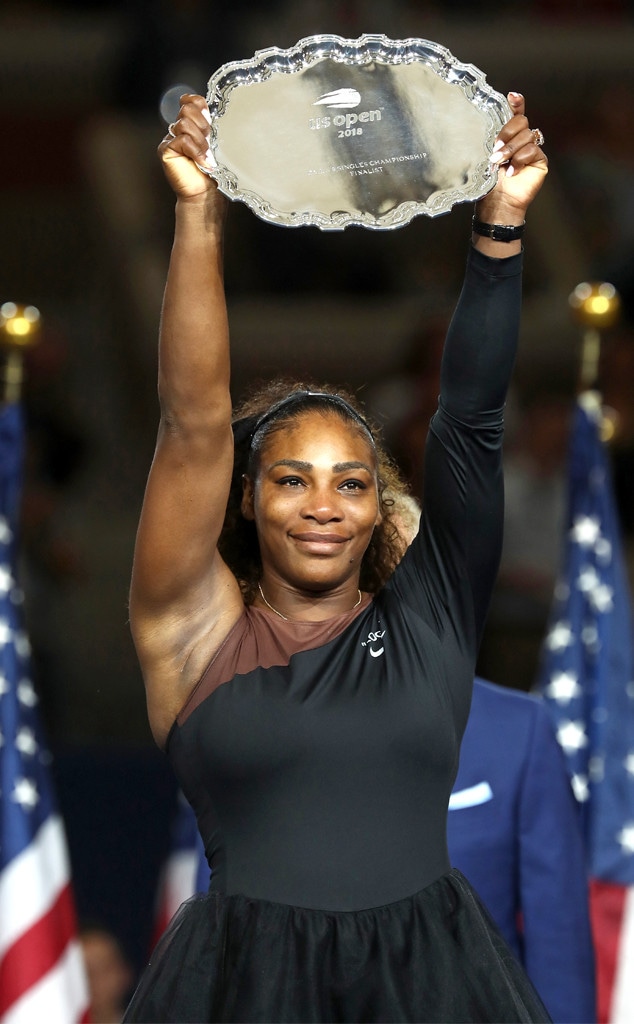 Julian Finney/Getty Images
UPDATE on Sunday, September 9 at 2:20 p.m. PT: Serena Williams has been fined $17,000 for the code violations she received during the U.S. Open final, the United States Tennis Association (USTA) said on Sunday, according to Reuters.
_________________________________
Serena Williams served up some arguments to the umpire at the U.S. Open finals on Saturday.
Williams lost to 20-year-old tennis sensation Naomi Osaka, but she first had a heated dispute with the court's umpire Carlos Ramos. The official docked Williams by points when her coach, Patrick Mouratoglou, made a gesture from his box that Ramos called as a coaching violation. The tennis star fired back at the umpire and told him, "I don't cheat to win. I'd rather lose."
Later on, Williams received a point penalty for breaking her racket in frustration where she again went after Ramos. "I have never cheated in my life. I have a daughter and I stand for what's right for her. I've never cheated, and you owe me an apology," she yelled.
In one part of her speech to the umpire, Williams called out sexism in the sport, citing that men can get away with much more than women on the court. "This is has happened to me too many times, this is not fair...You know how many other men do things that are much worse than that? This is not fair. There is a lot of men out here that have said a lot things and because they're men, that doesn't happen to them. This is unbelievable," she told Ramos.
The point violation against Williams gave Osaka a large advantage in the second set. She said to Ramos, "You are the liar. When are you going to give me my apology? You owe me an apology! Say it! Say you're sorry! You stole a point for me, you're a thief too!"
She brought up the gender disparity once again. She told Ramos, "There's men out here that do a lot worse and because I'm a woman you're going to take this away from me. That is not right. You know it and I know you can't admit it, but I know you know it's not right."
Williams made it clear to Ramos that their paths will not cross again on the tennis court. "You will never ever ever be on another court of mine as long as you live," she said.
Williams' coach Mouratoglou admitted in an interview with ESPN that he was, in fact, coaching her. He also said Osaka's coach was doing the same, along with "100 percent of the coaches in 100 percent of the matches." He told ESPN, "I don't even think she looked at me, so that's why she didn't even think I was...We have to stop this hypocrite thing."
In a press conference after the finals, Williams said she wouldn't go back in time and not call Ramos "a thief." She continued, "I've seen other men call other umpires several things. I'm here fighting for women's rights and women's equality and for me to say 'thief' and for him to take a game, it made me feel like it was a sexist remark. He's never took a game from a man because he said 'thief.'"
She was exasperated in the press conference and said while holding back tears, "I am going to continue to fight for women...The fact that I have to go through this is just an example for the next person that has emotions and wants to express themselves and want to be a strong woman. They're going to be allowed to do that because of today."
The clothing designer has a huge celebrity fan base, and many came out in full force today criticizing the umpire and praising Williams' grace. Famous names who came to her defense include Queer Eye's Jonathan Van Ness, Morgan Freeman, Andy Roddick and more.
Had Williams emerged victorious from the match, she would have made history by winning as many titles as Margaret Court. Even with her loss, history was still cemented on the court today. Osaka became the first Japanese player to win a Grand Slam title, according to ESPN.
Osaka appeared visibly distraught while getting her trophy and even apologized to everyone that Williams didn't win. Williams comforted the champion and said, "Let's make this the best moment we can and we'll get through it. But let's give everyone the credit where credit is due. And let's not boo anymore. We're going to get through this and let's be positive. Congratulations Naomi. No more booing."
(Originally published on Saturday, September 8, 2018 at 5:06 p.m. PT)