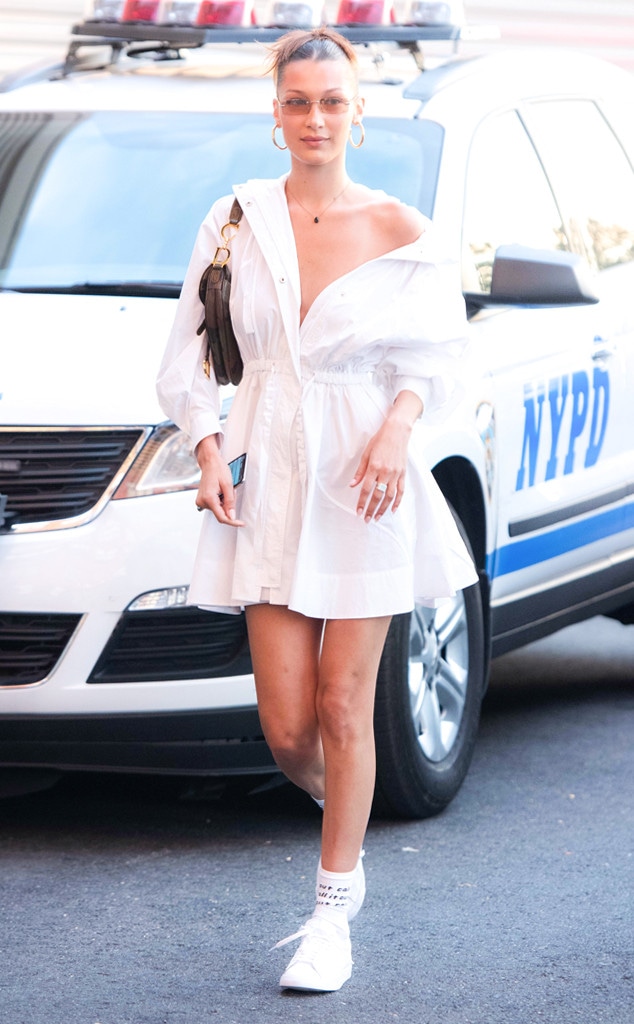 Adrian Edwards/GC Images
A new fashion trend just slid into our purview, much like the way Tom Cruise slid across the floor in Risky Business.
During New York Fashion Week, Bella Hadid took some time away from the hustle and bustle of the fashion industry to hang out with her sister, Gigi Hadid, at the US Open. She appeared wearing a white dress featuring a cinched waistline and hood with gym socks, sneakers, frameless sunglasses, a shoulder bag and a sleek top bun. It's a casually stunning look, perfect for her sister date.
There was one part of her outfit, however, that gave us a major flashback of '80s fashion: her socks. While there's no doubt that sneakers are a go-to for celebrities and influencers, most pair them with ankle socks. Now, all of that is changing.
Warner Bros/Kobal/Shutterstock
Bella's tube socks are changing the sneaker game. Along of her white button-down dress that reminds of an oversize shirt, she's giving us a more sophisticated and intentional version of Tom's iconic ensemble from Risky Business. Plus, with the visual impact of the socks, she's making the fashion obsessed just as excited as Joel Goodsen (the fictional character, played by Tom) was in the scene. 
In the '80s, tube socks, which rise above the ankles and are styled with a bit of a slouch, were a fashion mainstay, along with bike shorts, leotards, scrunchies and neon hues. They went out of style for years, replaced by ankle or barely-there socks. Now, they're making their way back.
During Paris Fashion Week, Anrealage displayed a look similar to Bella's. Wearing sneakers, models walked down the runway wearing socks with a mid-calf length. 
Will you try on this new athletic sock trend?