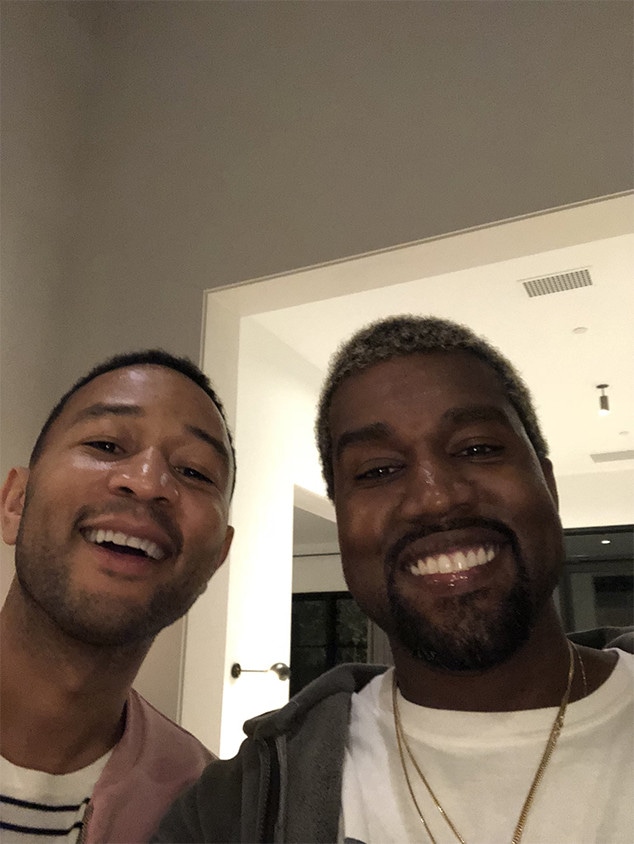 Twitter
Kanye West is seriously considering running for President in 2020, according to his good friend John Legend. 
On the podcast The Dan Wootton Interview, the singer reveals that Kanye is seriously considering running for President in the 2020 elections, since West has mentioned running "multiple times."
As for whether or not he'd run as a Republican or Democrat is unclear. "If I had to guess I think he'd run as an independent but he's never told me what party he would run from, but he's publicly said multiple times that he's interested in running for president," he explains. "I think that's a part of why he likes Trump.  I think he sees some aspects of himself in Trump and sees that Trump winning makes it feel like he could do it too."
Not only did John discuss Kanye's potential political career, he also shared his side of the story, months after the Yeezy designer shared a series of texts between himself and Legend to Twitter. 
"I was stunned when he posted the texts. But then, my other side of me was like I'm glad I said what I said, and I'm glad people know what I said to him because I think so many people were worried that Kanye was saying the things he was saying and there weren't people advising him differently," he says.
John continues, "A part of me was happy that people saw that I was telling him the truth and telling him how I felt, and I was proud of everything I said to him. So, I was shocked that he posted it, but I was proud of everything I said and stand behind everything I said to him 100-percent."
The two reunited at a baby shower weeks later, where they were able to discuss their beliefs face-to-face. And as he did in their prior conversation, John didn't hold back. "We talked about the things that we had texted about and you know, let our conversations be private, but I feel like we both reiterated a lot of the things I said in public and we don't agree on everything, obviously.  But I told him how I felt," he reveals.
At the heart of the matter is the fact that Kanye is a self-proclaimed Trump supporter, whereas John is in avid disagreement with the policies and beliefs of the President, especially in regard to the African-American community. John explains, "I think it's pretty overwhelming from the perspective of African-Americans.  We believe he's a racist, we believe he's not a good human being and anybody who has studied the economic trends knows that unemployment started rapidly going down under Obama and that trend has continued under Trump, but it's nothing he did as a policy-maker that sent unemployment on this downward trend."
The 2020 elections are still a bit away, so in the meantime John and his wife, Chrissy Teigen, are continuing to be involved in the political world—just not as candidates. "We're extremely involved, we donate to candidates, we speak out about issues we care about, but I don't see either of us running for office," he asserts.
Then there's Kim Kardashian, who is fighting to improve the clemency process. She recently visited the White House to meet with First Son-in-Law Jared Kushner, as well Ja'Ron Smith, a special assistant to the President for domestic policy, Brooke Rollins, assistant to the President in the Office of American Innovation and Chris Liddell, White House Deputy Chief of Staff for Policy Coordination, as well as other public figures. 
Kim addressed their meeting in a tweet, saying, "It started with Ms. Alice, but looking at her and seeing the faces and learning the stories of the men and women I've met inside prisons I knew I couldn't stop at just one. It's time for REAL systemic change."