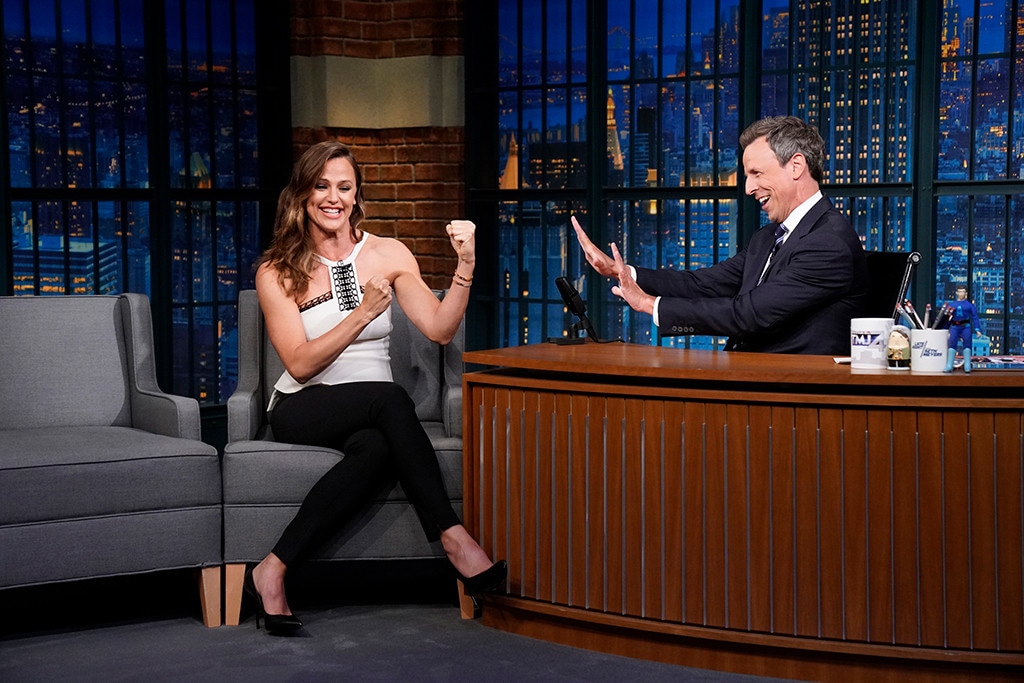 Lloyd Bishop/NBC
Jennifer Garner may play a vengeful mom in her new movie Peppermint, but that doesn't mean she restrains her "mom rage" to just her time on set. 
The actress admitted she can be a little unforgiving at times during Thursday's episode of Late Night With Seth Meyers.
While discussing the movie, Garner described her role as "deeply cathartic" and explained she sometimes related to her character's rage. 
"There's something about making this movie that plays out every bit of mom rage you've ever had on the playground or every bit of mom rage you've ever had, like, when your child is put in the back of a class and you feel they should be in the front. Or their feelings are hurt," she said.
Fans even got a sneak peek of Garner's defense mechanisms. The 13 Going on 30 star admitted it had been more than a decade since she'd last appeared in an action movie and recalled how her older daughter was just learning to crawl when she made The Kingdom. Then, Seth Meyers joked her daughter might have been a "really late crawler" and that the movie wasn't that long ago after all.
"And yet, she was an amazing crawler," Garner said while jokingly putting up her dukes.
Still, the Alias star didn't encourage moviegoers to act like her character Riley—a mother who spends years training to take on crooked cops and criminals after her family is murdered. 
"It is a fantasy. It's not a how-to video," she quipped at one point.
Garner shares her three children—Samuel, Violet and Seraphina—with her ex Ben Affleck. When she's not righting her kids' wrongs, she's enjoying family activities and laughable moments. During her interview, for instance, she recalled how her son wrote "fart" across her planner and how her younger daughter knitted her a 12-foot long scarf to wear to her school.
She also frequently posts relatable mom moments on Instagram.
Watch the video to see the full interview.
(E! and NBC are both part of NBCUniversal).