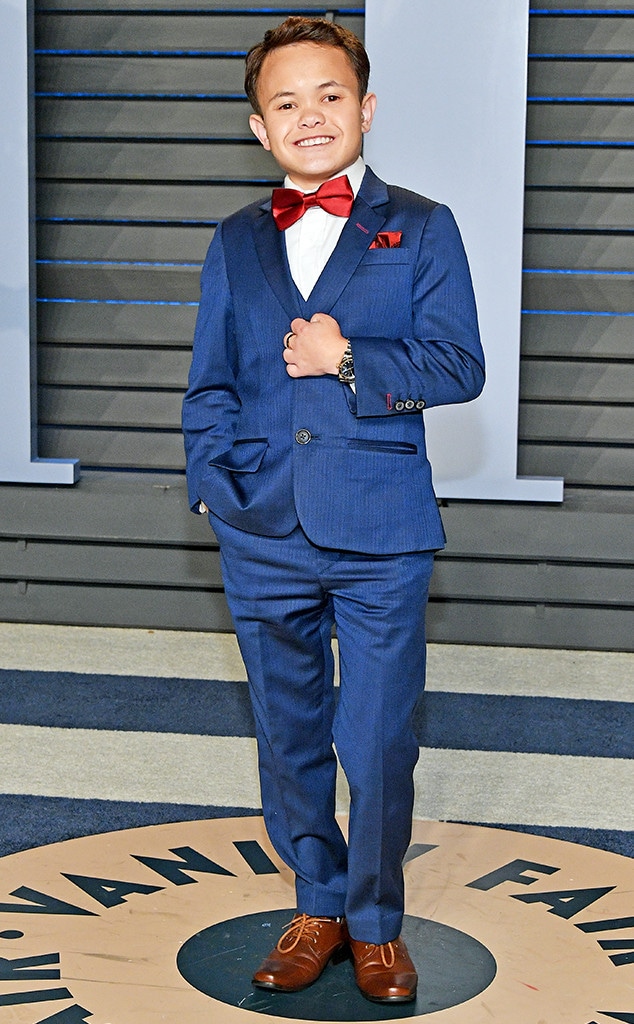 Dia Dipasupil/Getty Images
UPDATE: Sam Humphrey is on the road to recovery. 
"Sam is an incredibly resilient and strong individual. His surgery went well and he is currently recovering and being monitored to make sure that there are no complications," his family said in a statement to E! News Friday morning. "He will require further treatment and rehabilitation over the coming weeks but he is under the care of some of the best physicians in the world at Cedars Sinai. His family thank everyone for their love, support, prayer and positive vibes. We will update everyone should there be any further developments."
———
Sam Humphrey is hoping to feel better very soon.
After delighting fans with his role as Tom Thumb in The Greatest Showman, the actor is undergoing a serious procedure in Los Angeles.
"Sam has been suffering from complications due to Crohn's disease, which is exasperated by Sam's skeletal dysplasia and size," Sam's family said in a statement to E! News. "He is currently under the care of some of the best doctors in the world at Cedars Sinai and is undergoing high-risk corrective surgery. His family and friends are with him and they ask for privacy while Sam is treated and recovers."
"They welcome everyone's prayers and support at this time," the statement continued.
Before the procedure, Sam took to Instagram and wished his co-star Zendaya a happy birthday.
"To a really amazing beautiful gal," he shared with a throwback photo of the pair. "She's super talented and a huge super star; what an incredible experience and honor to work alongside such a talented talented young artist!!HAPPY BIRTHDAY ZENDAYA."
He was also able to enjoy "the most relaxing day" at Burke Williams Spa. The visit included a day of pampering including a "deep tissue/firm Swedish" massage that he described as "absolutely spectacular."
Spa days aside, Sam quickly developed a large fan base thanks to his role in The Greatest Showman. In fact, acting has been a long passion for the Melbourne-based star.
"I've always wanted to become an actor since the age of five. Lots of kids wanted to grow up to be a fireman or anybody else," he shared with Latino-Review Medium. "It was when I was eight-years-old, I saw Hugh on the big screen for the first time. I really enjoyed his performance. Something just triggered inside me and knew that was the guy I wanted to follow as an actor and for my career. Ever since then, he was my inspiration in acting."
We're sending positive thoughts to Sam. Here's hoping he'll be back on the screen in no time.
(Originally published Thursday September 6, 2018 at 4:32 p.m. PST)